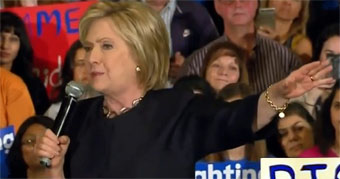 Clinton at a rally in San Jose, CA/
Image courtesy of C-Span
Email Controversy Expands
for Hillary Clinton
| published May 27, 2016 |
By R. Alan Clanton, Thursday Review editor
Despite a scathing report issued this week by the Office of the Inspector General, and in spite of an ongoing FBI investigation which now looks to be broadening in scope, Presidential candidate and Democratic front-runner Hillary Clinton tells reporters and media that she broke no rules and violated no state secrets through the use of a personal email account and a privately-maintained server.

On Thursday and again on Friday, Clinton campaign officials continue to lash out at the press for what they call partisan attacks by Republicans, even as Democratic strategists worry that the continued drip-drip of email problems dogging Clinton could easily turn into a dangerous liability going into the summer and fall.

On Thursday, when Meet the Press moderator and NBC News political director Chuck Todd questioned the former Secretary of State about her use of that privately crafted email account, Clinton again sounded a generally unapologetic note, and explained away the issue of the email account as a matter of personal privacy. Todd also pressed the front-runner on the IG report, so highly critical of Clinton's decisions regarding the server and the email.

"The report," Todd said, "seemed to contradict what you've said all along about the emails."

But Clinton brushed aside the issue of the IG report, telling Todd that the report clearly shows that she broke no rules and violated no guidelines. When Todd attempted to press harder, reminding the former Secretary of State of the wording in the IG's report, as well as the expanding investigations by the FBI regarding state secrets, Clinton cited the report's only major concession: that there were systemic weaknesses in the way that email accounts were handled by previous Secretaries of State.

In other words, Clinton says her use of that private email account stemmed from a pattern already set by her predecessors at Foggy Bottom. On the campaign trail she has sometimes cited a similar problem arising from Colin Powell's apparent use of a private email account for some correspondence during his tenure at State.

Still, the Inspector General's report concluded that Clinton's violations of email guidelines and rules were far more serious than the failures of previous top diplomats. The report cited pressure brought from her office to squelch concerns raised in 2009 and again in 2010 over the use of the private email, as well as strong-arming of those who raised a red flag over possible cyber security risks and the potential for hackers to gain access to sensitive documents.

Todd's grilling came during an MSNBC interview with Clinton by phone on Thursday. The apparent disconnect between Todd's questions and Clinton's responses worry some Democratic strategists who see the email controversy remaining a hot button issue through the fall. Her presumed rival, businessman Donald Trump, wasted no time on Thursday using the IG's report and the widening FBI investigation as fodder for his stump attacks on Clinton.

The Clinton campaign, meanwhile, would like the matter to go away, once and for all—though it now seems unlikely that the Democratic front-runner, still fighting flanking attacks from party rival Bernie Sanders, can make the issue disappear prior to the start of the conventions this summer. Indeed, there is little reason to expect Republicans to waste any opportunity to bash Clinton on the email fiasco in Cleveland.

"You can bet the farm on one thing," one Republican operative, who wished to remain unidentified within the context of this article, told us in an email late Thursday, "the [GOP] convention scripters and choreographers are going to make sure that no five minute stretch passes without some variation of the phrase 'Clinton's illegal use of emails' or 'the FBI investigation' in speeches and remarks."

That Republican strategist also predicted that copies of that critical IG report will be passed around to all talking heads, surrogates and spin doctors between now and that start of the convention.

The Inspector General's report, which emerged after many months of investigations and interviews, was much more critical of Clinton and her top colleagues than some had predicted. The IG investigation began after it was revealed last year that while acting as Secretary of State Clinton bypassed using an official State Department email address—one which would be maintained by government servers operating with the most stringent forms of cyber security counter measures—and instead used a privately-crafted email account. In addition, Clinton maintained a homebuilt server, sometimes called a homebrew server by techies, in her private residence in Chappaqua, New York. That server and her email account was alternately managed by a few staffers, among them Bryan Pagliano—a staffer who was paid a small fee to handle her email server—and a small Denver-based IT firm.

All told, Clinton may have sent and received some 75,000 emails using the private account and the homebrew server. Later, Clinton deleted some 29,000 emails which she told reporters were of a strictly personal nature. Another 30,000 emails were preserved, and have been released in batches by the State Department after a judge ordered that the documents be made available following several Freedom of Information Act requests by watchdog groups and the Associated Press.

Recent investigations have also indicated that Clinton did not hand over all work-related emails as previously stated by the State Department, as scores of emails were discovered among at least four of Clinton's closest associates at the State Department which were sent or received from Clinton's email account. Those work associates are now at the center of the FBI's probe into whether Clinton violated national security protocol through the use of the private email account during routine work correspondence with employees at the State Department.

Through most of last year and this year, the Clinton campaign has maintained that as Secretary of State Clinton did nothing illegal, nor did she violate any specific rules regarding emails.

Some political analysts suggest that Clinton has made the situation worse through a stubborn reliance on traditional Clinton tactics: stonewalling on key questions, evasiveness and dismissal of central concerns, and a campaign of redirecting the narrative into the realm of partisan politics. This pattern has played out this week numerous times in the widening wake of the IG report and the FBI's investigation. This week CNN's Wolf Blitzer asked Clinton campaign spokesperson Brian Fallon if Clinton has had nothing to hide, why have she and her campaign staff been so resistant to basic transparency on a seemingly straightforward matter. Fallon was not able to give a clear, concise answer to Blitzer's challenge, obfuscating and waffling, then finally conceding that things could have been better handled.

The Inspector General interviewed four other past Secretaries of State, including Madeline Albright, Colin Powell, Susan Rice, and John Kerry. All cooperated openly and transparently with the IG's reviews and investigations. Only Clinton refused to cooperate, and referred her attorneys instead to vet questions, most of which were rejected outright by Clinton's staff.

Editorializing slightly, CNN's Blitzer concluded on-air that "it looks as if she's got something to hide when she doesn't even want to answer questions from the Inspector General for the State Department."

Then, when Fallon intimated that there was political bias in even the IG's investigations in the email imbroglio, Blitzer lunged for the kill, asking for clarification. Was Fallon actually suggesting that the Inspector General was running a partisan witch hunt? Fallon deftly and quickly retreated, parsing the discussion to show that as a time-saving device, Clinton and her team had chosen to more readily cooperate with the FBI's parallel investigation over the IG's separate inquiry into the email matter.

Related Thursday Review articles:

Gary Johnson To Become Libertarian Nominee; R. Alan Clanton; Thursday Review; May 27, 2016.

Inspector General: Clinton Violated Email Rules; Keith H. Roberts; Thursday Review; May 25, 2016.