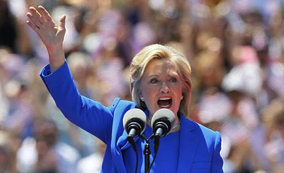 image courtesy of Hillary Clinton For President
Emails:
Foundation Brass Lobbied State Department
on Behalf of Donors
| published August 29, 2016 |
By Keith H. Roberts, Thursday Review contributor
A recently-released thread of emails examined by ABC News illuminates a pattern of high-level access to the office of Secretary of State during Hillary Clinton's tenure as top U.S. diplomat by those who gave generously to the Bill, Hillary & Chelsea Clinton Foundation. The emails also show that foundation executives sometimes lobbied for preferred seating at State dinners, lunches and events.

Among the correspondence: a stream of conversations from 2010 in which top State Department official and Clinton confidante Huma Abedin discusses plans for a State Department-sponsored lunch with then Clinton Foundation Doug Band. The discussion included how to best arrange for prominent seating for foundation donors at a January 2011 lunch honoring Chinese President Hu Jintao.

The alleged links between the Clinton Foundation—a charitable organization founded by former President Bill Clinton after his departure from the White House—and the U.S. State Department have been the subject of intense scrutiny in the wake of a recently disclosed trove of emails and correspondence.

Some of the emails came after forensic analysts for the FBI uncovered a batch of 14,500 previously undisclosed emails from Hillary Clinton's private email account. Others came in the aftermath of the release of a batch of 700-plus documents requested by Judicial Watch after the watchdog group successfully petitioned a federal court to grant it access to the material.

As media groups pore over the newly discovered or newly-released material, a pattern has emerged: while serving as U.S. Secretary of State, Clinton's top aides often granted access to heavy-hitter donors to the foundation. Those who gave generously to the Clinton Foundation were sometimes scheduled quickly to meet with Clinton or other top diplomats at Foggy Bottom, bypassing the usual delays and formalities.

The new information uncovered by ABC News and now widely reported by other media outlets shows that wealthy donors in particular—several of whom gave millions of dollars to the Clinton Foundation—jostled for placement at a 2010 lunch meeting with the Chinese President. They included investment house UBS President Bob McCann, Western Union CEO Hikmet Ersek, and Rockefeller Foundation chief Judith Roden, among a dozen others. In one email, Band asks directly that Roden be seated next to Vice-President Joe Biden.

Though much of the exact donation tracking is shielded by the complex privacthe y guidelines established by the foundation, donors fall into ranges of giving, at least according to data released by the Clinton Foundation. Examples: Western Union gave between $1 million and $5 million; UBS gave between $500,000 and $1 million.

The State Department has said it met all of its own internal guidelines and protocols in regards to Clinton's meetings with government leaders, business leaders, non-profit groups and organizations. The Department also stresses that the although records would indicate a few obvious and inevitable overlap between groups supporting the Clinton Foundation and those asking for meetings at State, those occasional intersections do not represent anything sinister, nor an attempt by Clinton Foundation representatives to sway U.S. policy.

Clinton campaign spokespersons responded by suggesting that the email stories are old news, and that the controversy is being fueled by right-wing political groups intent on damaging Clinton's reputation during an election year.

Still, some journalists and some in Congress are seeking to look more deeply into those occasions when deep-pocket donors to the Clinton Foundation appeared to have received rapid access to the Secretary of State. At issue: was there a pattern of foundation givers being given special side door or front door access to Clinton's office.

Though in many cases Clinton remained scrupulously insulated by her top lieutenants, especially Huma Abedin, the emails hint at a culture of preferential access—in several instances directly to Clinton—for those asking for favors or for leverage. In one case, rock singer and U2 frontman Bono asked for direct help with the use of a major communications satellite for a live feed of a concert. In other cases, wealthy foreign businessmen or highly-placed foreign political leaders with track records of large donations merely wanted one-on-one meetings with Clinton.

As the Washington Post has reported, some of those foundation donors and supporters were not necessarily given what they wanted—even when the request was merely for a meeting. In some notable cases, the emails and correspondence show Abedin and others weighing the merits and risks of specific requests. Clinton supporters have embraced these conversations as evidence that every effort was made by Clinton and her top staff to avoid giving the foundation's big-givers some form of direct access to the State Department.

Still, a significant slice of the new trove of correspondence has once again thrown the issue of Clinton's emails under the glare of media scrutiny. The latest imbroglio has also turned the spotlight to the Clinton Foundation and its work. Some Republican groups have long charged the Clinton Foundation with acting as a proxy organization to advance the political goals of Hillary Clinton. But new media scrutiny by decidedly non-Republican media and press have also brought the Foundation's agenda into the mainstream discussion.

ABC News also found emails in which Band extolls the virtues Gerardo Werthein, an Argentinian businessman and investor who gave generously and frequently to the Clinton Foundation over a several year period. In 2010, Werthein donated over $1 million to the Foundation. Emails show that Band promoted Werthein as "a great friend" and a "big supporter" in an effort to urge the delivery of a message from Werthein and the ambassador to Malta, where Werthein and some of his commercial entities do business. The emails show that Abedin obligingly passed along the correspondence, though she did not urge any action to be taken.

The email controversy has reignited political problems for Clinton, now the Democratic candidate for President. Clinton is locked in an extremely tight race with Republican nominee Donald Trump. Trump has demanded that a special prosecutor be appointed to look into the matter of the Clinton Foundation and its alleged influence over policies at the State Department during Hillary Clinton's tenure as top U.S. diplomat.

Related Thursday Review articles:

Clinton Emails Show a Pattern of Foundation Donor Access; Keith H. Roberts; Thursday Review; August 26, 2016.

Battle Lines Drawn Between Clinton and Trump; R. Alan Clanton; Thursday Review; July 31, 2016.