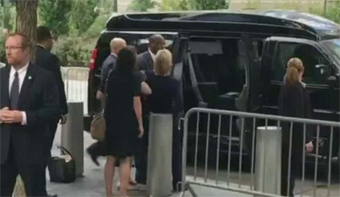 Image courtesy of You Tube/Zdenek Gazda
Clinton's Health Problems
Now Mainstream Issue
| published September 12, 2016 |
By Keith H. Roberts, Thursday Review contributor
The issue of Hillary Clinton's medical health and wellness just moved dramatically from the margins of the political discussion to the center of the election narrative after a "health incident" at a 9/11 memorial event in New York City on Sunday.

Clinton joined hundreds of other dignitaries and elected officials—along with a crowd of thousands—at a massive event commemorating the 15th anniversary of the September 11, 2001 attacks of the World Trade Center. But Clinton and her entourage exited the memorial service early, quickly, and without explanation. Moments later, video images captured the former Secretary of State—wobbly, unsteady, on the verge of fainting—being assisted to her SUV by aides and Secret Service agents. As she attempted to get inside the waiting car, she appears to stumble, and requires the assistance of several people to be put in the car.

Later, she was taken to the Manhattan apartment of her daughter Chelsea, where she met briefly with doctors and then rested for at least two hours, before emerging under her own power and speaking to the crowds of onlookers and reporters waiting on the street. Acknowledging a reporter's shouted question, Clinton said she felt fine.

After four more hours, Clinton campaign spokespersons said that the former First Lady and former Secretary of State—now aged 69—was suffering from pneumonia, and may have become weakened and dehydrated by the heat and humidity of the memorial event at the site where the World Trade Center once stood. Clinton campaign spokespersons acknowledge what was already being widely rumored: that the pneumonia was first diagnosed on Friday of last week, though the campaign chose not to disclose that until Sunday evening.

Monday morning, the campaign also conceded what had been reported late Sunday by some media sources: Clinton and her strategists were cancelling a two-day campaign trip to the West Coast, a stump blitz which would include appearances and speeches in several California cities. Instead, campaign operatives say that Clinton will rest at her home in Chappaqua, New York for at least two days, possibly three.

Democratic strategists worry that this latest health "event" and the accompanying medical hiatus could not come at a worse time: polls show that Republican nominee Donald Trump has slowly but steadily closed the polling lead once held comfortably by Clinton. Real Clear Politics most recent composite poll shows Clinton with the support of 46% of all voters, and Trump with 43%, a three point gap well within the margin of error. Similar polls by NBC News/Wall Street Journal and CBS News also show Clinton's lead narrowed to less than 3-to-4%.

The health incident at the event in New York City underscores the risks for Clinton, and serves—many would say unfortunately—to lend credence to the theories being circulated in the right wing press weeks ago that Clinton and her team are hiding critical information about the health of the former Secretary of State. Since late August, some of those news services and websites have been reporting on Clinton's bare-minimum campaign schedule, her frequent need for assistance when she walks to a podium, her occasional coughing, and her apparently mild stumbles on several occasions as evidence of something more serious. Clinton and her campaign have repeatedly denied that the Democratic nominee is suffering from ill health, or that she is suppressing information about a more serious health issue.

But many mainstream reporters want to know why the Clinton campaign failed to disclose the previous visit to the doctor, and why the Clinton team withheld information about the pneumonia diagnosis. The Clinton campaign has been characteristically quiet on the whole matter, including a steady refusal to address questions about her coughing fits which marred at least two campaign speeches earlier last week, and forced a brief interruption to an impromptu gathering with reporters on the campaign place last week. When Clinton was asked directly about the coughing, she dismissed those episodes as the result of seasonal allergies.

Fair enough, some reporters have said. But coupled with the attempt to keep secret the pneumonia—a fairly serious condition for anyone in their sixties—only feeds to already persistent problem of Clinton's honesty and veracity, a package of problems which some analysts suggest have been the principal reason her campaign is sagging in the polls. All told, the Clinton campaign waited some eight hours after Clinton's rapid exit from the 9/11 memorial event , and a full two days after her visit with the doctor to reveal the pneumonia.

In fact, according to the New York Times, it was Clinton herself who wanted to greatly limit information about the diagnosis of pneumonia, just as it was Clinton who preferred to press on with her busy schedule. Clinton, according to those sources who communicated with the New York Times, did not want to fuel speculation about her health with worried or hyped reports about the visit with the doctor or with any information which might give Trump supporters reason to gloat. In fact, Clinton's tactic appears to have backfired, instantly elevating questions about her health to the front pages and the top of the news cycle, and feeding the conspiracy theories that she is hiding a more serious condition.

Even many of her most ardent supporters and many intensely loyal Democratic backers now worry openly that this latest incident—withholding the critical truth about a very serious medical condition—adds to a troubling narrative of unwarranted secrecy surrounding both Bill Clinton and Hillary Clinton. And in this case, it speaks directly to the Clinton campaign's efforts to overcome the public perception that the former Secretary of State is less than transparent and certainly not very forthcoming.

By late Monday, the Clinton campaign was in full damage control mode. Campaign staffers were taking to the media circuit to apologize to reporters and to the American public, and top campaign officials said that Clinton would soon release additional (but not comprehensive) medical records. Clinton staffers were also apologizing for the delays in getting the original information about the pneumonia into the hands of the media and the public.

But some top Democratic strategists worry that the release of the additional medical files may be too little too late for a story now already spinning out of control for the campaign, and one which will too easily feed the seemingly unstoppable rumor mill which is now churning out multiple theories about Clinton's health. With Clinton ahead of Trump by only a few points in most polls, the risks of a public even more convinced than ever of Clinton engaged in a cover-up—even of her own health records—and concerns about her trustworthiness, are potentially fatal to her chances on Election Day, now less than two months away. In man recent polls, Clinton's perceived untrustworthiness is her Achilles heel; some polls show that at least 63% of all Americans find Clinton lacking in transparency, honesty and accountability.

In the meantime, Trump has decided to strike while the coals are hot; campaign spokespersons say that although he may not release all his medical records, he will release to the media a substantial trove of documentation about his health.

The question will now turn on how quickly Clinton and her team can put her campaign narrative back on its track. Political analysts suggest that she and her strategists have scant little time in which to make a course correction—the sort of reboot necessary to again boost her campaign past Trump and open up the sort of lead that most Democrats would prefer at this late stage of the campaign calendar.

Related Thursday Review articles:

Will Presidential Debate Include Third Party Candidate?; R. Alan Clanton; Thursday Review; September 5, 2016.

Battle Lines Drawn Between Clinton and Trump; R. Alan Clanton; Thursday Review; July 30, 2016.