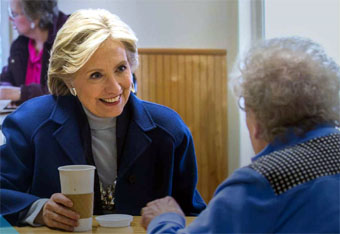 Image courtesy of Hillary for America
Clinton VP List Narrowed to Warren, Castro, Kaine?
| published June 23, 2016 |
By R. Alan Clanton, Thursday Review editor

Several media sources are reporting that the Democratic Party's presumptive nominee, Hillary Clinton, has narrowed her list of top running mate choices to just five or six names. Among those apparently at the very top of the list are Virginia Senator Tim Kaine, Massachusetts Senator Elizabeth Warren, and Housing Secretary Julian Castro, according to reports from the Associated Press, and their sources within the Democratic Party.

Talk of Warren as Clinton's running mate reached a fever pitch in recent days after the Senator met for a series of meetings with Clinton and her top strategists over the weekend and again on Monday. Kaine has been widely rumored in recent weeks to be near the top of Clinton's list as well; a popular Democratic Senator from the key battleground state of Virginia, which could prove pivotal if the election proves to be close in November.

Castro, who became Secretary of the Department of Housing and Urban Development in May 2014, may be near the top of the list for even more obvious reasons: as a Texan and a Spanish-speaking Latino with deep political experience, Castro would be seen as crucial to help cement a growing Latino loyalty to the Democratic Party at a time when Republican front-runner Donald Trump has, in several notable cases, said things deemed offensive to Hispanics. Clinton and her top people would like to channel the Latino vote decisively into the Democratic column in the fall.

The AP says that according to those same sources within the Democratic Party, neither Vermont Senator Bernie Sanders nor former Maryland Governor Martin O'Malley, each of whom challenged Clinton for the nomination, are being considered by Clinton or her team.

Before becoming Housing Secretary in 2014, Castro served as mayor of his hometown of San Antonio, Texas.

Elizabeth Warren, who defeated Republican incumbent Scott Brown in a close 2012 Senate race, traces her roots to Harvard Law School, where she taught bankruptcy law, commercial law, and economics. Warren is extremely popular with Democratic progressives, most of whom identify themselves as being substantially more liberal on the spectrum than Clinton. Warren would therefore be seen as an important bridgehead back toward some of the same progressives who had previously offered enthusiastic support for Sanders.

Indeed, before Sanders' progressive populist campaign took off, Warren was frequently mentioned as a possible Presidential candidate, despite her repeated statements that she was not interested in running for the job.

Despite the AP reports that Clinton's list may have been narrowed to just three names—Warren, Castro and Kaine—other Democratic Party insiders and Clinton campaign officials suggest that the search is far from over, and say that there are still at least one dozen names being vetted for the role of running mate.
Related Thursday Review articles:

Does Tim Kaine Top Clinton's VP List?; Keith H. Roberts; Thursday Review; June 9, 2016.

Rice Says No to Trump VP Talk; Thursday Review staff; Thursday Review; June 21, 2016.