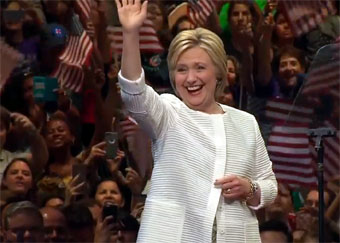 Image courtesy of C-Span
Clinton Wins California,
Clinches Delegate Victory
| published June 8, 2016 |
By R. Alan Clanton, Thursday Review editor
Hillary Rodham Clinton, former first lady, former U.S. Senator, and former Secretary of State, effectively secured the nomination of the Democratic Party on Tuesday by winning a string of crucial primary and caucus states.

Clinton's wins in New Jersey, New Mexico, and South Dakota pushed her total delegate count upwards and into winning territory, but it was her win in California, announced early on Wednesday after a cliffhanger which kept journalists and political analysts waiting for hours, that sealed the deal for Clinton.

In the end, Clinton won California by more than 55% to rival Bernie Sanders' 43%, a much wider win than had been expected. Clinton carried the majority of counties and congressional districts, but Sanders swept much of the northern—and more progressive—part of the Golden State.

Though Vermont Senator Sanders won in North Dakota, his inability to pull off the wins in California and New Jersey weakened his campaign to keep his candidacy alive. Though Sanders has been insistent that he will continue to fight right up to the start of the convention in an effort to sway the loyalty of super delegates—those delegates who can change their minds at any time prior to the first vote at the convention—the Senator and self-described Democratic socialist acknowledges that he must take stock of his campaign's progress over the next few days.

With her win in California, Clinton becomes the presumptive nominee of the Democratic Party, and the first woman ever to have achieved such an accomplishment in a major U.S. political party.

Speaking to a massive rally of supporters in Brooklyn, New York, Clinton sounded a note both thankful and aggressive. Her victory speech, while short, was quickly judged to have been one of her best of the campaign season so far—a speech in which she praised Sanders for bringing his narrative and his priorities to the table, and an address in which she attempted to finally reboot her message into one of comparing her vision for America to that of her presumptive general election rival, Republican Donald Trump.

Clinton called her mother the most important influence in her life, and said that one of her most important life lessons was to not back down in the face of a bully, a comment which drew a round of enthusiastic applause from the partisan crowd. Clinton also referred again to her famous "glass ceiling" remarks from eight years earlier.

Only an hour earlier, Trump had also spoken, having made a clean sweep of some of the same states claimed by Clinton. Trump, departing from his usual extemporaneous style and reading from a Tele-Prompter, called on disillusioned Sanders supporters to consider joining Trump's cause of sending someone to Washington with skills found outside the Beltway. Trump attempted to find areas of common ground with Sanders' backers, such as frustration with the political system and a belief that the major political parties have "rigged" the system.

Clinton, however, will now face the most immediate challenge of bringing legions of Sanders supporters into the fold of the Democratic Party's message. Recent polls have indicated that nearly one third of all Sanders supporters say they will not, or cannot, support Hillary Clinton (though it is not clear that they would vote for a Republican instead). More than half of Sanders' backers also maintain a negative opinion of Clinton, a sure sign that there may still be problems ahead for Clinton between now and the convention. Conversely, recent polls also show that some 40% of registered or self-identified Republicans maintain a negative view of Donald Trump—also troubling for the GOP after a week of serious infighting which included sharp repudiations of some of Trump's recent comments and strong rebukes of the presumptive nominee.

Meanwhile, Clinton claims victory after a long and challenging primary and caucus season in which she fought—sometimes bitterly—with a determined Bernie Sanders. As late as Monday, Sanders was still out-drawing Clinton at rallies and events, and remained within striking distance in polls in California—a prize he had acknowledged he needed to maintain viability going into the convention next month.

On late Tuesday, Sanders was still angry that the Associated Press, NBC News, and several other media sources were reporting that Clinton had already reached the required number of delegates to win the Democratic nomination. Those totals were based on a fresh tally, culled over the weekend, of super-delegates, and a careful analysis of committed or pledged delegates. The AP's new grand total seemed to indicate that even before voters in New Jersey and California would go to the polls, Clinton could claim outright victory.

Sanders called the declaration premature and "a rush to judgment," and many of Sanders' spokespersons and surrogates complained loudly that some media elements close to Clinton had cooked up the numbers in a deliberate effort to squelch or suppress voter turnout, especially in California, where Sanders was trailing by only a couple of points.

Many of Sanders supporters are urging him to remain in the fight until the convention, if for no other reason than to force Clinton to remain focused on progressive issues in her emerging general election agenda. Democratic Party leaders and officials, however, worry openly that any continued fight will only damage Clinton, whom they argue deserves to enter the convention without a looming and still active challenge from within her party.

Related Thursday Review articles:

Sanders: Clinton's Victory a Rush to Judgment; R. Alan Clanton; Thursday Review; June 7, 2016.

Clinton Clinches Virgin Islands & Puerto Rico; Thursday Review staff; Thursday Review; June 5, 2016.