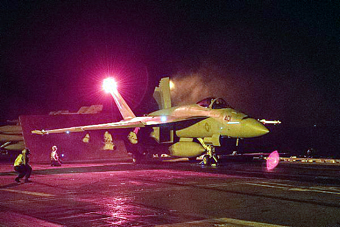 An F18 Super Hornet prepares for take off from the deck of
the USS Harry S. Truman/Photo by B. Siens
Recent Airstrikes Killed Some Paris Attackers
| published December 29, 2015 |
By Keith H. Roberts, Thursday Review contributor
Officials at the Pentagon and in the U.S.-led coalition engaged in the Middle East say that at least ten Islamic State operatives with direct or indirect links to the terror attacks in Paris and to terror cells in Belgium have been killed in recent air strikes. Pentagon officials say that military spokespersons have waited to make the announcement pending on-the-ground intelligence to confirm some of the data related to those air strikes.

Coalition officials have not offered specifics in terms of numbers, but confirmed that among those ISIS leaders killed was Abdul Qader Hakim, for whom European and American intelligence agencies showed had direct links to terror cells in France, Belgium and Germany, and had a hand in planning the Paris attacks which left 130 people dead and hundreds more wounded in early November.

According to coalition officials, Hakim was killed in Mosul on December 26 during heavy aerial attacks waged as part of the Iraqi army's push to reclaim Mosul, a city lost last year to ISIS.

Also killed was Charaffe al Mouadan, an Islamic State leader known to have direct connections to Abdelhamid Abaaoud, the alleged Paris ringleader. According to the Pentagon, Al Mouadan was killed early on December 24.

Both al Mouadan and Hakim were considered among the highest of the high value ISIS targets in Iraq and Syria. Middle East experts and terror analysts suggest that such targeted strikes help to degrade Islamic State command and control, and demoralize other ISIS fighting units.

But the success of the December air strikes may also help to explain some of the coalition's success on the ground—especially that of the Iraqi army in its recent successful campaigns to push ISIS units out of Ramadi, a city overtaken by Islamic State fighters in April and May when the militant army was battling its way across northern Syria and northern Iraq. Ramadi, a key provincial capital, is located about 70 miles northwest of Baghdad; its loss in May to ISIS was a major setback to the Iraqi army.

With the assistance of the United States military, the Iraqi army has been undergoing a rebuild. Recent battlefield successes—many coming just within the month of December—have come at a great cost in lives on both sides, but have helped to boost morale among the military and citizens back in Baghdad. The Iraqi army's collapse last year, in the face of the ISIS onslaught, was a major foreign policy setback for the U.S. and its allies.

In Ramadi, a large patchwork of forces now works block-by-block, street-by-street, clearing the last vestiges of Islamic State fighters from a city largely retaken. Iraqi army forces were joined by security forces, Iraqi Special Forces units, Sunni militia (non-ISIS units), and police to clear roadblocks and landmines, and to sniff out booby traps designed to kill large numbers of military personnel.

While strategically important for its location at a crucial crossroads of east-west highways and roads, rail lines and industrial neighborhoods, and its location along the Euphrates River, Ramadi is also important as a major morale booster for both Iraq and members of the U.S.-led coalition.

In a video-conferencing with media on Tuesday, U.S. Army Colonel Steve Warren explained that the air power was "the force multiplier" in leveraging ISIS units out of Ramadi and giving ground forces the badly needed edge. The White House indicated that the success in Ramadi and in other areas of Anbar Province prove that U.S. President Barack Obama's contention throughout November and early December was correct: ISIS is contained, and the combination of air power, a resurgent Iraqi army, and a select group of about 2300 American military personnel has been the right combination to dislodge the Islamic State from key strongholds.

Still, ISIS maintains uncontested control over many thousands of square miles of territory in Syria and Iraq—a vast swath a land stretching from the Turkish border near Aleppo (in Syria) across to the eastern side of the Tigris River near Mosul. ISIS also still controls border checkpoints between Iraq and Jordan, and has extended its presence eastward to within 45 miles of Iran.

ISIS has also extended its footprint to areas in Libya, Egypt, Lebanon, Northern Sudan and parts of Tunisia. ISIS has also gained the allegiance of militant groups in Afghanistan and Pakistan, as well as in some dozen African countries.

Warren also said that the coalition had engaged in some 2,500 airstrikes in Anbar Province ahead of the ground surge which finally dislodged ISIS.

Related Thursday Review articles:

Saudi Arabia to Lead Military Coalition Against ISIS; Keith H. Roberts; Thursday Review; December 15, 2015.

French Airstrikes Continue Over Syria; R. Alan Clanton; Thursday Review; November 18, 2015.