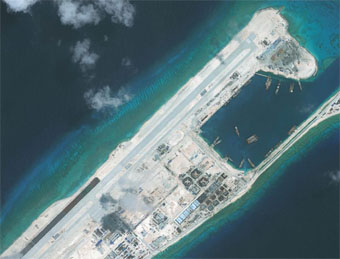 Chinese military base constructed in artificial island/
image courtesy Google
Dangers in the South China Sea
| published May 11, 2016, 2016 |
By Earl Perkins, Thursday Review features editor
The United States has been the strongest nation in the world for generations, but the Peoples Republic of China is giving us a run for our money. A communist regime is efficient and brooks no dissent, with detractors often finding themselves either marginalized (if they are lucky), incarcerated, or entombed.

According to top Chinese officials, the nation's economy shows signs of improvement, although its debt currently outstrips its Gross Domestic Product by 250 percent, according to Reuters. In semi-plain English, GDP is a monetary measure concerning value of goods and services in a quarterly or yearly period. And despite more than a year of stock market uncertainty in Shanghai, the top people in Beijing still say the Chinese economy is on the rebound.

In the wake of economic challenges faced by China, Russia and the United States, coupled with upheaval in the European Union, one shouldn't be surprised by China's recent denial of a Hong Kong port visit for a U.S. carrier strike group. Recent sabre rattling by the U.S. and China stemmed from a dispute between the Asian nation and its neighbors over sovereignty of reefs and small atolls in the South China Sea, according to Stars and Stripes.

"We were recently informed that a request for a port visit by a U.S. carrier strike group, including the USS John C. Stennis and accompanying vessels, to Hong Kong was denied," said U.S. Defense Department spokesman Cmdr. Bill Urban in a written statement. "We have a long track record of successful port visits to Hong Kong, including with the current visit of the USS Blue Ridge, and we expect that will continue."

China's action was almost certainly caused by U.S. Defense Secretary Ash Carter's visit to the Philippines early last month, during which he and Philippine Defense Secretary Voltaire Gazmin flew to the Stennis strike group, and then cruised around the strategically vital South China Sea. The island nation is China's primary rival for holding sway in the region.

U.S. officials claim China is militarizing the disputed territory, shoring up its claims by building islands on coral reefs, and then installing airstrips, harbors and radar stations, and maintaining a large uniformed presence on each newly constructed base. China disputes these assertions, and takes exception to American patrols and the aforementioned joint visit. Satellite images disseminated to media outlets last month show China deployed fighter jets to Woody Island, which is located well within the disputed territory.

During a recent press conference in Beijing, Hua Chunying, spokesperson for the Chinese Ministry of Foreign Affairs, said the U.S. is "exaggerating deliberately the China threat in the South China Sea," while another official told the South China Morning Post that U.S. port call requests for warships are decided on a "case-by-case basis."

China claims it wants to resolve longstanding disputes through dialogue, while accusing the U.S. of raising tensions with its freedom-of-navigation patrols and fly-overs. The Philippines, Taiwan, Vietnam, and other Southeast Asian nations claim several parts of the sea.

For Filipinos, the Chinese incursions into islands and reefs long-claimed by Manila has prompted the unusual step of stationing Filipino Marines aboard old cruisers and destroyers—deliberately beached, stranded or sunk—among rocks and reefs within territory claimed by The Philippines.

In some parts of the Spratly Islands, specially trained marines, armed with automatic weapons and side arms—not to mention guns still operational aboard the otherwise derelict ships—stand guard in the heat. Their job: keep an eye on Chinese sailors who patrol the waters around them. The Chinese are heavily armed. The Filipinos are heavily armed. A few cautious folks back at the Pentagon even stay awake at night worrying about the implications of so many highly-motivated marines and sailors of rival navies in such close proximity.

Following American plans for increased naval activity in the South China Sea, Chinese Defense Ministry spokesman Col. Wu Qian summed up China's sovereignty claim with the "Three No's."

"No matter how many and how frequently U.S. ships come to the South China Sea, that would not change the fact that the islands and adjacent islands are China's inherent territory," he said. "It would not stop the pace of China's growth and development and even more it would not shake the will of the People's Liberation Army in resolutely safeguarding the sovereignty and security of China."

Related Thursday Review articles:

Tensions in the South China Sea; R. Alan Clanton; Thursday Review; May 30, 2015.

Troubles in the South China Sea; R. Alan Clanton; Thursday Review; August 23, 2014.