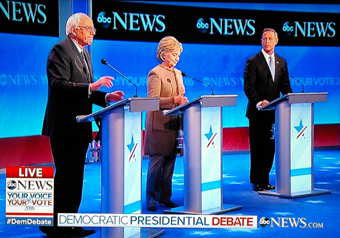 Image courtesy of ABC News
Clinton Versus Trump: Apology Wars & Debate Fallout
| published December 21, 2015 |
By Keith H. Roberts, Thursday Review contributor
On Monday, Hillary Clinton told Donald Trump she will not apologize for telling viewers watching the recent Democratic debate that Trump's insensitive and brash comments about Muslims are being used in videos produced by ISIS as a recruitment and propaganda tool.

Trump has demanded that Clinton offer an apology, including a high profile request he made on NBC's Today Show.

Trump also insisted that Clinton produce a video—any video—currently being used by ISIS in which Trump's comments have been used. Though the Clinton campaign has since acknowledged it does not have actual evidence of an ISIS video in which Trump's words have been used for propaganda purposes, Brian Fallon, a Clinton campaign spokesperson, says there will be no apology forthcoming from Clinton.

"Hell no," Fallon said, "Hillary Clinton will not be apologizing to Donald Trump for correctly pointing out how his hateful rhetoric only helps ISIS recruit more terrorists."

NBC News, CNN, and other news organizations have investigated, and say they have found no evidence of ISIS recruitment videos using the words of Donald Trump. But on Monday, the Clinton campaign shifted the discussion from "video" examples to what the campaign said were plenty of social media examples, including Facebook and Twitter.

In the meantime, Trump still steadfastly demands an apology from Clinton, and in a rare show of solidarity even some GOP rivals are in agreement with the billionaire real estate mogul. On Monday, Jeb Bush told radio commentator Bill Bennett that Clinton was out of line. "Talk about chutzpah," Bush said. (Just days before, Bush had told a room full of supporters that Trump was "a jerk.")

The Trump versus Clinton dust-up is one of several new realities emerging after a busy weekend of intense political jockeying after a sometimes explosive forum among the three Democratic candidates for President. Democrats met on Saturday in New Hampshire to debate the issues and make one last appeal to voters before the first true test on February 1, 2016—the Iowa caucuses.

The debate, hosted by ABC News, commenced only hours after attorneys for the campaign of Senator Bernie Sanders (D-VT) successfully sued the Democratic National Committee to regain access to voter data and digital campaign information—a trove of critical data which the DNC had barred the Sanders team from accessing, punishment for a breach in the computer system at a DNC vendor.

Appearing in the Saturday night debate were the top three Democratic candidates—former Secretary of State Hillary Clinton, Vermont Senator Bernie Sanders, and former Maryland Governor Martin O'Malley, met on stage in Manchester, New Hampshire.

Right out of the gate, Sanders was asked by ABC's David Muir to address the 500 pound gorilla in the room—the issue of that data breach with the DNC vendor. Sanders apologized directly to Clinton, and assured those watching that others may be fired for the way the data was viewed and handled. But Sanders made it clear that the problem with vendor NGP VAN has existed prior to the recent, high-profile breach, and that the DNC's actions after the recent breach was discovered were intended to deliberately injure the Sanders campaign in the scant few weeks left before caucus-goers make their decision in Iowa.

On Friday, the Sanders campaign fired Josh Uretsky, the Sanders staffer who allegedly looked at data belonging to the Clinton campaign (and, according to the DNC, downloaded or copied some of the material). Spokespersons for the Sanders campaign said that the breach was accidental, and that Uretsky's judgment was poor, but insisted that no data was stolen.

At the very start of the debate Sanders apologized for the incident, and assured voters and fellow candidates that it would not happen again. Clinton seemed to accept the apology, and—despite a brief attempt by O'Malley to reignite the topic by citing it as a reason why voters are fed-up with politics-as-usual—the debate moved quickly forward into new territory. Like the much-anticipated Ted Cruz versus Donald Trump clash earlier in the same week, the much-predicted knife-fight over between Sanders and Clinton over digital data and emails was over with almost as quickly as it had started.

Having resolved the issue of the DNC's data, ABC moderators David Muir and Martha Radditz, moved directly to terror, ISIS and national security. Though that conversation created a lot of consensus on how to approach the matter of ISIS—especially through a wider coalition of Muslim nations—it was clear that Clinton took a slightly more hawkish approach to confronting the Islamic State than either O'Malley or Sanders. All three candidates managed to invoke the words "consensus" and "agreement" several times within the next five or six minutes of debate. There was a brief moment where it appeared that the Democrats might not draw blood, or even throw a punch.

But it was gun control which sparked the most intense and contentious early confrontation between the candidates. O'Malley—seeking to distance himself on the issue—called Clinton a flip-flopper on guns and accused Sanders of molly-coddling the gun industry. O'Malley told those in the audience and those watching on TV that he—and he alone of those on the stage—was the true progressive when it came to controlling guns, and cited his record as governor of Maryland as evidence that he has the courage to stand up to the National Rifle Association. This triggered a heated round of arguments in which both Sanders and Clinton accused O'Malley of distorting their records and their narrative on guns.

After that, the debate turned decidedly more rambunctious—and at times downright contentious.

The debate drew in a robust 7.85 million viewers—a relatively low figure when compared to the other debates of both major parties this year, but a surprisingly high figure for a political events on a Saturday night, generally viewed as the prime-time slot with the least political pull for television viewers. Even more notable was the fact that the debate came just six days before Christmas, and at a time of maximum holiday distraction for many Americans. Still, the debate managed to beat the average for debates from both the 2008 and 2013 campaign cycles, according to Nielson.

That all the candidates on the stage in New Hampshire Saturday night invoked the name of Donald Trump repeatedly shows the apparent staying power of the billionaire in the political conversation, despite his losing ground to Ted Cruz in Iowa, as well as signs he may be slipping in polls in New Hampshire. Trump's name was mentioned some 25 times during the debate—an indication, some political analysts say, that the narrative for the Democrats has already shifted to the notion of facing Trump in a general election next November.

Clinton mentioned Trump's name more than the other two candidates combined, an even more important clue—many political analysts say—that she is looking past the primaries and caucuses, and setting her sights firmly on the general election. Some experts have pointed to the fact that Clinton so readily and easily accepted Sanders' apology for the data breach mess; indeed, if Clinton still truly feared a resurgent Sanders past South Carolina, or so the thinking goes, she would have used the incident to bludgeon the Vermont Senator. Instead, she let the issue slide—even allowing herself the luxury of passing on the chance to turn the "email" matter on its head, once and for all. Why? Clinton knows she will soon have bigger fish to fry.

And though at times Maryland's Martin O'Malley got under her skin—especially when he challenged her positions on gun control, her long record of coziness to Wall Street, and her perceived weaknesses on the duel issues of Syria and Libya—those who follow the Clinton machine closely say that she showed remarkable restraint…retaliating against O'Malley only on selected points and specific items.

O'Malley has every reason to try to knock Clinton off her stride; though he remains in third place among the top three Democrats, he has thus far been unable to spark a progressive fire behind his campaign. If he falters in both Iowa and New Hampshire, and if he lands a distant third in South Carolina and Nevada, his campaign is likely to spiral into irrelevance in a race now too easily seen as a battle between a de facto front runner (Clinton) and an insurgent (Sanders).

In that context, O'Malley wants his jabs to land, and he feels understandable frustration that the insurgency has become the exclusive territory of Sanders and his vocal, enthusiastic supporters, just as he feels resentment toward a DNC which—to most outside observers—seems hardwired in favor of Clinton.

Still, it was clear that Hillary Clinton was not going to take the bait from either O'Malley or Sanders, even when she was forced to defend her evolving positions on gun control, and her longstanding tight relationships with Wall Street and Silicon Valley.

In the meantime, it works to Clinton's advantage to fast forward the process and begin her battles with Trump. In doing so now—and during that debate—she signaled to voters that she considers the remaining weeks between now and Iowa to be a formality. Her strategists no doubt feel certain, based on their math (and that much-discussed voter data collected by NGP VAN), that Clinton will win the primary and caucus battle soon enough. Her resources are substantial, and if she can convince those voters watching from a slight distance—South Carolina, Nevada, Florida, Super Tuesday—that she has moved on toward the general election, the dueling nuisances of O'Malley and Sanders might more easily disappear from the radar completely.

Related Thursday Review articles:

Trump Reaffirms Loyalty Pledge to GOP; R. Alan Clanton; Thursday Review; December 17, 2015.

The Democratic Forum: Who Among You is Most Progressive and Wise?; R. Alan Clanton; Thursday Review; November 10, 2015.