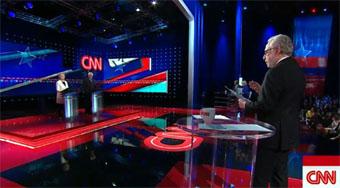 Images courtesy of CNN
Battle in Brooklyn:
Brass Knuckles, Brutal Punches
| published April 15, 2016 |
By R. Alan Clanton, Thursday Review editor
If American politics is a full contact sport, the Democratic front-runner and her challenger on Thursday engaged in the sort of single combat comparable only to boxing. Indeed, in a presidential debate sponsored by CNN, the battle on stage seemed more like Ali Versus Frazier than candidate versus candidate.

In what was arguably the most intense and combative forum yet between the two arch-rivals for the Democratic nomination, former Secretary of State Hillary Clinton and Vermont Senator Bernie Sanders battered each other intensely over nearly every aspect of their records in the U.S. Senate and in their previous roles in public life.

The debate—coming only days ahead of the New York primary—was at times heated, and more often than not prompted emotional and enthusiastic responses from the partisan members of the audience in Brooklyn, New York. Both candidates were at times booed or heckled by the audience, but it was Clinton who clearly drew the brunt of the audience's ire at times. Clinton was booed on at least a dozen occasions during the debate, often as a result of tiptoeing around giving direct answers to questions about her past. Sanders struggled at times, facing an especially tough session when he had to defend his opposition to gun legislation.

Clinton seemed to get the upper hand as the gun control argument was batted back and forth, with Sanders attempting to parse his words and measure his syntax carefully. Sanders insisted that he is no friend of the NRA, and stressed—as he has done in the past—that he has no problem with background checks for all gun purchases and supports limitations on the sale of assault weapons.

Among the charges leveled at each other: Clinton lambasted Sanders with an emotional excoriation over his past support of gun rights, linking Sanders to the murders at Sandy Hook in 2012, and suggesting that the Vermont Senator was an ally of the National Rifle Association; Sanders blasted Clinton for her use of the term "super predator" in the 1990s when the 1994 Crime Bill was being crafted by Congress and then-President Bill Clinton, likening the phrase to a racist code word.

During the debate Clinton again apologized to anyone offended by the terminology, and she again offered contrition for her part in promoting the Crime Bill, which many liberals and conservatives agree had the perhaps unintended effect of increasing incarceration rates, mandating a template for inappropriate sentencing requirements, and spawned the institutional effect of jailing far more blacks than whites. But Clinton also offered that at least the 1994 bill came as a result of the executive and the legislative sides working together on a consensus initiative, even if the long term effects have proved troubling.

"My husband has apologized," Clinton said, "he is the one who signed it [the crime bill]. I've seen the results and impact it had had on families and communities."

The "super-predator" issue floated back to the forefront this week when the former President received boos and heckles while campaigning for his wife in Philadelphia. The former President told the noisy protesters that he found no other way to "characterize the gang leaders who got 13-year-old kids hopped up on crack and sent them back out into the street to murder other African-American children. Maye you thought they were good citizens. She [Hillary] did not."

During the debate, Sanders was asked to explain his calling-out of Clinton for her—and the former President's—frequent past use of the term super-predator, including Sanders' recent comments at the Apollo Theater in Harlem. Sanders defended his attack on Clinton's language.

"It was a racist term," Sanders said, "and everybody knew it was a racist term."

Sanders went on to decry the "broken criminal justice system" in the U.S., a country which he says incarcerates more people than in any other country.

Clinton's alleged coziness to Wall Street and the mega banks also again became a center-stage issue as Sanders hit the former Secretary of State hard on her huge corporate speaking fees.

Indeed, in one of the most intense exchanges of the night, Sanders attacked Clinton for her steadfast refusal to provide transcripts of her paid speeches to the Wall Street firm Goldman Sachs, or her paid speeches to companies like Verizon and Citi Group, appearances for which Clinton was paid $225,000 per speech. Senator Sanders has made those massive paid appearances a key campaign issue, suggesting that Clinton is tainted by her linkage to big business and corporate America.

When CNN moderator Dana Bash asked Clinton why she and her campaign would not simply put an end to the matter by releasing the text of those speeches, Clinton danced around the subject, referencing instead her fierce independence and her track record as a progressive. But Bash insisted that Clinton give a direct answer, yes or no, as to whether she would pledge to release transcripts of the speeches. Clinton again tiptoed deftly away from giving a straight yes or no, and cited that she might consider the release of such transcripts only if all other candidates for public office were similarly mandated to disclose such information.

On her third attempt to dance away from the issue, Sanders pounced, insisting to the moderators and to the audience that Clinton had clearly not answered the question, and implied that Clinton must obviously have something to hide in those speeches to Goldman Sachs and other corporate entities.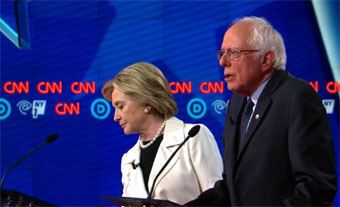 This triggered what Clinton hoped would be a slam dunk of her own: a challenge to candidate Sanders to release, once and for all, his tax returns. Clinton attempted to equate Sanders inability to release tax data to Donald Trump's own refusal to do the same. Sanders hoped to quell the issue by insisting that he and his wife would release at least one year's worth of tax information by Friday, and ahead of the New York primary. When CNN's Wolf Blitzer sought to clarify, Sanders said he would definitely release the tax data from 2014.

The debate started and ended with dueling narratives as developed by the two candidates. Clinton wants New York voters to question Sanders' proficiency with policy issue and details, especially in the wake of Sanders' lackluster recent interviews in which he seemed uncertain of how he would break up large banks. Sanders, by contrast, wants voters to cast a long look at Clinton's judgment, the issue which Sanders has sought to make the key wedge in shearing off Clinton's progressive support. For that reason, Sanders hit Clinton hard on her vote in favor of the Iraq War—the loudest of the cans which he has sought to attach to Clinton's coattails—and her ready acceptance of those massive speaking fees from Wall Street.

Though they are in general agreement on environmental issues, the candidates also sparred intensely over how to address climate change, energy independence and approaches to alternative fuels, with Clinton stressing her pragmatic, incremental approach to climate change, and Sanders hitting Clinton hard on the issue, in essence suggesting that her ties to corporate energy firms and oil companies make her inherently resistant to the big changes needed to reverse global warming and dependence on fossil fuels. Sanders blasted the Paris international agreement on climate change as an anemic approach, and Clinton embraced it as a practical step in many necessary steps.

The debate was the most freewheeling and intense yet for the Democratic candidates, and the forum was marked by several moments of crosstalk and combative shouting. At one point during an intense exchange over the minimum wage, moderator Wolf Blitzer had to referee as Clinton and Sanders attempted to talk over each other.

"Senator Sanders, Secretary Clinton…if you're both screaming at each other, the viewers won't be able to hear either of you," Blitzer said as he attempted to regain control of the room.

Clinton hopes to derail Senator Sanders' by winning big in New York on Tuesday. Her strategists believe that a wide-margin win in the Empire State may once-and-for-all drive Sanders into the margins and allow her to move unhindered toward the convention this summer. Sanders' goal is to pull off an upset similar to some of his past victories; a win by Sanders in New York, even by a small margin, might prove to be a game-changer for the Senator.

Though Clinton still leads by 11-to-16 points in most polls (a brand new NBC/Wall Street Journal/Marist poll has her with a 17 point advantage), some polls by other media sources show the race narrowing—an indication of both the fluid nature of the race and the intensity of the on-the-ground operations between the two campaigns.

Some polls indicate a dead heat between Clinton and Sanders in upstate New York, with Clinton holding onto her widest lead in New York City and its close suburbs. And like the rest of the country, Sanders maintains a wide lead among voters under the age of 45, with an insurmountable lead among first-time voters.

Both campaigns say that turnout will be a factor, and both organizations are hoping to energize their likely supporters to turn out in large numbers.

Related Thursday Review articles:

Sanders Wins in Wyoming; Keith H. Roberts; Thursday Review; April 10, 2016.

Sanders Scores Big Win in Wisconsin; Keith H. Roberts; Thursday Review; April 6, 2016.