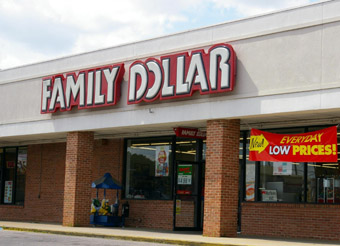 Dollar Versus Dollar
| published September 10, 2014 |
By Thursday Review staff


In the deep discount, low-brow shopping business, things can get rough. Those retail stores may sell products at rock bottom prices to consumers looking to save a little money, but behind the scenes there are billions of dollars at stake.

The fight over control of retail giant Family Dollar got nasty this week, as Dollar General took the fight into hostile territory. Family Dollar had previously turned down a friendly offer from Dollar General only weeks ago, and now Dollar General is raising the stakes by circumventing Family Dollar's top management, and instead hoping to lure individual stockholders with a rich offer of $80 per share. This offer exceeds Dollar Tree's offer of $74.50 per share.

In a public statement, Dollar General's CEO Rick Dreiling promised those who hold stock in Family Dollar an "immediate and certain liquidity for their shares." In other words, cash in hand—presumably more than the stock is worth on the market.

Family Dollar, which had been interested in Dollar General's original offer, turned it down after its own analysts and legal experts questioned Dollar General's ability to get the proposed buyout past Federal regulators and several anti-trust hurdles. Family Dollar was also concerned about a deep loss of retail locations and the inevitable layoffs of thousands. Family Dollar's board of directors unanimously rejected the offer.

Then, after rejecting Dollar General's original offer, it agreed to another offer from Dollar Tree. In that proposal, Dollar Tree would get all Family Dollar stores for $8.5 billion. Family Dollar management say that their own studies have concluded that the Dollar Tree merger makes more sense and is less likely to run afoul of regulators. Dollar Tree had also agreed in writing to the divestiture of enough stores in the appropriate locations to satisfy antitrust concerns.

But Dollar General is determined to make their deal work, and its own analysts predict that the cash offer to stockholders will put pressure on Family Dollar management to close the deal quickly. In its statement, Dollar General told stockholders in Family Dollar that the offer will expire on October 8, less than one month from now.

Dollar General clearly hopes to nudge Dollar Tree out of the way in its quest to buyout Family Dollar. In the meantime, Family Dollar stockholders can weigh their options, and some business analysts suggest that Dollar General might ultimately win this contest between the discount retailers.

Dollar General is based in Goodlettsville, Tennessee; Family Dollar is based in Matthews, North Carolina.


Related Thursday Review articles:

Is There a Future for the Middle Tier Retailer?; R. Alan Clanton; Thursday Review; June 30, 2014.

Family Dollar to Scale Back; Thursday Review staff; Thursday Review (Archives); April 13, 2014.