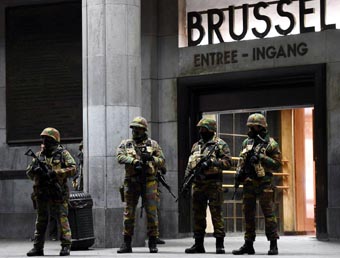 Image courtesy AFP/Getty
Terror Concerns Still Haunt Europe
| published November 23, 2015 |
By R. Alan Clanton, Thursday Review editor
The death toll in the Paris attacks now stands at 130, with the number of victims in critical care units in hospitals hovering around 90.

In Belgium, dozens more suspects have been arrested in raids by police and security forces. Still at large: Salah Abdeslam, believed to have been a part of one of the worst terrorist attacks on French soil since the close of World War II. Belgium remains on its highest security alert status.

Last Friday, ISIS militants unleashed a series of attacks in and around Paris—detonating bombs at a soccer stadium, firing at patrons at several corner restaurants and cafes, shooting at groups of people on streets, and storming into a crowded music venue where the heavily armed gunmen opened fire with automatic weapons, killing 80 people. By the time it was over that night, 129 were dead, more than 350 wounded, and all of France was on edge.

French President Francois Hollande declared a national state of emergency, put Paris on lockdown, and mobilized all security and police units across the country. Most of Europe and the U.S. went into a high alert mode, with fears of additional attacks sweeping through Belgium, Germany, Italy and the Netherlands, and with political shockwaves disrupting the American political debate and shifting the already heated conversations between Presidential candidates of both major parties.

French police say that the mastermind of the attack—along with two accomplices—were killed last week in a bloody siege at an apartment building in Saint-Denis, a Paris suburb. One suspect is still on the run, last seen at the Belgian border. In Belgium and Germany, fears of more attacks forced some events to be cancelled over the weekend and brought record numbers of armed police and military onto the streets. Since the Paris attacks, ISIS has posted a half dozen new videos in which the militant group threatens more attacks—on France, on Belgium, on Russia, on Italy, on the United States, and on any country which interferes with it goal of the creation of an Islamic caliphate.

In Brussels, Belgian Prime Minister Charles Michel says that all evidence points to an imminent terrorist action, and the city not only remained on high alert this weekend, but officials have announced the closure of most schools and the cancellation of many public events on Monday, possibly stretching into Tuesday.

"We fear an attack like the ones in Paris, with several individuals, perhaps in several places," Michel told reporters on Sunday after meetings between the highest security personnel in Belgium. Michel said that the National Security Council agreed to keep schools and universities shuttered, subway systems silent, and malls, large outdoor markets, and shopping areas closed. Public buildings and commercial centers will remain heavily guarded, and extra military and police will be deployed at train stations and busy, crowded areas.

Interior Minister Jan Jambon said that suspects may still be at large, and one of them—Salah Abdeslam—may still be on the run inside Belgium, wanted now by authorities all over Europe. The 26-year-old was last seen at a border checkpoint between France and Belgium hours after the Friday attacks in Paris. Meanwhile, other arrests have taken place in France, Germany and Turkey. In France alone, police and investigators made hundreds of arrests over the course of several days last week, a nationwide round-up of those with suspected links to ISIS, al Qaeda or other radical groups.

Speaking at a Sunday meeting in Kuala Lumpur, Malaysia—part of a nine-day trip across Asia and the Pacific—U.S. President Barack Obama said that the U.S. and its allies will not back down or cower in the fight against ISIS and its terrorist minions.

"Our coalition will not relent," Obama said, "We will not accept the idea that terrorist assaults on restaurants and theaters and hotels are the new normal, or that we are powerless to stop them."

"The most powerful tool we have," Obama said, "is to say we are not afraid."

Meanwhile, a multitude of military strikes targeting ISIS continue in Syria and Iraq. After the attacks in Paris last week, French officials decided to step up participation in the air assaults—a campaign led by the United States, and which includes air power from Britain, Jordan, Saudi Arabia, Qatar, Kuwait and the United Arab Emirates. Separately, Russia is operating its own air campaign against ISIS, targeting specifically those militant elements which most threaten the regime of Bashir al-Assad.

Beginning last week, as U.S., Jordanian and French warplanes bombed specific targets in Syria and Iraq, Russia began coordinating its own bombing runs in Syria. According to the Pentagon, the U.S. will maintain an air command post responsible for "deconfliction," a central air traffic control center to help manage the increasingly crowded skies over northern Syria. Though the other Arab states once participating in the airstrikes have reduced their role over the last few months, some analysts suggest that new and aggressive moves by ISIS may prompt countries like Egypt, Saudi Arabia and Kuwait toward more proactivity in the skies over Iraq and Syria.

Bombing missions may increase even further starting next week, after the arrival of the aircraft carrier Charles de Gaulle, which will provide an additional 24 fighter jets, along with other support, in the Middle East.

On an official visit to Paris this week, British Prime Minister David Cameron announced that he will soon ask British legislators for approval for British air power to join in the coalition bombing runs in Syria. The U.K. is already participating in the air campaign in Iraq.

In Paris, Cameron and Hollande visited the Bataclan Concert Hall on Monday.

Back in Brussels, where the most intensive manhunt is under way, Jambon told reporters that the on-the-run Abdeslam almost certainly has help from like-minded groups or individuals. For this reason, Jambon said, the police raids will continue until the network of extremists is fully unraveled and Abdeslam is caught. Ironically, Abdeslam may also be in the crosshairs of ISIS itself; Islamic State propaganda has included warnings that Abdeslam—by not fulfilling his role as a suicide-attacker—is not welcome among ISIS components elsewhere.

In addition to the Paris terror attacks, ISIS has been responsible—or claimed responsibility—for numerous other recent attacks outside of its generally contiguous borders in northern Syria and northern Iraq. ISIS militants detonated powerful bombs in Beirut weeks ago in an effort to blunt the influence of Hezbollah. ISIS militants have also set off bombs in Afghanistan and Iraq, and have claimed responsibility for terrorist and military activity in Turkey and Jordan.

An ISIS-linked militant group operating in Egypt has taken responsibility for the bomb which brought down a Russian Metrojet airliner in late October, killing 224 passengers and crew. Islamic State social media says that the bombing of the Russian passenger plane was retaliation for Russian's military intervention in Syria.

Related Thursday Review articles:

Paris Death Toll Rises to 130; Thursday Review staff; Thursday Review; November 20, 2015.

Terror Arrests Made in Paris Suburb; Keith H. Roberts; Thursday Review; November 18, 2015.