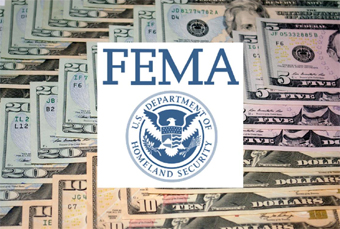 Photo-composition by Thursday Review
Despite Inspector General Report, FEMA Grants Still Waste Cash
| published March 25, 2016 |
By Thursday Review staff
Taxpayer dollars set aside for the Federal Emergency Management Agency (FEMA) are being wasted because of recurring problems in the way that grants and funds are being distributed to cities, towns, communities and states, according to a new report by the Inspector General.

Worse, the money is being poorly allocated and in some cases wasted despite a detailed IG report on methods for improvement which was first issued more than a year ago.

The Inspector General for the Department of Homeland Security released a statement this week saying that FEMA "missed opportunities to improve its oversight of the Homeland Security Grant program (HSGP) because it [FEMA] failed to perform a root-cause analysis of the IG's recurring recommendations."

In short, FEMA failed to take action, and money is still being poorly spent.

The grant program sets aside funds for a tapestry of programs for states, counties, cities, communities and tribal areas to improve and enhance their ability to better prepare for serious emergencies, such as natural disasters, terrorist attacks, or man-made disasters. FEMA distributed roughly $7.6 billion in monies to cities, states and towns during the five-year period from 2009-2014—all of it meant to augment preparedness issues and local and regional rapid-responses to potential disasters.

The IG report said that much of that money is being badly deployed or badly spent, and some of it is simply wasted. The proof, says the IG, is that the same problems continue to recur, year after year, month after month, despite a clear list of recommendations for improvement—490 in total—included in the late 2015 report. Of those 490 suggestions for improvement, some 450 cover recurring, or repetitive, problems with how the funds are being managed.

In some cases, the IG says, FEMA simply has no reliable way to track grants or follow-up to make sure that grant money is being spent appropriately by those communities and states which receive the cash. The IG says it conducted 58 audits of the grant program, but found that in very few cases was there a way to track the effectiveness of the program, or to track how communities were spending the money.

Worse, says the IG, FEMA never even addressed the report or developed a plan—short term or long term—to take on the recommendations, and as a result, those recurring problems persist, sending untold millions of taxpayer dollars into the dustbin. The IG says that FEMA should have developed a root-cause analysis back after receipt of the initial report, but failure to act has left existing problems intact and unresolved.

Thursday Review looked at the complete report, available online in PDF form, and found a spreadsheet which listed the audits reviewed of FEMA's grant deployments individually. The IG's audits included examination of grant money spent in almost every state, including California, Missouri, Maryland, New Jersey, Colorado, Florida, and Louisiana.

"Without a plan to analyze recurring OIG recommendations," Inspector General John Roth wrote in a cover letter submitted with his latest report, "FEMA will continue to miss opportunities to improve its management and oversight, leaving taxpayers liable for future losses." Roth noted that FEMA has now agreed to take "corrective action" in response to the report.

Related Thursday Review articles:

Is Drone Program on Border Wasting Millions?; R. Alan Clanton; Thursday Review; January 13, 2015.

Eminent Domain and the Fifth Amendment; Earl Perkins; Thursday Review; February 15, 2014.