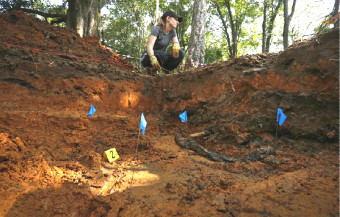 Grave excavation site at the Dozier School for Boys/
photo Edmund Fountain/Tampa Bay Times/AP
Will Florida Find Genuine Closure for Dozier School for Boys?
| published March 14, 2016 |
By Earl Perkins, Thursday Review features editor
The Florida Legislature has committed $500,000 toward reburying the remains of children and teens found in unmarked graves at a now-infamous state-run reform school in the Panhandle near the town of Marianna, according to The Tampa Bay Times and several other media outlets.

The Arthur G. Dozier School for Boys was open from 1900 until 2011, during which time many of the youths were subjected to abuse, torture, beatings, rape and even murder by staff members. In past decades there were several cursory official investigations, changes in leadership, and promises by the state of improvement, but problems persisted for more than a century.

Accusations were leveled even from the school's early days—40, 50, 60 years ago—but the only meaningful probes were led by the Florida Department of Law Enforcement in 2010 and the Civil Rights Division of the U.S. Department of Justice in 2011 and 2012.

Most residents of Florida—especially those of a certain age—had heard the horrible stories for generations, but many of the youngest prisoners came from poor families or were just incorrigible, which garnered little sympathy and almost no support for investigations from influential leaders. The poorest of the kids were black, white, Latino, some Native Americans, but few came from families with the resources to track what was really happening to their youngsters.

Scores of the youthful offenders died in their teens, and some were simply never heard from again, with little or no official explanation to their whereabouts after courts sent the kids to Marianna. Some of those who were presumed missing or dead were buried over the years in small, shallow, unmarked graves in little patches of open ground between the thick pine forests and sandhill thickets which surrounded the school in those decades, woods which still dominate the landscape even now. Many of the graves were unmarked—mere bumps in the weeds and grass; others were designated later by cheap crosses made of scraps of wood, leftover pieces of metal from the shop, or even PVC pipes used commonly in plumbing.

Some of the first to be buried were kids only 13 and 14 and 15 years old—in the early 1900s and the 1920s. All told, the remains of more than 50 bodies have been recovered through painstaking and complex work by anthropologists at the University of South Florida. The work has been famously slow and arduous; some of the bodies were not even in containers, merely kids tossed nearly naked into the shallow, sandy soil. Of those remains, DNA has been able to reliably match only about seven with certainty, and another 14 with "presumptive matches."

Despite decades of stories, little was done to look deeply into the recollections of dozens of men who were once housed in the Boys School—stories of merciless beatings with pipes, belts, chains and sticks, and tales of kids being forced to stand in winter cold in concrete buildings with no windows. Survivors of the school recall lying in bed listening as guards would club kids with pipes until bones broke; other survivors recall vividly hearing screams as teens were literally beaten to death in the night. Even by the late 1920 and mid-1930s, studies indicated an unusually high death rate at a school which housed kids as young as five. Despite these red flags, little was done officially to end what had become an institution of horror and pain.

Recent investigations have led to interviews with about 100 former student-detainees of the school. Their stories share a remarkable consistency and a number of common themes, despite sometimes vast age differences. Many of the healthiest kids were farmed out to work for private individuals, with guards and supervisors pocketing the pay. Other teens were used for state labor, despite being underage. Evidence also indicates that many of the kids—as young as eight—were regularly held in shackles and chains. Some of the survivors have coalesced around the group name The White House Boys, a name with no connection to Washington, D.C., but instead a darkly-ironic nod to the small, unheated concrete block building—whitewashed or painted white on the outside—which served as the principal center for extreme punishment. Survivors recall that the interior walls of "the white house" were stained with the dark red, burgundy and brown discoloration of blood.

Death was so common that to conceal the problem and avoid any scrutiny, the school's policy became to systematically underreport death. Decades of records showed that the number of students consigned to the reform school greatly exceeded those who left, or whose deaths were recorded. Some of the school records simply describe youthful offenders as have "gone missing," or having disappeared. Many are now believed to have died on campus and then buried somewhere on the grounds.

In the early years of the school's infamous history many black youths fared far worse than their white counterparts—a sad parallel commentary on conditions in the segregated Deep South. Investigations into the school's records show that in the early 20th century many of the black kids had no full name—or no name at all—listed in the rolls. Adding to the lopsided nature of the reform school's roster—a high percentage of the teens of color were sent to the infamous campus for minor offenses, such as truancy, running away from home, skipping school, incorrigibility, even frequent use of profanity. That some of them died grisly deaths at the brunt end of torture makes the calculus even more disturbing.

Over the years, no major public apology or compensation for effected families is forthcoming from the state, and legislators have shown reluctance to criticize the small North Florida town where much of the abuse occurred. And it's certainly not likely the government of Florida cared what families of victims, or Marianna residents, had to say concerning the matter.

State Representative Ed Narain, D-Tampa, said the state needs to do much more, but last week's action is a meaningful start. He and Sen. Arthenia Joyner, D-Tampa, co-sponsored the bill which was approved last Tuesday, noting that families of the more than 50 children whose remains have so far been discovered at Dozier would qualify for up to $7,500 each, allowing for proper burials and time to find family members of others not yet identified.

The state is also creating a task force to determine what type of memorial would be appropriate to erect at the "school," located about 45 miles west of Tallahassee. The Florida House voted 114-3 for the bill, while the Senate passed it earlier this month. The legislation has now been forwarded to the desk of Gov. Rick Scott.

"More than a tragedy happened at Dozier," Narain said. "In the eyes of any human being with a heart and a soul, the unimaginable happened at Dozier."

Narain said boys placed in care of the state deserved better than those unmarked graves. And the family pleadings might have gone unanswered if it weren't for a group of University of South Florida anthropologists who took an interest in the case. In 2012, they began investigating burial grounds on campus, a roped-off area in the trees where the pipe crosses had been placed, a spot where the remains of 31 youths were thought to be interred.

Ground penetrating radar and advanced excavation techniques were used, turning up 55 graves, many located outside the marked cemetery—some beneath trees and brush, and some even under an old road. A report was presented to the Florida Cabinet in January, showing most of the deaths were caused by illness, but some involved shootings, drownings and beatings. Some skulls had obvious bullet holes; the bones in some legs and arms had massive fractures, likely caused by beatings with baseball bats or metal pipes. Many of the bones in the fingers, hands and wrists showed evidence of defensive wounds—likely kids tossing up their hands as a guard clubbed them with a pipe or beat them with chains and belts. A few showed evidence of buckshot gunfire to the back. Several skulls show the unmistakable sign of blunt trauma.

After many months of work, all 55 known graves were examined, and the remains carefully and painstakingly removed for identification.

"This is a start toward that closure for the families who lost someone," Narain said on the House floor during debate.

But in a state where budget considerations carry deep ramifications, and where a nasty political fight is bound to break out over any substantial spending, the questions and the concerns began to roil almost immediately. State Rep. John Wood, R-Winter Haven, sought assurances from Narain that this was not a "claims bill" to compensate for tragedies that happened at the school. Wood and two others ultimately voted against the bill. Weeks earlier, Sen. Don Gaetz, R-Niceville, questioned Narain as to whether his bill was blaming anyone for might have occurred. On Monday, state Rep. John Tobia, R-Melbourne Beach, had angled to substantially reduce the payment, noting that a larger sum might invite spending the funds.

"Two thousand is a lot more reasonable than $7,500," Tobia said.

That statement triggered a fistful of questions from Democrats in the House. Rep. Reggie Fullwood, D-Jacksonville, queried why Tobia sought the reduction, noting that his own grandmother's burial was more than $2,000.

"So it's your opinion Rep. Tobia that because these remains were in the ground that they don't deserve a respectable burial like one of our family members would?" Fullwood asked Tobia.

Tobia quickly pulled his proposal from consideration, thus allowing the $7,500 figure to stand in place.

Based on the subject's heated debate the past few weeks, Narain noted the next needed step wouldn't be easy—following the lead of several Cabinet members who publicly apologized in January to victims for what happened at the school campus.

"I think there is an opportunity for us to really provide some healing to the survivors of Dozier at the next legislative session," Narain said.

At one time, Dozier was the largest juvenile reform institution in the nation. As if that weren't bad enough, overcrowding caused the need for another facility to be built. It opened at Okeechobee in 1955. Evidently, a few of the most abusive guards at the Marianna facility were tapped to help open the new school, and the horrific behavior which was an endemic part of the culture at the original location became a fact of life at the newly opened school.

The school first opened its doors in 1897. Ancient colored postcards show an almost idyllic place of grand, academic-looking brick and wood structures and stately pines and oaks—a campus-like environment which, in the words of the Florida Legislators own mission statement for the facility, would serve "not only as a place of correction, but a reform school, where the young offender, separated from vicious associates, may receive careful physical, intellectual and moral training."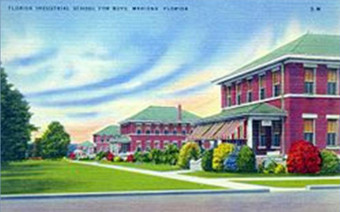 Older Floridians—those who were born in the 1920s, 30s, or 40s—recall occasionally hearing the often grim tales of what happened on the Dozier campus. A few recall stories of kids being sent by a judge or a juvenile court—young people they never heard from again. Parents also recall the gruesome lack of closure for children they last saw being taken from a courtroom in some town like Gainesville or Perry or Ocala and who were never seen again. If the parents were lucky, they might receive a letter informing them that their son had died…or pneumonia, or influenza, or for reasons unknown.

Many parents were told simply that their son had disappeared. For those families, closure never came.

Related Thursday Review articles:

Torture, Plain and Simple: The Florida School for Boys; Earl Perkins; Thursday Review; July 15, 2014.

Boot Hill's Buried Crimes; Earl Perkins; Thursday Review; February 14, 2014.