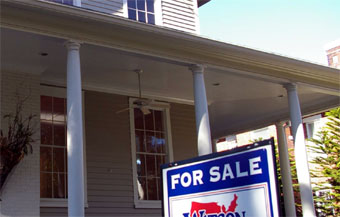 Photo by Alan Clanton/Thursday Review
Florida Cities Top
Home-Flipping List
| published April 8, 2016 |
By Thursday Review staff
For better or worse, for richer or poorer, the economic trend is back, and it will have an especially large impact on you and your family if you live in sunny Florida.

The real estate data tracking firm RealtyTrac, Inc reports what many business analysts have been saying for more than a year—home flipping is on the rise again, and it may soon race upward to the same levels seen in U.S. markets prior to the mortgage meltdown and the start of the Great Recession.

RealtyTrac says that its numbers show that of all home sales nationally, some 5.5% were "flips," rather than traditional purchases for residential home ownership or long term investment. But in Florida, a dozen metro areas top the list for the U.S.

A "flip" is simply the process of an investor—a company or an individual—buying the home in anticipation of a rapid increase in value, then placing it back on the market…normally within the first year to 18 months, making the house a decidedly short-term investment for the flipper. The shorter the turnaround the better, as long as the person flipping makes a tidy profit.

Three quarters of all housing markets saw an increase of flipping during 2015, meaning that the trend is spreading nationally and into all geographic regions. But Florida dominates the list of states where home flipping has reached striking new highs.

Among those Sunshine State housing markets with a high level of flipping among all home sales: Lakeland-Winter Haven, where nearly 9% of all home sales in 2015 were flips. Other cities with a high rate of short-term investment in houses include Jacksonville, where an astounding 2,079 homes were flipped during 2015, or 7.9% of the total 601,347 home units in the market. Homosassa Springs, Ocala, Daytona Beach-Ormond Beach, and Pensacola all fell within the top ten housing markets in the U.S. for the percentage of houses flipped during 2015. Crestview-Fort Walton Beach-Destin also made the national list, at number 14, as did Palm Bay-Titusville-Melbourne.

Almost all major Florida housing markets are well above the national average for the percentage of homes flipped. What this means for the economy of Florida is the subject of much debate and a wide range of disagreement.

Many economists see home flipping as a healthy process by which investors of various sizes, including many individuals, find rapid profit by making home purchases with the intention of reselling within the first six months, 12 months, or 18 months. The process often involves cosmetic improvements and modest upgrades, and in some cases requires little more than minor repairs. This type of flip is sometimes called "fix and flip," and can include things like the installation of newer energy-saving appliances, modest upgrades and remodeling (especially in kitchens), window replacements, and renovations to things like hardwood floors or doors. When the housing market is good—meaning conditions are ripe for acceleration in demand for existing homes—flipping can be profitable for the flipper. (Ideally, it can also mean the buyer of a flipped home is moving into a house which has undergone aggressive upgrades and repairs).

But there is risk, sometimes serious. Home flipping works only when the market is rising reliably, and at a brisk pace. A sudden downturn in the economy, or even a minor slowdown in home buying, means the flipper may be stuck with the property longer than they originally planned. In addition, the cost of maintaining property, added to property taxes and insurance, can make such an investment costly in the extreme if home prices drop rapidly, or—as was the case in 2007-08—if the bottom drops out. Then things can get very dangerous financially: the longer one owns that house, the greater the likelihood that things can go wrong. Roof replacement, air conditioning repairs, plumbing and electrical issues, even normal seasonal wear and tear, can all morph quickly into very expensive items if an owner is unable to move the house back onto the market quickly. For those reasons, home flipping is not recommended for the faint-of-heart or those uncomfortable with risk.

But some economists have worried openly for decades that home flipping, by its nature, damages the home market by abetting a normally-healthy rise in home values and home prices and triggering a bubble. When, in a housing market like Lakeland or Jacksonville, a high percentage of homes sold are being flipped, it can be evidence of an artificial rise in prices, and such flipping can—some believe—encourage unreasonable expectations about the value of a house. The process can also drive up prices.

Aside from a dozen cities in Florida, other metro areas are experiencing a sharp rise in flipping, including New Haven-Milford, Connecticut, Akron, Ohio, and Ogden-Clearfield, Utah.

Related Thursday Review articles:

A 1936 Book Explains Why Wal-Mart Will Have a Bad Year; R. Alan Clanton; Thursday Review; October 28, 2015.

Bulk Buyers Threaten Condo Owners; Earl Perkins; Thursday Review; September 17, 2014.