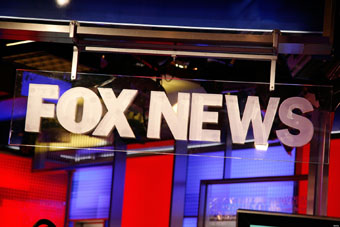 Image courtesy of Fox News
Presidential Election Spurs
Fox News to 2016 Top Spot
| published February 5, 2017 |
By Thursday Review editors
According to Nielsen, Fox News Channel's intensive coverage of the 2016 presidential debates, primaries and general election helped to boost the network into first place among all cable channel viewers in the United States, catapulting Fox News past ESPN for the first time in the network's history. ESPN ended the year in second place among all cable networks.

Nielsen's data shows that Fox News grabbed 2.4 million viewers during 2016, a remarkable 51% increase in viewership and a total which placed its rankings at twice that of rival news network CNN, which landed in tenth place overall.

CNN too saw enormous growth—a stunning 90% increase in viewership among cable channels—but that burst, due almost entirely to its own round-the-clock coverage of the presidential primaries, conventions and general election, is expected to ramp down now that the election cycle is complete and the transition of power in Washington has been formalized.

Still, both networks appear to remain tapped into political news and political narratives in the first weeks and months of the new Trump presidency. Coverage of President Trump's recent nominees for top posts, his selection of federal judge Neil Gorsuch to fill the vacancy on the Supreme Court, and his recent moves on immigration and border security have become flashpoints for both sides in the political debate, and may help ensure election-like viewership during a period in which Americans generally decompress from political news.

Among the top ten cable networks in 2016 as ranked by Nielsen—with Fox News and ESPN in first and second place respectively—were USA Network (third place), TBS (which saw a 14% decrease in 2016), HGTV, TNT, Discovery Channel, History Channel, Disney Channel (which saw the sharpest drop among the top ten at 23%), and CNN.

Fox News ended the year with twice as many viewers as CNN—2.4 million for Fox News compared to 1.2 million for CNN.

Despite being nudged out of first place by Fox News among all viewers, ESPN retained primacy among viewers aged 25-54, the demographic most sought after by advertisers and network executives.

Aside from political coverage in the U.S., some television analysts also suggest that a heavy hard-news content year helped spur both CNN and Fox News to much higher rankings. Coverage which drew massive audiences to both networks in 2016 included terror attacks in Orlando, New Jersey, Brussels and at least a dozen other cities, the deaths of Nancy Reagan, Prince, Fidel Castro, and Supreme Court justice Antonin Scalia, as well as extensive coverage of extreme weather conditions last winter and throughout the summer.

Related Thursday Review articles:

Roger Ailes Ousted as Fox News CEO; Thursday Review staff; Thursday Review; July 21, 2016.

A Funny Thing Happened on Our Way to the Mainstream Media ; R. Alan Clanton; Thursday Review; April 3, 2016.