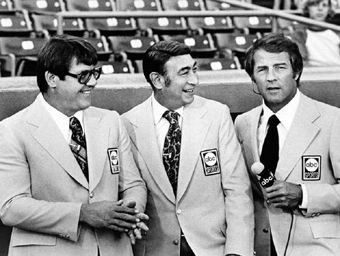 Alex Karras, Howard Cosell, and Frank Gifford in 1976; photo courtesy of ABC Sports
Frank Gifford, Rest in Peace
| published August 19, 2015 |
By Earl Perkins Thursday Review features editor
Frank Gifford was a shining star on both the gridiron and in the announcer's booth, admired worldwide for his professionalism and likeability, although he shunned the limelight for decades. Known worldwide for his role on ABC's Monday Night Football, he also led the New York Giants to a National Football League title and was inducted into the Pro Football Hall of Fame, before finally passing away last week at the age of 84, according to the Christian Science Monitor.

The son of an itinerant oil worker, the younger Gifford would view his name in the headlines for more than six decades. He graduated from the University of Southern California, before spending his entire NFL career with the team known as the New York Football Giants. Joining the club in 1952, he played offense and defense, including halfback, flanker, wide receiver, defensive back, and on special teams.

His resume included five NFL title game and eight Pro Bowls (at three positions), along with a career season in 1956, when he won the league's Most Valuable Player Award and led the Giants to an NFL title over the Chicago Bears. He won Emmy Awards for Outstanding Sports Personality (1977) and Lifetime Achievement (1997), along with the Pete Rozelle Radio-Television Award by the Pro Football Hall of Fame for his NFL television work (1995).

Many fans say he should have earned another award for holding the Monday Night Football broadcast together, which included dealing with Howard Cosell's massive ego and Don Meredith's folksy witticisms.

Modern-day fans may vaguely recognize his name, but the record books and grainy videos don't do Gifford justice. He died at his Connecticut home of natural causes, according to his wife, Kathie Lee Gifford, who hosts NBC's Today show.

"We rejoice in the extraordinary life he was privileged to live, and we feel grateful and blessed to have been loved by such an amazing human being," his family said through the NBC News statement. "We ask that our privacy be respected at this difficult time and we thank you for your prayers."

"Frank's talent and charisma on the field and on the air were important elements in the growth and popularity of the modern NFL," Commissioner Roger Goodell said. "He was a great friend to everyone in the league, a special adviser to NFL commissioners, and served NFL fans with enormous distinction for so many decades."

The smooth-tonged Gifford remained in the spotlight later in life for his marriage to Kathie Lee, who called him a "human love machine" and "lamb-chop" to millions of viewers.

However, he was known primarily for a stellar career behind the microphone. Gifford hosted Wide World of Sports, covering several Olympics and even refusing to take time off when his mother passed away shortly before a broadcast in 1986. And who can forget his call of Franz Klammer's downhill gold medal run in 1976, along with his body of work, which included announcing 588 consecutive NFL games for ABC.

"Frank Gifford was an exceptional man who will be missed by everyone who had the joy of seeing his talent on the field, the pleasure of watching his broadcasts, or the honor of knowing him," said Bob Iger, chairman and CEO of The Walt Disney Company, which owns ABC and ESPN.

On Monday Night Football, he worked with Dan Dierdorf, Al Michaels, Joe Namath and O.J. Simpson, but Gifford will always be remembered for the eight years he sat alongside Meredith and Cosell. MNF was so much more than just a television show in those days, with cities throwing parades for the announcers, while they hosted such luminaries as John Lennon and Ronald Reagan.

Monday night football was launched in late 1970. The brainchild of producer Roone Arledge, it was a bold experiment which some pundits and sports experts suspected might fail. After all, professional football had found its niche on Sunday afternoons and evenings, and there seemed little reason to challenge that template. ABC landed the contract, appropriate to everyone involved since CBS and NBC already had a lock on the Sunday games. But Monday Night Football soon proved to be even bigger than anyone's most optimistic predictions. Gifford signed on with Monday Night Football in 1971—only a year after the program has debuted—first as a play-by-play announcer alongside legends like Howard Cosell and Don Meredith, eventually taking on the job of analyst.

"I hate to use the words 'American institution,' but there's no other way to put it, really," Gifford told The Associated Press in 1993. "There's nothing else like it."

Gifford's appeal to viewers came about because he was a straight-shooter, known for being earnest and sincere. Some claimed he was a public-relations voice for the NFL, but he was just a big fan of the game, which showed through to millions.

His finest hour as a player was the magical season of 1956, as the record books show—819 rushing yards, 603 receiving yards and nine touchdowns in 12 games. He led the Giants to a 47-7 rout of the Bears in the season finale, but even more amazing may be the fact he shared a locker with Mickey Mantle. That's right—the Giants used the Yankees' lockers when they played home games at Yankee Stadium.

"Frank Gifford was the ultimate Giant," co-owner John Mara said. "He was the face of our franchise for so many years."

I hesitate to use the word legend, but Gifford certainly was a big-time leader for the Giants in the 1950s and '60s. Born in 1930, he packed a lot of living into all those years, amassing 5,434 receiving yards—a record which stood for 39 years, until Amani Toomer passed the mark in 2003. The team retired Gifford's number 16 jersey in 2000. And when considering the man's legacy, you may ponder the only team he played for professionally. The Giants were one of five teams to join the NFL in 1925, and they're the only ones left—90 years later.

Related Thursday Review articles:

Ken Stabler, Rest in Peace; Thursday Review staff writers; Thursday Review; July 10, 2015.

Deflategate Becomes Cell-Phone-Gate; Earl Perkins; Thursday Review; July 30, 2015.