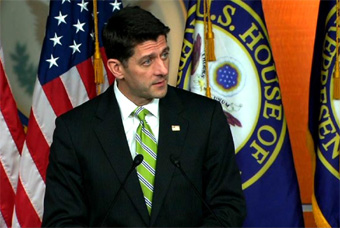 Image courtesy of CNN
GOP Pulls Health Care Legislation
Ahead of Vote
| published March 24, 2017 |
By R. Alan Clanton, Thursday Review editor
Despite a vigorous and aggressive lobbying effort by the White House and Republican leaders in Congress, GOP strategists in the House of Representatives pulled health care legislation from consideration only hours before a planned showdown and vote on Friday.

The reason for yanking the health care proposal: a lack of votes by Democrats or Republicans, and an inability by President Trump and his allies on Capitol Hill to secure enthusiastic support from many skeptical Republicans.

Pulling the bill—which was a cornerstone legislative effort by the GOP and a major campaign promise by then-candidate Donald Trump—deals a heavy blow to the White House which had hoped to cajole, arm-twist or otherwise badger sufficient GOP support for a national health care overhaul to replace the Affordable Care Act, the signature 2010 legislation of President Obama and the bill which more popularly bears his name.

The failure of the GOP plan—which came only a day after Trump issued an ultimatum to Congress to choose sides—means that Obamacare will remain intact, for now, though it is not immediately clear if Republicans working with President Trump can quickly redraft and recraft a proposal to replace the bill just pulled.

Speaker of the House Paul Ryan, a vocal supporter of the GOP plan to replace Obamacare, met with President Trump at the White House early on Friday after it became clear that intense debate on the House floor was not moving the legislation any closer to passage.

The President acknowledged the bill's collapse in a brief phone interview with reporters for the Washington Post earlier in the afternoon. Trump said he did not blame Speaker Paul Ryan, who had run interference for the GOP health care plan and acted as its most vocal backer on the Hill.

Instead, the President quickly shifted the blame to Democrats, many of whom had been in sharp opposition to the GOP plan from the moment it was unveiled. The legislation had, however, also been unpopular with many conservatives in Congress, and was registering widespread and sharp opposition from both consumer and health care groups as well as the public.

Speaking to reporters immediately after the bill's demise, Ryan said that the bill's failure comes with a sting after years of GOP candidates campaigning in opposition to Obamacare across the landscape.

"Moving from an opposition party to a governing party comes with growing pains," Ryan told reporters, "We're feeling those growing pains today."

Washington analysts suggest that the bill's failure, coming so early in the first year of Trump's presidency and so quickly after a major Republican victory last fall, casts a pall on GOP plans to tackle other key legislative efforts, from energy exploration to infrastructure to tax reform to immigration reform. In the wake of an unprecedented White House lobbying effort on behalf of the legislation, the failure of the GOP plan also casts doubt on Mr. Trump's ability—as it now stands—to use his business acumen to forge consensus among even members of his own party.

President Trump had engaged more than 120 legislators in phone conversations or in personal meetings in an effort to effectively sell his vision of a health care bill. In addition, White House team members ranging from Chief of Staff Reince Priebus and Vice-President Mike Pence had worked the halls of Congress urging lawmakers to back the legislation.

Many Washington Republicans conceded that with the current GOP plan dead, Obamacare remains intact for the foreseeable future. Several GOP members of the House said flatly that there will be no attempts at replacement of the ACA or overhaul of health care until 2018, at the earliest.

"We're done with health care this year," Rep. Bill Flores (R-Texas) told reporters after meetings with GOP leaders on Friday.

The collapse of the GOP health care plan also burnishes President Obama's political legacy, and comes just as many polls show a slow but steady increase in public support for Obamacare, especially some elements of the ACA, such as provisions for pre-existing conditions. Republicans had campaigned for the repeal of Obamacare more-or-less continuously since 2011, an effort which paradoxically helped pave the way for some of the GOP's successes in 2014 and again in 2016.

But many GOP members of Congress were highly skeptical of the Republican replacement for the ACA, which they worried would in fact merely replace a bad health care plan with an even more deeply flawed plan. Some Republicans were still defecting as late as Friday morning, concerned that eleventh hour changes—many of them hurriedly made late on Thursday—were adding fuel to the fire.

The legislation's failure in the House came only hours after Trump signed permits early Friday allowing for some of the reboot and expansion of the Keystone XL Pipeline project, a controversial project which would move oil and gas from Canada and the Dakotas to refineries in the south central states and the southeast.

Related Thursday Review articles:

Trump's Huge Win: How the Pundits and Pollsters Got It Wrong; R. Alan Clanton; Thursday Review; November 11, 2016.

Trump Wins Presidency, Defying Odds and Pundits; R. Alan Clanton; Thursday Review; November 9, 2016.