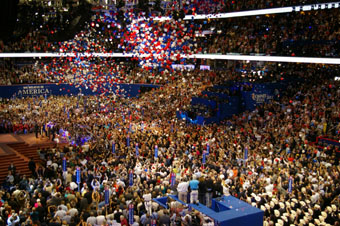 photo by Thursday Review
Are Some GOP Leaders Skipping Convention Speeches?
| published June 28, 2016 |
By Thursday Review staff
Major political conventions are meant to be venues with lots of headline speakers and appearances by political heavyweights.

But the campaign team working for businessman Donald Trump, the presumptive Republican nominee for President, is having a difficult time getting commitments from A-List speakers and top tier celebrities for next month's Republican National Convention in Cleveland.

In addition, officials with the Republican National Committee are having the same problem landing big names to appear during prime time slots at the upcoming convention.

Examples: Neither Mitt Romney nor John McCain—the 2012 and 2008 GOP nominees respectively—will make an appearance at the convention. Both have sent official regrets, and have indicated they want no part of the speakers list. Former President George W. Bush has declined an offer to appear, as have dozen of former Bush cabinet members such as Condoleezza Rice and Colin Powell. Bush's father, former President George H.W. Bush, has also declined offers to appear. Former Florida Governor Jeb bush has made it clear: no way Jose' to any RNC appearance.

Furthermore, at least 40 to 50 Republican governors and congressmen have said that they have no particular interest in making an appearance at the convention, and some have told the website Politico that they don't even have plans to attend. Among those who have no plans to appear at all: South Carolina Senator Lindsey Graham, and New Hampshire Senator Kelly Ayotte. Nebraska Senator Ben Sasse has also declined requests to make an appearance before the delegates.

Par for the course, Trump might say in the context of his long and bitter fight with some traditional Republican political figures, except that someone has to give those inspirational speeches and talk up the merits of a vote for Trump in November. RNC officials are now being forced to fill many slots—even the prime time spots—with undercard names and low tier political figures from within the GOP, a move that some political analysts and media watchers say will blunt viewership and ratings—something that the boisterous and media-savvy Trump is normally happy to take full credit for generating.

Florida Senator Marco, once a candidate himself, says he does intend to make a speaking appearance, but it will not necessarily include any form of ringing endorsement of Trump. Nikki Haley of South Carolina and Jeff Sessions of Alabama also plan to speak, as does Tennessee Senator Bob Corker. All three have been discussed as potential running mates for Trump, though no decision has been formally made.

Ohio Senator Rob Portman—once also on the short list of possible Trump running mates, at least until he said last month that he was not interested—says he will speak, but has declined to make a commitment as to the topic, or whether his appearance will include an endorsement of sorts o Trump.

John Kasich, Governor of Ohio and one of Trump's most persistent adversaries, also says he has no plans to appear at the convention, but he and his supporters still hint at a floor fight to prevent Trump from gaining the nomination.

The anti-Trump forces, though bested after a series of bruising primary and caucus fights, maintain that there is still an opportunity to prevent Trump from ascending to the role of nominee. NBC News has reported that in the wake of new polling showing Clinton's opening up a wider lead over Trump nationally, the anti-Trump movement is setting up an operations center in Cleveland, from where it hopes to manage a Stop Trump floor fight during the convention.

Former New Hampshire Senator Gordon Humphries—a 2016 supporter of Kasich—has said that he supports any movement which will derail a Trump nomination. Humphries has famously called Trump "the worst candidate possible."

Related Thursday Review articles:

Fired by Campaign, Former Trump Campaign Manager Lands Gig at CNN; Thursday Review staff; Thursday Review; June 24, 2016.

Rice Says No to Trump VP Talk; Thursday Review staff; Thursday Review; June 21, 2016.