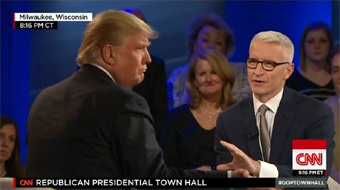 Image courtesy of CNN
Will the GOP Loyalty Pledge
Get Shredded?
| published Date |
By Keith H. Roberts, Thursday Review contributor
The potential for the Republican Party's civil war to spill past the convention this summer just got more serious. GOP front-runner Donald Trump, during a town hall forum aired on CNN Tuesday night, said he no longer felt bound by a pledge he signed last summer in which he agreed to back the eventual Republican nominee'no matter who that person would be.

When CNN's Anderson Cooper asked the billionaire real estate tycoon whether he still stood by that pledge, Trump answered bluntly.

"No, I don't anymore," he said.

Trump's only remaining rivals in the race—Texas Senator Ted Cruz and Ohio Governor John Kasich—have also begun to waffle when asked directly if they plan to support Trump if he wins the nomination in Cleveland this summer. Cruz has sidestepped giving a direct answer, telling reporters and interviewers that he does not believe that Trump will win. Kasich has turned the question around, shifting it to a simple statement of beliefs—that the GOP should not be a home to the language and bombastic talk that Trump frequently deploys, nor should the party be home to the violence and mayhem which now accompanies many of Trump's rallies.

Kasich, like Cruz, blames Trump for the tone and tenor of the campaign, and has also said that Trump's sometimes vitriolic rhetoric spills over into the actions of others, such as Trump campaign manager Corey Lewandowski, now charged with assault in Florida after rough-handling a female reporter there earlier in March.

Kasich and Cruz's unwillingness to categorically say they plan to back the eventual nominee, even if it is Trump, follow Marco Rubio's similar uncertainties earlier in March, in the days before the Florida primary, when expressed concern that Trump's campaign was denigrating the political process and cheapening the language of the debate. Rubio cited Trump's apparent willingness to embrace the arrests of protesters and hecklers at Trump rallies, violence at Trump's rallies—often spurred on by Trump supporters—and the billionaire's often anti-immigrant rhetoric.

Back in mid-March, Rubio said he was finding it increasingly difficult to honor a pledge of loyalty to Trump. Rubio said that Trump "has turned the most important election in a generation into a complete fiasco and a carnival."

But Trump's new dismissal of the loyalty pledge comes amidst his complaints that he is not being treated fairly by some of the previous and current candidates—especially Cruz, with whom he is engaged in a bitter fight—and the party establishment, including many major heavyweights ranging from Mitt Romney to Bob Dole to Jeb Bush. Trump also expresses a growing anger over how he says he is being treated by the Republican National Committee, which he believes is entering into a conspiracy with some party regulars and some conservative groups to deny him the nomination.

Trump has cited the RNC's preparations for an open convention, also known as a contested convention. Trump has said that he deserves the nomination by dint of the millions of votes now cast by primary and caucus voters this year, and that even if he comes up short of the 1,237 delegates needed under RNC rules, he should still receive consent from convention officials—and acknowledgement from the delegates—that he is the presumed GOP nominee.

Cruz and others intend to fight Trump's nomination, perhaps by combining the delegates of other candidates, and by using procedural rules to battle Trump on the floor of the convention.

Trump and Cruz are locked in a bitter, often personal fight for the nomination, and the two candidates just concluded a full week of back and forth over each other's wives—a topic normally off limits during a presidential campaign, but now seemingly fair game in an election filled with surprises and raised blood pressures. When moderator Anderson Cooper pressed Trump on the fracas involving the candidates' wives, Trump responded that Cruz "started it." This led Cooper to mockingly point out that only a five year old would resort to the phrase "he started it."

During the town hall format meeting, Cruz and Kasich were each also asked about the loyalty pledge. Cruz danced around the subject, speaking forcefully in favor of his own nomination and decrying the possibility that Trump might end up as the GOP nominee. But Cruz did not offer a direct answer to the question. But Cruz also seemed to very close to telling the audience that he may not back Trump if the billionaire ends up as the party's nominee, citing the recent personal attacks on his wife as reason enough to walk away from the GOP loyalty pledge.

"I'm not in the habit," Cruz said, "of supporting someone who attacks my wife and family. I think that is going beyond the line"

Kasich too was cagey, avoiding getting hemmed-in by the question, and offering only that "we'll have to see how this thing finishes out."

The animosity between the candidates threatens to fracture allegiances within the party and unravel the GOP's goal of reclaiming the White House in November.

The town hall forum in Wisconsin came only hours after the state's governor, Scott Walker, endorsed Ted Cruz. On Wednesday, Trump took the unusual and risky step of criticizing Walker, telling an audience in Janesville that Walker has not been a good governor and reciting a list of grievances against the governor, who is popular with many conservatives. Trump rattled off a list of problems in Wisconsin—rising food stamp applications, rising unemployment and underemployment, a deepening budget deficit, and a nasty fight over budget shortfalls which will now force cuts in education and infrastructure spending.

Some political analysts say that there is a risk, however, in Trump's decision to slam Walker. Not only is Walker popular with conservatives nationally, but he maintains strong approval ratings with Wisconsin Republicans, who give him a score of 85% on his job performance. Trump could anger or alienate some Republican voters in a state which holds it primary in only a few days.

Related Thursday Review articles:

Scott Walker Endorses Ted cruz; R. Alan Clanton; Thursday Review; March 29, 2016.

Trump Threatens Lawsuit Over Louisiana Delegates; R. Alan Clanton; Thursday Review; March 28, 2016.