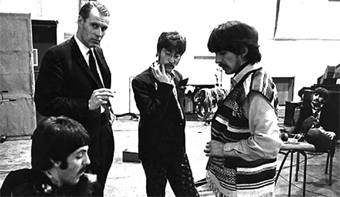 Image courtesy of British Archives/
Apple Records/EMI
George Martin, Beatles Producer,
Dead at 90
| published March 9, 2016 |
By R. Alan Clanton, Thursday Review editor
It's easy to forget that he was almost a whole generation older than the famous rock and roll group he produced. What is not easy to forget is the impact that the little known band from Liverpool had on popular music in the 1960s, and the sway that Marti's guidance had on that British band.

George Martin, also known as Sir George Henry Martin, longtime record producer for the Beatles—among other musical acts—died this week at the age of 90. According his publicist and a spokesperson representing Martin's business interests, the famous producer passed away in his sleep "peacefully at home" after a series of illnesses. The first word of his death came from Ringo Starr, who shared the news on social media.

Martin was perhaps best known for his game-changing collaborations with the Beatles, a band which brought a rapid, almost overnight acceleration in style and experimentation in popular music. Martin also worked with bands ranging from Cheap Trick to Jeff Beck, from America to Celine Dion.

Paul McCartney, who first met Martin very early in the fledgling career of the Beatles, said that Martin "was like a second father to me."

Despite scores of well-known and lesser-known collaborations with other musical acts, composers, artists, filmmakers and actors, George Martin's legacy was the Beatles, a band which became arguably the most successful rock and roll act in history, and one of the biggest selling groups in recording history. Martin's collaborations with the Beatles covered seven of the most significant years in musical history, and under his production guidance and fatherly tutelage the band progressed rapidly to become the most influential in rock history—second only, some would argue, to the influence of Elvis Presley, though many would argue that the Beatles legacy has eclipsed even that of The King.

The dapper, gentlemanly, easy-going Martin often told interviewers that he did not have a particularly high opinion of the Beatles when he met them for the first time. Martin, who was a bit of an establishment type in his conservative suits and with his patrician, polite manners, had a preference for acts with polish, high levels of skill, and panache—something he thought was lacking in the raw-around-the-edges Beatles. Martin also had formal musical training.

But Martin also conceded that he saw something in the band's energies and skills that seemed unlike anything he had ever seen or heard before, especially in the band members' easy, humorous rapport with each other, and in what he sensed was the powerful songwriting potential found in the two creative leaders—John Lennon and Paul McCartney.

Martin said that he realized that all the band needed was adult and classical guidance—someone with a good ear, like his, who could put some commercial appeal on the songs and add some artistically pleasing elements. Martin said of the early Beatles that "they were like plants in a hothouse…they grew incredibly fast." Martin, working sometime alongside the band's energetic manager, Brian Epstein, knew he was hearing and seeing something remarkable.

Over the years, and in the years after the breakup of the Beatles in 1970, Martin worked with the individual Beatles on various projects, and also worked with acts as varied as Elton John and The Who, and bands as diverse as UFO and Jeff Beck.

Thursday Review writer Kevin Robbie will prepare a long form retrospective on the life and career of George Martin to appear on the TR Music Page soon.

Related Thursday Review articles:

Money In A Brown Paper Bag: The Beatles at Shea Stadium; Kevin Robbie; Thursday Review; August 25, 2015.

Brian Epstein, George Martin & the Early Beatles; Kevin Robbie; Thursday Review; January 5, 2015.