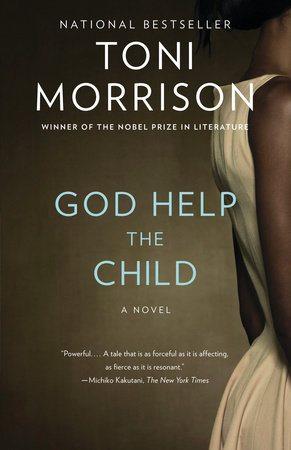 God Help the Child; Toni Morrison
| published February 10, 2016 |
Book review by Kristy Webster, Thursday Review contributor
"…what you do to children matters. And they might never forget."

This beautifully written, haunting fable set in modern times, centers around the stunning Bride (her name), a young woman whose blue-black skin and striking appearance has helped catapult her success in the beauty industry.

But Bride wasn't always so lucky. Born to a light skinned mother, Bride was rejected and neglected, and barely survived her loveless, difficult childhood.

When Bride's love affair with Booker goes awry, she discovers the traumas of her childhood still haunt her in the most tangible and terrifying of ways: Bride's womanhood is literally disappearing from her body.

At once a tale of caution about the damage we do to others, as well as a courageous commentary on "shadism," Toni Morrison's God Help the Child is a modern day classic told in spare and remarkable prose.

Related Thursday Review articles:

The Story of My Teeth, Valeria Luiselli; book review by Kristy Webster; Thursday Review; February 6, 2016.

Brown Girl Dreaming, Jaqueline Woodson; book review by Lisa K. Whitten; Thursday Review; September 21, 2015.

The Book of Unknown Americans, Cristina Henriquez; book review by Kristy Webster; Thursday Review; March 6, 2015.