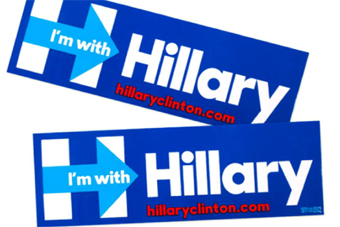 image courtesy of www.hillaryclinton.com
Clinton Paid State Department Staffer to
Maintain Server
| published September 6, 2015 |
By Thursday Review staff
Hillary Clinton confirmed this weekend what has already been rumored for days—that she and husband Bill Clinton paid a top State Department staffer a side salary to maintain the computer server Clinton used to manage a private email account during her tenure as U.S. Secretary of State.

Clinton used the private email account and the homebrew server beginning just before she took the job as top diplomat in 2009. Clinton made the acknowledgement this weekend at a campaign event in New Hampshire, only one day after telling NBC News' Andrea Mitchell that the use of the email account was not her "best choice," and that she was sorry for the confusion the email account has caused. Clinton was in New Hampshire to receive the endorsement of the Granite State's senior U.S. Senator, Jeanne Shaheen.

Clinton, who is the Democratic front-runner for President, acknowledged that she and Bill hired State Department employee Bryan Pagliano back in late 2008, charging him with the task of building and maintaining the private server. Pagliano was paid roughly $5000 to keep the server running, and to manage the email accounts used during that time.

Pagliano, who was subpoenaed by the Senate last week to appear and answer questions regarding the server and the email account, announced through his attorney that he would not appear, choosing to invoke his Fifth Amendment right to not incriminate himself. Pagliano's reluctance to testify has fueled the already wide controversy regarding Clinton's use of the email account, and her acknowledgement that she deleted roughly 30,000 emails which she deemed personal. The State Department has been in the process of releasing to reporters many of the remaining 29,000 emails.

Despite federal rules and guidelines which mandate that government employees use only official email accounts managed on government-maintained servers, Clinton used only the privately-crafted account and a server housed inside the Clinton residence in Chappaqua, New York. Clinton used the server and the email platform to send and receive more than 60,000 emails while acting as Secretary of State. Clinton has told reporters on several occasions that she used the private email account as a matter of convenience, and as a way to simplify and expedite the use of her personal Blackberry during her tenure as chief diplomat.

The server and the email account have consumed enormous amounts of time and energy for the Clinton campaign. Though she remains the Democratic front-runner, polls show that the email issue has chipped away at her credibility and damaged her reputation, even among some Democrats. Vermont Senator Bernie Sanders, a progressive and self-described Democratic-Socialist, has gained in popularity over the last few months. Sanders now leads Clinton in many polls in New Hampshire, and has closed the gap or pulled alongside her in other states. Vice-president Joe Biden, himself seriously considering a Presidential run, is also gaining strength in many polls even though he is not yet an official candidate. Biden says he may make a decision within the next two weeks.

In her interview with NBC News on Friday, Clinton offered no apologies for the email fracas, acknowledging only that in hindsight she wishes that she could have made a different choice. But Clinton was careful to stress that her decision regarding the email account should not be construed as an indictment on her judgment or character. The Clinton campaign has faced internal stresses as polls show erosion in how Americans rate Clinton on issues like "trustworthiness" and "honesty."

Clinton and many of her top spokespersons have sought to redirect the email issue as a partisan attack by Republicans. But in her most recent interviews Clinton has also failed to address directly why the questions of her email and her server remain such a dominant theme among reporters and journalists. At a campaign event in Iowa last week, Clinton—visibly frustrated by the questions from reporters—tossed out as a closing aside that "the only people asking about this are you guys," meaning the reporters in the room at the time and other journalists.

Clinton authorized a third-party firm, Platte River Networks, to turn over the server and all technical information to the FBI in August. The Denver-based IT company maintained the email account for part of the same period that Bryan Pagliano was paid to manage the server. The Clinton's originally told the Senate and the FBI that Pagliano was only paid a small fee for the original set-up of the server in the Clinton home. But according to some media reports, Pagliano was paid separately from his regular State Department salary for the task of maintaining the computer server, an arrangement which the Clinton's felt was necessary to make sure that no taxpayer dollars were used in the process. Clinton campaign spokesperson Nick Merrill said that Pagliano's work on the server was periodic, not daily.

The Clinton campaign has said that neither Clinton nor Pagliano are hiding anything, and originally the campaign expected Pagliano to testify. But Pagliano's refusal to testify may now complicate things for the campaign, which released a statement saying it was disappointed by Pagliano's decision.

Related Thursday Review articles:

Clinton Emails Reveal Confusion, Frustration Over Term Classified ; R. Alan Clanton; Thursday Review; September 1, 2015.

Emails Were "Born Classified" According to Federal Policy ; R. Alan Clanton; Thursday Review; August 21, 2015.