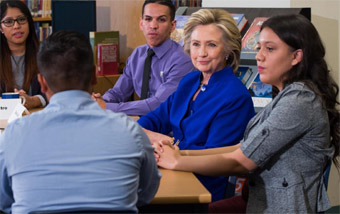 Image courtesy of Hillary Clinton campaign
Clinton Hands Over File Server to FBI
| published August 12, 2015 |
By Keith H. Roberts Thursday Review contributor
Hillary Clinton, pledging to cooperate with an unfolding and widening investigation into her use of a private email account while she served as U.S. Secretary of State from 2009 to 2013, has handed over the file server she used to store and manage those emails, according to Clinton campaign staffers and several media reports this week.

Clinton, the Democratic front-runner for President in the 2016 race for the White House, has been dogged by questions about her use of a privately-crafted email account and a privately-built computer server—known as a homebrew server—during her tenure as America's top diplomat. Under federal rules and guidelines, federal employees are required to conduct all official correspondence using only email addresses assigned by the government (email accounts which end in .gov) and managed and maintained using servers housed within secure government locations.

For reasons which Clinton has described as matter of convenience, she used instead a privately-created email account hosted by a local internet provider at her home in Chappaqua, New York. The email accounts were linked to similar accounts used by the Bill, Hillary & Chelsea Clinton Foundation, and the billing address used for the service was the same as a Post Office box also used by the Clinton Foundation.

Clinton has also agreed, through family attorney David Kendall, to turn over flash drives which may contain additional emails and documents of interest to the FBI and investigators. The FBI and the Justice Department have each been in contact with a Denver-based company called Platte River Networks, a firm whose employees may have helped Clinton establish the email account and set-up the server.

Earlier this year Clinton acknowledged that she had systematically deleted thousands of emails from the private account, purging correspondence of a personal or family nature. Some 29,500 other emails—totaling some 55,400 pages—remained intact. The State Department—which originally said it would release the emails in small packets over a period of six-to-ten months—was later forced to move faster when a federal judge ordered State to expedite collating, screening and releasing Clinton's emails.

Clinton has repeatedly told reporters that she did nothing wrong by her use of the private email account, and has said it was simply a matter of ease and convenience for her to monitor emails and respond to them by using her existing applications on her Blackberry during that time period. She has also said the server in question was crafted for similar reasons of convenience, and that its security and safety was never in question since the Clinton home received (and still receives) 24 hour per day protection from the Secret Service contingent assigned to protect former President Bill Clinton and the residence.

But recent concerns about data security and breaches of government email accounts have heightened concerns by some at the federal level that a portion of Clinton's emails may have been exposed to hackers. The FBI says its investigation is limited, for now, to the issue of security and the proper handling of classified materials which may have passed through Clinton's emails or through that server in Chappaqua. Republicans in Congress want to know if Clinton kept correspondence related to the terror attacks on the U.S. consulate in Benghazi on that server.

According to federal laws and guidelines, top government officials are required to maintain .gov accounts according to strict standards established by the Federal Records Act and under the provisions of the Technology Management Reform Act of 1996. The State Department also has its own set of criteria involving the security and safety of classified correspondence—another issue which the FBI is investigating.

The current flap over the server comes after the Inspector General for the Intelligence Community sent a letter to Charles Grassley's (R-Iowa) Senate Judiciary Committee this week revealing that a small number of the emails which passed through Clinton's homebrew server contained official classifications of TOP SECRET, at least two of which may have contained extremely sensitive spy satellite images which were prohibited from the eyes of all but top White House and State Department officials, and images absolutely off limits to foreign individuals or states. Further, preliminary examinations of the server do show that classified materials were embedded or included as attachments to numerous emails, despite Clinton's assertions earlier this spring that no classified correspondence ever took place on the homebrew server.

Grassley's committee is now concerned that those emails—though they number only a half dozen—could be the tip of a larger iceberg of problems with Clinton's use of that private email account. Though Clinton has told reporters that she did not send or receive classified correspondence or documents using the private account, this new Inspector General's investigation now shows that she may have done exactly that—transmit top secret materials using the unsecured server.

Clinton is leading in almost all polls in her current bid to win the Democratic nomination for President. But a recent surge by Vermont Senator Bernie Sanders—in fundraising, in attendance at major events, and even in polling data—show that Clinton may be vulnerable with progressives, and may be facing long term problems retaining the loyalty of many liberals and mainstream Democrats. Though Clinton is comfortably ahead in Iowa, new polls show that Sanders has already overtaken Clinton in New Hampshire.

Republicans will do doubt use the twin issues of her private email and private server as evidence of her resistance to transparency and openness, a talking point which some GOP candidates sense may be Clinton's weakness.

Related Thursday Review articles:

FBI Wants to Know More About Clinton Emails; Thursday Review staff; August 5, 2015.

White House Knew of Clinton's Private Email Account; Thursday Review; July 1, 2015.