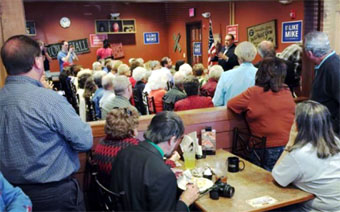 Mike Huckabee at a campaign event in Iowa
Image courtesy of Mike Huckabee for President
Huckabee, Christie Get Bumped From
Fox News Debate
| published November 6, 2015 |
By R. Alan Clanton, Thursday Review editor
At least two former top tier Republicans have now been bumped from next week's main event to the undercard bout, the result of public opinion polls factored-in by Fox News under guidelines agreed to by the Republican National Committee.

New Jersey Governor Chris Christie and former Arkansas Governor Mike Huckabee will appear in the pre-debate forum next week, with only eight candidates appearing on the main stage. Neither Christie nor Huckabee were able to reach the criteria established under the rules, which dictate which candidates will be on stage based on polling factors in the days leading into each debate—in this case, at least 2.5% support from four recent established polling services chosen by Fox News.

Huckabee and Christie will join Louisiana Governor Bobby Jindal and former Pennsylvania Senator Rick Santorum on the stage for the pre-debate forum next Tuesday afternoon.

Bumped entirely from the proceedings were South Carolina Senator Lindsey Graham and former New York Governor George Pataki, neither of whom qualified by reaching the required 1% needed to remain in the debates.

Only eight candidates will appear on stage next week when the next GOP debate commences on Fox News.

The crowded nature of the GOP field has proved problematic for some candidates who have been unable to get their message out amid the extremely tight polling numbers and the resulting jostling for attention in the two-tiered debate arrangement. Neither Pataki nor Graham has been able to generate traction in the news or in the polls, despite reviews of their debate performances showing them to have performed well in the discussions. Likewise, neither Santorum nor Jindal have been able to break out of the lower-tier group and onto the main stage.

For Chris Christie, whose debate performances have been generally scored as good, the announcement comes as a harsh blow to a campaign once thought to be a dominant factor in the 2016 election. Christie—who was given a prominent prime-time speaking slot at the Republican National Convention in 2012 in Tampa—was once considered not only a top-tier contender, but a likely front-runner.

Huckabee's campaign, too, will likely suffer from the effect of his being bumped to the undercard. Huckabee was once a formidable candidate in the primaries and caucuses of 2008, when he did well in states like Iowa and South Carolina, along with a swath of states on Super Tuesday. But this year Huckabee has faced difficulty in a race crowded with other social conservatives and evangelical conservatives, including retired neurosurgeon Dr. Ben Carson, now the GOP's undisputed front-runner, and polling ahead of Donald Trump nationally.

Huckabee said he was unfazed by the development.

"I am happy to debate anyone, anywhere, anytime," Huckabee declared in a message on Twitter and on Facebook. "We are months away from actual votes being cast, and neither the pundits nor the press will decide this election, the people will."

The extremely crowded nature of the Republican race has produced an unusual set of circumstances for a GOP normally accustomed to clear and distinctive lines for identifying candidates and their positions within the party. This year, early poll numbers—normally inconclusive or even irrelevant in a typical election cycle—have proved to be a pivotal factor, since under the rules established by the RNC and the networks, those same rules determine where candidates appear on stage, or if they will appear at all.

The poll numbers, in effect, screen candidates closely ahead of each debate, and since the debates fuel the subsequent discussions in the press and in social media, candidates may stand or fall in post-debate polling based entirely on their debate performance. In a crowded field, especially, the circular process becomes self-enforcing.

Adding to the mix, 2015 has become the year of the outsider for the GOP faithful. Non-traditional candidates like businessman Donald Trump, former HP CEO Carly Fiorina, and author and surgeon Ben Carson, have shaken-up the proceedings, in the process edging out candidates once considered the de facto front runners, such as former Florida Governor Jeb Bush and Wisconsin Governor Scott Walker. Despite an early surge in January and February, Bush is now struggling in the polls to remain even in fifth and sixth place. Walker, faced with extremely low poll numbers and a drought in fundraising, suspended his campaign in mid-September, just days after former Texas Governor Rick Perry ended his campaign for President.

Pataki expressed frustration over the process which is winnowing candidates from the crowded field.

"I am very disappointed tonight that early polls are shaping the election choices for the American people," the former New York governor said, adding that the move by Fox News represents a "clear boost to the worship of celebrity over accomplishment and ideas."

Christie has vowed to fight on, and says he cares not what the debate venue is as long as he can talk about the issues. What is not clear is how long he can continue to campaign if his fundraising efforts dry up completely. The Bush campaign has been in crisis mode for weeks after the former Sunshine State Governor saw his poll numbers fall in the aftermath of a weak debate performance in October. Bush's donors, who had once funneled tens of millions into Bush's PAC and campaign coffers, have been openly concerned that their investment has been lost.

Carson, meanwhile, has become the fundraising leader among all candidates. Crowds at his campaign appearances continue to grow even larger even as his poll numbers steadily swell. Carson campaigned across Florida this week in dozens of cities and towns, signing copies of his latest books at shopping centers where thousands lined up to meet the candidate. Carson will go into next week's Republican debate the clear front-runner in most major polls. A recent NBC News/Wall Street Journal poll shows Carson tied with former Secretary of State Hillary Clinton in a theoretical 2016 match-up.

Related Thursday Review articles:

2016 Presidential Match-Up: Carson and Clinton Are Tied; R. Alan Clanton; Thursday Review; November 4, 2015.

Trump: Polls, Can't Live With 'Em, Can't Live Without 'Em; R. Alan Clanton; Thursday Review; October 25, 2015.