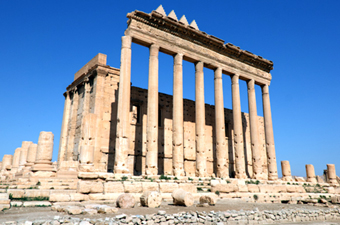 Image courtesy of Syrian Antiquities & Culture
Destruction of Palmyra Intolerable, According to UNESCO
| published September 3, 2015 |
By Thursday Review staff
The destruction of the Temple of Bel in the ancient Syrian city of Palmyra at the hands of Islamic State extremists last week was an "intolerable crime against civilization" according to the chief of the United Nation's principal cultural organization, UNESCO.

The temple, which dated to Roman times, had survived largely intact for 2,000 years. ISIS militants used high-powered explosives to destroy the temple and some of its surrounding antiquities and architecture. Earlier last week, reports emerged from Syria that ISIS militants had also destroyed the Baalshamin Temple in Palmyra, another site which dated to before the birth of Christ. ISIS militants also beheaded a regional scholar who had spent most of his life engaged in research and study of the ancient site.

ISIS also confiscated many of the smaller antiquities and says it will sell those items on the open market to raise money for its self-declared caliphate, which now covers a large swath of northeastern Syria and northern Iraq.

Maamoun Abdulkarim, chief of Syrian Antiquities and Culture, called the destruction of the temples and other sites in Palmyra devastating.

"We have lost the most beautiful site in Syria," Abdulkarim said in a statement. "We lost a Syrian icon."

UNESCO representatives also said they will attempt to save what is left in Palmyra, but it is not clear how the international organization will restore what has already been destroyed by explosives or plundered by the militants in search of revenue to fund the Islamic State's operations.

The Temple of Bel, according to several articles on the subject, was completed in 31 or 32 AD. The architecture and design is noteworthy for its rare fusion of Roman, Greek and Middle Eastern styles, and its representations of converging themes of Judaism, Roman and Greek themes, and Eastern motifs. The site's colonnaded courtyard was considered one of the most remarkable and beautiful archeological sites in the world. Before the civil war in Syria, the area in and around Palmyra was a top destination not only for tourists, but also for students and scholars of architecture and archeology. It was also a favored site for travel and antiquities photographers.

ISIS imposes a strict interpretation of Islamic law, which includes a more-or-less zero tolerance policy toward representations of other faiths, beliefs, religions or cultures. ISIS militants have previously destroyed dozens of other archeological sites in Iraq, Syria, and Libya.

Related Thursday Review articles:

ISIS Militants Destroy Temple at Palmyra; Keith H. Roberts; Thursday Review; August 24, 2015.

Turkey Gets Tough (Finally) on ISIS; R. Alan Clanton; Thursday Review; July 25, 2015.