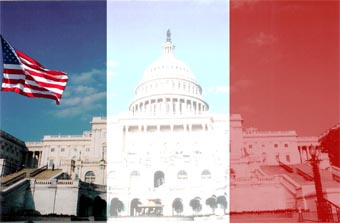 Photo by Alan Clanton/Image composition Thursday Review
ISIS Video:
We Will Strike America
| published November 16, 2015 |
By R. Alan Clanton, Thursday Review editor
ISIS militants have released a new video and new online warnings that it intends to wreak havoc and death upon countries participating in air strikes, drone attacks, or on-the-ground military operations against the Islamic State.

ISIS said on Monday that it specifically plans to strike again at France for its retaliatory bombings on Sunday in Syria. ISIS also announced that it intends to expand its campaign of terror attacks to the United States—the country which has been leading in the coalition efforts to degrade and destroy the military arm of the Islamic State.

Late Friday night, terrorists with ISIS connections launched a series of violent attacks in Paris—detonating bomb-vests at the soccer stadium, firing at civilians at several corner bistros and restaurants, and launching a full scale assault on the Bataclan Concert Hall, a musical venue where a rock band was performing to a sold-out crowd. All told, some 129 people died in the attacks, and more than 350 were wounded—at least 100 of them seriously injured from gunshot wounds and still in hospitals in Paris.

French President Francois Hollande had promised swift and "merciless" action against ISIS, and the government followed through with that promise by launching a series of jet fighter attacks on Islamic State targets in northern Syria—mostly in Raqqa, the self-proclaimed capital of the caliphate, but also in other areas of northern Syria. In all, French warplanes flew some 35 sorties over Syria, dropping some 120 bombs on suspected ISIS military and operational compounds.

The French response was part of a rapid escalation between ISIS and those countries which it says are its enemies. ISIS, which has been generally limited to ground assault activities even after the coalition bombing began last year, has ramped up its violent footprint over the last few weeks. The Paris attacks came only days after ISIS militants detonated car bombs in Beirut, Lebanon—retaliation against Hezbollah for that group's backing of anti-ISIS rebel groups on the ground in Syria.

Only two weeks ago, ISIS militants smuggled a bomb aboard a Russian Metrojet passenger plane; the bomb detonated only 25 minutes into the flight, killing all 224 passengers and crew. The plane had departed a Red Sea resort in Egypt and was ferrying Russian vacationers back to Saint Petersburg. Within minutes of the crash, ISIS claimed responsibility, and said it was in retaliation for Russian military interference in Syria on behalf of Syrian President Bashir al-Assad. In the last several weeks ISIS militants have also detonated bombs in Afghanistan, Turkey and Iraq.

Monday's communique, which was widely distributed across the internet, threatened any country or any entity which participates in what ISIS calls "the Crusader Campaign" against the Islamic State. The video featured a new spokesperson—Al Ghareeb the Algerian—who now apparently replaces "Jihadi John," also known as Mohammed Emwazi, who the Pentagon and British Intelligence officials believe was killed last week during a carefully planned drone strike over Raqqa. Pentagon, CIA and British Intelligence officials told some media sources that Emwazi's assassination came after significant improvements to on-the-ground intelligence and data.

It was that same set of intelligence improvements and satellite photographic advances which may have encouraged U.S. President Barack Obama just last week to tell ABC News that the war against ISIS was going well, and the ISIS was being effectively "contained." The President's remarks came only 30 hours before the start of the Paris terror attacks, the worst and most deadly since the 2004 train bombing in Madrid.

The newly released ISIS video casts a wide set of threats against its enemies.

"We say to the states that take part in the Crusader Campaign, by God, you will have a day, God willing, like that of France," the spokesman in the video tells viewers, "and by God, just as we struck France in the center of its abode in Paris, we swear that we will strike American at its center in Washington."

The same spokesman in the video warns viewers that Europe can expect more attacks, and more terror acts by self-starting cells who maintain their allegiance to ISIS. The video also sends a warning to any other country thinking of joining in the coalition's fight against the Islamic State. "You will be unable to stop us because today we are much stronger than before."

President Obama has been widely criticized by both Republicans and Democrats—as well as independent and moderate military analysts—for making the bold claim in an ABC News segment which aired last Thursday that ISIS was on the run.

"We have contained them," Obama said, "I don't think they're gaining strength." Several reporters and journalists likened the President's bold assessments of ISIS to a similar comment made by General William Westmoreland in the hours after the Vietcong attacks in Saigon during the infamous Tet Offensive at the height of the Vietnam War. Westmoreland gave a sunnier assessment of U.S. gains and posited that the communist Offensive was a failure—in fact it was the pivotal turning point of the war.

Others have defended the President's remarks, explaining in the context of the previous ten day period, the President was giving a fair assessment of the Pentagon's program of containment from the air. That week included several key airstrikes against ISIS positions in Syria and Iraq, as well as the much discussed killing of Emwazi in Raqqa.

Though much of 2014, ISIS was contained to a large contiguous area which included northern Syria and northern Iraq—a vast area which it was able to capture relatively quickly and claim as part of its caliphate. But despite the air campaign, which has used the combined air power of U.S. fighters, bombers and drones, as well as warplanes from France, the United Kingdom, Saudi Arabia, Qatar, Kuwait, and the United Arab Emirates, ISIS has maintained its relatively large footprint across much of Syria and northern Iraq. ISIS militants have battled with Kurds and other groups for control of cities and towns along the border with Turkey, and ISIS units also control checkpoints along both Syria and Iraq's borders with Jordan.

But ISIS has rapidly expanded its footprint to include areas of control in at least a dozen other countries, including Libya (where it has been executing Christians, non-Muslims, and ethnic minorities), Algeria, Egypt (where it controls a now vast area inside the Sinai Peninsular), Afghanistan (where it seeks to displace al Qaeda as the chief instrument of jihad), Yemen (where it seeks to bring under its control other extremist groups), and the sub-Saharan countries of Mali, Niger, Nigeria and the Sudan, where it seeks to gain the outright allegiance of Boko Haram—another anti-western militant group.

Meanwhile, in France, government officials have asked law enforcement and security services to remain vigilant and in a state of heightened alert—at least until any additional accomplices to the Paris attacks are identified and located.

French law enforcement officials have identified Abdelmahid Abaaoud, a 28-year-old Belgian citizen and the son of a Moroccan store owner, as the likely planner and instigator of the attacks this past weekend in Paris. Though he has been on the radar of European police for some two years, Abaaoud has apparently traveled back and forth from Belgium to Syria to France, and back and forth again, relatively unnoticed by authorities. Police in both Belgium and France believe he may have embedded himself in with the recent waves of Syrian refugees, tens of thousands of whom have traveled on foot or by bus across Europe seeking refuge from Syria's deadly civil war. His last known position was in Greece nine months ago, when he may have been success in slipping past authorities by pretending to be a refugee.

Abaaoud has also been identified by French, Belgian (and possibly British) intelligence sources as being clearly visible in some past ISIS propaganda videos which show him driving a small SUV, dragging dead bodies which had been tied to the bumper of the truck. The video was shot and edited in Syria. According to some media sources, he may have already returned to Syria, or may already be well on his way back toward areas under ISIS control.

Bloomberg is reporting that Abaaoud grew up in Molenbeek-Saint-Jean, a lower-middle class neighborhood of Brussels, where his rap sheet includes armed robberies and burglaries, and where he was known to police for his involvement with a Brussels-based radical group known as Shariah4Belgium.

In the video of Abaaoud in Syria, he can be seen examining dead bodies, and in one scene walks calmly through a modest house where a father, mother and child have been murdered by ISIS militants for not submitting to the Islamic State. Later, Abaaoud and others drag more mutilated bodies to a nearby mass grave, at which time he gives his own warning to Europeans.

"Before, we pulled jet skis, quads, motorcycles, luggage filled with presents to go on holiday in Morocco," he declares with a smile, "now, we are pulling Kufar…Murtads." In Arabic, the words Kufar and Murtad are insulting terms to describe non-Muslims.

Related Thursday Review articles:

Paris Attacks: Do They Change the ISIS Narrative?; R. Alan Clanton; Thursday Review; November 14, 2015.

ISIS Launches Rampage in Paris; R. Alan Clanton; Thursday Review; November 14, 2015.