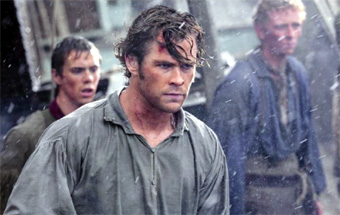 Images courtesy of Warner Brothers/Village Roadshow Productions
In the Heart of the Sea: Or, How an Epic Adventure Story Can Put You to Sleep
| published January 5, 2016 |
Movie review
by Maggie Nichols, Thursday Review contributor
Sometimes it's possible to take a great story a little too far, using a few too many bells and whistles and sea-salty gimmicks.

Such is the case with Ron Howard's visually spectacular In the Heart of the Sea (starring Chris Hemsworth and Cillian Murphy), based loosely on the real life historical story of the nineteenth century American whaling ship The Essex, whose encounter with a monstrously large sperm whale brought folly and disaster to the crew, spawned an epic survival story, and inspired the writer Herman Melville to write the classic fictional work Moby Dick.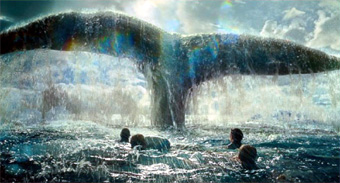 Special effects can accomplish a boatload of entertainment, but they cannot penetrate the heart, or the human mind. This seems to be the crux of the fault with this grand, gorgeous film, which, despite its inescapable widescreen power, fails to keep us focused on the motivations and pain and desperation of its (we believe) soul-searching characters. The movie misses no marks in terms of sound effects and sound editing (I thought the theater itself was falling to the ground during several seat-shaking, popcorn rumbling tsunami-like sequences), nor does it lose its ability to keep us gazing upon the deep focus elegance of many of the adventure scenes.

But there is also a sense that almost everything we are watching has been cleverly crafted in the studio—green screen and blue screen magic, digital layering, computer-generated gimmicks—and that almost nothing has been shot upon actual water or in actual swelling seas. As a cost-saving measure this may have been smart thinking, and certainly less risky, but it acts as a damper (pun intended) to a true life adventure story made clearly less interesting because of the emphasis on visual trickery and a seeming disregard for the scope and beauty of the open ocean. The result is a stagey movie with a lot of obviously phony background color and texture.

This is a big screen movie, yet I don't recommend it, even to those who prefer seeing their epics larger than life. Well worth it, however, to wait a few months and catch this on Netflix, HBO or Showtime, or rent it at your convenience. Tickets and popcorn are too pricey these days for ho-hum. The movie is also a bit of a letdown for Howard, for whom previous epic adventures have scored well with a wide range of subject matter for mainstream audiences (Backdraft, Apollo 13, and Far and Away, to name but three).

One high mark: impeccable acting. Great ensemble cast includes Hemsworth (of Thor and The Avengers fame) and Murphy, along with Ben Whishaw (the new Q of recent Bond thrillers), Benjamin Walker (Abe Lincoln of the Abraham Lincoln: Vampire Hunter series), and Brendan Gleeson, Irish classical character actor known for his compelling portrayals in Cold Mountain, Troy, and Kingdom of Heaven.

Related Thursday Review articles:

Welcome to my Secret Lair: A Look at SPECTRE, the Latest Bond Thriller; Michael Bush; Thursday Review; November 26, 2015.

Everest is a Thrill Ride, Literally; Maggie Nichols; Thursday Review; October 20, 2015.