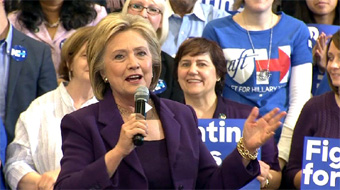 Clinton at an event in New Hampshire on Tuesday/Image courtesy of C-Span
Clinton-Sanders Iowa Tie: A Win for Clinton, A Win for Sanders
| published February 2, 2016 |
By R. Alan Clanton, Thursday Review editor
Iowa Democrats went to their caucus sites on Monday in massive numbers, energized by a tight race between Democratic front runner Hillary Clinton and her only remaining rival Vermont Senator Bernie Sanders.

In a contest highly anticipated by political analysts for months, the two leading Democrats ended the night with a virtual tie. And though Clinton won in the end—and only after every vote in every precinct and caucus was counted—her razor-thin victory end up being less than one half of one percent of the total vote cast in the Hawkeye State.

For that reason, both Clinton and Sanders were able to claim victory when the night was over. Clinton can claim her win makes good on her vow to never again take Iowa for granted, as she did in 2008 when she lost the state to then-challenger Barack Obama, falling into third place behind John Edwards. Long before the start of her long-anticipated 2016 bid, Clinton had resolved to friends and strategists not to lose Iowa, to anyone, under any circumstance. In this, she succeeded, if only by a thread.

Bernie Sanders can rightfully claim victory by showing he could win in a state where the Clinton organization outspent and out-organized—some of that groundwork and spending dating back more than two years. For Sanders, this is a philosophical and moral crusade, not the mere clash of two distinct political personalities, or, for that matter, some form of referendum on the Clinton franchise. Sanders showed he could win outside of the regional influence of his home in New England, where he leads in New Hampshire by a substantial margin.

That Sanders was able to bring Iowa to what amounts to a political draw is being interpreted by some observers as a defeat for Clinton. Others tend to give Clinton the win anyway, opting for the classic Bobby Bowden formulation—a win is a win is a win, whether by one point and by dint of a string of field goals, or by a whopping margin.

Still, Clinton and Sanders will divide Iowa's delegate almost but not quite evenly. Using the Iowa Democratic Party's formula for delegate distribution, Clinton will walk away with 24 delegates to Sanders' 21, with eight so-called super-delegates up for grabs.

But that razor thin finale may foreshadow a long and costly campaign season for Democrats, especially for Clinton, whose blueprints—like in 2008—had resolved to slam dunk Iowa, New Hampshire and South Carolina, effectively sealing victory in a stretch of about six weeks and mopping up loose ends on Super Tuesday. It was—as it always is—a good plan on paper. She tried it in 2008, and that plan got shredded in Iowa. Mitt Romney, the Republican presumptive front-runner throughout 2011, found his long range battle plan also useless after Rick Santorum snatched Iowa away with 12 more votes, and a relentless tag-team insurgency including Newt Gingrich and Ron Paul very nearly deprived him of the nomination.

But for Clinton, there will be no time this year for what-ifs and do-over conversations. New Hampshire is now one week away and the clock is ticking. That Sanders will win easily there is no longer in doubt; the only remaining question is can Clinton halt an emerging Sanders bandwagon before it rolls into motion. Clinton will take her win in Iowa, grasp it, and move as quickly as possible toward the next challenge.

Still, the narrowness of those Iowa returns was breathtaking. The vote split in some counties and precincts was extremely close; at least four counties were exact ties. Only in reliably urban and suburban pockets did Clinton carry the day with big wins, a point she may likely return to when reporters start asking uncomfortable questions about her narrow escape from the Hawkeye State.

Sanders as a rally in Iowa/
Photo courtesy Bernie Sanders for President
Throughout the night Clinton maintained a close but wavering lead, though there were brief moments when Sanders took the lead. At times, the vote was 50% to 50%, which, in fact, is the way several major media outlets and networks scored it as of mid-morning on Tuesday (example: at about 8:30 a.m. EST CNN had Clinton at 50% to Sanders' 49.7%; but later in the morning CNN's count had morphed slightly to reflect overnight double checks and late returns, and by 11:30 a.m. the candidates were tied).

That razor-thin narrowness will surely provide a moral boost for Sanders and his loyal followers across the country. Had Clinton been able to plunge the dagger more effectively into Sanders in Iowa, the Vermont Senator may have become a One Hit Wonder for the history books—a big win in New Hampshire, followed by falling fortunes in South Carolina, Nevada, and across a dozen Super Tuesday states. By late March, he would have been a footnote. Sanders campaign team will now focus on two immediate priorities: widening the potential big win in New Hampshire; and opening up the organization to the sort of fundraising that can easily carry his message into the states ahead, including the famously costly advertising and TV markets of Florida, and into previously hostile territory, like Alabama, Georgia, and Tennessee.

Iowa had long ago turned into a clash of the titans, and at its core a battle between two candidates. Former Maryland Governor Martin O'Malley, whose often compelling presence on debate stages persisted well into January, had hoped to pull out some kind of relevant third place finish in the Hawkeye State (perhaps not a "win" in the same sense that third place finisher Marco Rubio could claim moral victory after coming within one point of Donald Trump, but something substantial) as a springboard to continuing relevance in the Democratic contest. Instead, O'Malley ended the night with very little to show for his valiant efforts in Iowa, and by mid evening he had announced that he would suspend campaigning.

Though Sanders' influx of cash will no doubt be substantial over the next few hours and days, the Clinton organization still feel they will prevail by the start of Super Tuesday. Clinton maintains a healthy, enviable lead over Sanders in most major national polls, and her campaign's resources are deployed with strategic care across scores of key states. Her playbook still shows her winning big in South Carolina and across a wide swath of Super Tuesday states no matter what Sanders' enthusiastic armies of volunteers—freshly infused with cash from tens of thousands of small donors—is able to deploy. While Clinton's top thinkers admit that Sanders may briefly delay her march toward the nomination, they do not concede that the Vermont Senator has the staying power nor the reach to win in the heartland, the south, or in many western states, where Democrats are less apt to embrace Sanders' sharply-leftward-tilt and risk a loss in November. In that sense, Clinton still maintains the high ground and the valuable real estate.

Plenty of Democrats—including some who worked for Obama in 2008 and 2012—agree with that assessment, suggesting that it is still extremely unlikely that Sanders could win in Nevada, South Carolina or Florida—all critical states not just in terms of delegates, but also in proving one's mettle in formidably more diverse environments than what is found in Iowa or New Hampshire. Obama's success in becoming the Democratic nominee in 2008 came only after he was able to convert the shock of Iowa into tractionable and substantive wins in places like North Carolina, Alabama, Virginia and Missouri—precisely those states known to be just as important for their Electoral College value.

In this sense, Clinton can still rightfully claim to be the go-to candidate for 2016—the person most likely to win-over independent voters, centrist Democrats (many of whom historically might break from party and vote for Republicans), and non-aligned voters whose party registration is mostly a matter of convenience.

Still, many Democratic strategists and non-aligned observers suggest that what Sanders accomplished was a victory, even if it came by way of going the full 15 rounds with Clinton in a state she had no intention of losing. Her narrow win will invigorate and reenergize Sanders and his followers—many of them younger voters—in the primaries and caucuses that lie ahead, and will almost certainly insure a nomination battle which could last through spring.

Whereas polling had shown for weeks that the race in Iowa had tightened between front-runner Clinton and rival Sanders, many of those same polling organizations got it wrong when it came to the Republican field in Iowa. Texas Senator Ted Cruz surprised most observers by not only besting front-runner Donald Trump (polls had shown Trump consolidating his lead over Cruz), by doing so by a much bigger margin than most had thought possible. In the end, Cruz took in 28% of the caucus vote, compares to Trump's 24%, Marco Rubio's 23%, and Ben Carson's 9%.

Cruz was able to achieve this by an on-the-ground operation much larger and more sophisticated than those of his opponents, and through a relentless, county-by-county, town-by-town appeal to Iowa's substantial numbers of evangelicals and Christian conservatives. Cruz also managed to campaign and organize so well that some GOP analysts suggest that he effectively syphoned thousands of votes away from the other Republicans whose footprints covered much the same Iowa turf, including Carson (who at one time was ahead among Iowa's evangelicals), Rick Santorum and Mike Huckabee. Huckabee formally ended his campaign on Monday night after failing to ignite more than two percent of the voters in the Hawkeye State.

For Democrats, it seems fair that both Clinton and Sanders can claim victory. The road ahead may become more challenging for Clinton, who must now prepare for a longer primary and caucus season than what her original blueprint foresaw, but for Sanders the challenge is still more daunting. The Sanders campaign's most enduring energy has come from younger voters, often in the 18-to-30 age bracket. On the face of it, this would serve him well in many of the states ahead, except that Sanders has so far failed to create excitement among minorities—young, or old, for that matter. Though some African-American leaders have endorsed Sanders, his inability to spark the same level of enthusiasm from young voters of color as did Barack Obama in 2008 and 2012 has limited the Vermont Senator's full potential. And even among progressives who tilt farther left than Hillary Clinton, the former Secretary of State still seems a much better bet in a general election than an aging self-described socialist with a long list of leftist credentials dating back to the early 1960s.

More fundamental to the Sanders strategy of mobilizing young people: statewide, roughly 11.2% of eligible Iowa voters in the 17-to-29 category actually participated in the Iowa caucuses on Monday night. That left some 78% of those "young" voters out of the decision-making for Democrats, and deprived Sanders of what clearly should have been that missing handful of votes that would have given him a modest edge over Clinton at the end of the night.

It will be up to analysts and numbers-crunchers on both Team Clinton and Team Sanders to figure out how and why that happened. In the meantime, Clinton can breathe a sigh of relief that she escaped Iowa with her win in hand. For now all eyes have already turned to New Hampshire.

Related Thursday Review articles:

Iowa: Cruz Surprises Trump; Rubio Places a Strong 3rd; R. Alan Clanton; Thursday Review; February 2, 2016.

Iowa: The Art of Raising Lowered Expectations; Thursday Review editors; Thursday Review; January 31, 2016.