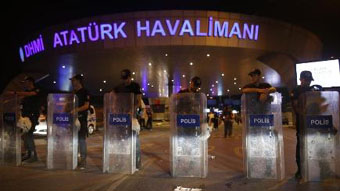 Image courtesy of India Express
Terror Attacks in Turkey Kill
at Least 42
| published June 29, 2016 |
By Keith H. Roberts, Thursday Review contributor
ISIS is believed responsible for a string of coordinated attacks in Istanbul, Turkey which have left dozens dead and one hundred wounded. The attacks included shootings and bombings in and around the Ataturk International Airport, just outside of the city, where hundreds were crowded into the busy concourses, shopping areas and hallways.

The assaults began moments after three heavily armed gunmen arrived at the airport by cab. Within minutes, all three attackers had begun their assault, and all three would eventually detonate suicide vests. Gunmen opened fire in crowded areas, then—in some cases challenged, or shot by police and security forces—exploded the powerful devices strapped to their bodies. Airport security camera footage shows the moments when at least two of the three terrorists detonated the bombs.

Turkish police say that the dead includes both Turkish citizens and foreigners. All flights in and out of Istanbul were cancelled for about 18 hours, and most major airlines had rerouted flights to avoid the area. By early Wednesday, police and airport officials had been able to reopen parts of the airport and at least one runway, but it may be days before the busy facility is functioning normally.

Prime Minister Binali Yildirim acknowledged that Turkish police and security believe that the Islamic State was behind the attacks. It is not the first time that militants have engaged in terrorism in Turkey, where both Islamist elements and Kurdish separatists have been waging violent was for several years.

ISIS, however, has posed the more serious threat to security in Turkey, a NATO ally, ever since the militant group emerged from the lawlessness and chaos of the Syrian civil war in 2013 and 2014. Turkey borders both Iraq and Syria, where ISIS forces maintain control of a wide tract of territory, in some cases controlling cities and towns right along the border with Turkey. Turkey has experienced at least six significant terror attacks this year, including a suicide bombing in March in which four people died in a crowded outdoor market, and bomb blasts in Istanbul in January which killed 11 German tourists.

Official reports varied throughout Tuesday and Wednesday as to the exact number of dead in the airport attacks, but the current official estimates suggest that 42 are confirmed dead, with another 90 injured.

In the immediate aftermath of the attacks, airport authorities recruited taxis and vans to transport the injured to hospitals when the local ambulance services became strained.

Though Turkey faces two internal threats—one from Kurdish separatists and one from ISIS—U.S. terrorism experts and foreign policy analysts say that the airport attacks clearly show the signature of the Islamic State. ISIS has used social media to call for multiple attacks during Ramadan—especially those attacks which would inflict numerous casualties on tourists and foreign travelers. Istanbul is a popular destination for Europeans and Americans, and its airport is one of the busiest in Europe and the Middle East.

Turkish police and U.S. terror experts suggest that the Istanbul attacks bear all the typical thumbprints of the sort of highly coordinated, well-planned attack it prefers when using "soldiers" operating under instructions or guidance from ISIS leaders. Though the exact identity of the terrorists is not yet known, and though as of early Wednesday ISIS had not taken official credit for the attack, officials suggest that this to fits the pattern seen in previous Islamic State attacks, including the bombing of a Russian airliner over the Sinai region of Egypt and recent attacks in Paris and Brussels. The airport also fits easily into the profile of soft targets most likely to be the venue for ISIS attacks—areas with heavy crowds, large numbers of international citizens, lax security, and multiple entrances and exits.

Turkey is also a target for ISIS not only for its geographic footprint alongside areas currently controlled by the Islamic State, but also because Turkey has become a key ally in the fight against ISIS, particularly in northern Syria and northern Iraq.

Turkish President Tayyip Erdogan called the airport attacks a "heinous crime" and an act of barbarity. He also suggested that the assault indicates ISIS's cold-blooded willingness to cross any borders and take the lives of the people of any nationality in its quest to rewind the tape to the Dark Ages.

"The bombs that exploded in Istanbul could have gone off at any airport in any city," Erdogan said, "Make no mistake, for terrorist organizations there is no difference between Istanbul and London, Ankara and Berlin, Izmir and Chicago."

U.S. President Barack Obama called Turkish officials on Wednesday, and offered any American assistance that was needed. He also pledged to make sure that the interdiction of terrorism remains a top priority item for discussion at a summit of North American leaders in Canada this week.

Despite the carnage, experts suggest that the body count could have been much worse. Turkish authorities have been waging a campaign to strengthen security measures at the busy airport, and among the improvements have been better-armed and better-trained police and security personnel. Airport officials say that the intervention by police early in the attack minimized what was surely meant to be a much more violent, bloody assault.

Though praising the rapid response of police and security forces, terror experts say that the Istanbul attacks illustrate just how difficult it is to truly secure an airport—or any major transportation center, for that matter—since such facilities are often designed by nature to be open and porous to vehicular traffic and pedestrians, and airports often include a diverse variety of amenities, such as restaurants, coffee shops, retail stores, car rental agencies, and other storefront operations. Such open, soft targets present an opportunity for terrorists—either working individually or in a small group—to maximize damage and violence.

Of the 42 dead, Turkish officials say that about 35 have been identified—many of them Turkish. The U.S. State Department has not confirmed of Americans are among the dead or injured.

U.S. Secretary of Defense Ash Carter spoke with Turkish Defense Minister Fikri Isik on Wednesday to express solidarity with an important U.S. ally and a key member of the NATO alliance. The Pentagon says that Carter's call included assurances that U.S. assistance would be forthcoming in the program to defeat terrorists, and reaffirmed the coalition's goal of defeating ISIS.

Related Thursday Review articles:

FBI Director: Orlando Shooter Was Radicalized by ISIS; R. Alan Clanton; Thursday Review; June 13, 2016.

ISIS Praises Couple in San Bernardino Massacre; Keith H. Roberts; Thursday Review; December 5, 2015.