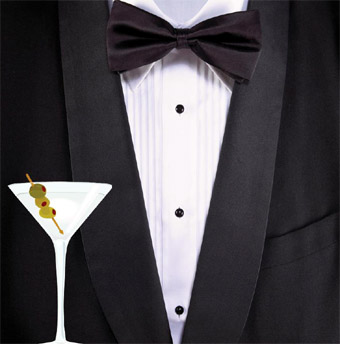 There Can Only Be One Bond
| published Sept. 25, 2014 |
By Thursday Review staff


Though the ruling was sealed and there has been little conversation—before, during, or after—a copyright and trademark case is making its way through the courts in California, a case with big implications for anyone thinking of imitating the famous fictional agent James Bond.

MGM and Danjaq LLC have sued NBC Universal (owned by Comcast) to force Universal to cease its development and production of a motion picture which will feature a high-ranking spy working for British intelligence. The fictional spy being developed by NBC Universal wears tuxedos, drinks dry martinis, drives snazzy sports cars, receives a "license to kill" from his handlers in London, and—in general—has all the other habits and attributes of the famous spy developed decades ago by novelist Ian Fleming, and parlayed over the years into perhaps the most famous film franchise in movie history.

The case now being heard in U.S. District Court in Los Angeles is called Danjaq LLC vs. Universal City Studios. MGM and Danjaq, it seems, do not want to see other film and TV studios cash in on a very profitable, but closely held, creation.

The Bond series—which numbers either 24 or 25, depending on how one counts them—has grossed close to $2 billion just in American theaters over the years. Coupled with other rights—foreign distribution, television replays, likenesses, gadgets, toys, you name it—the overall impact runs closer to $3 billion.

NBC Universal argued in court that the case was a waste of time and money: not one frame of the proposed film has even been shot, the script is still under development and therefore subject to extensive changes, and NBC Universal would likely rewrite/revise the draft screenplay (written originally by Aaron Berg) to insure that neither MGM nor Danjaq LLC would be infringed upon by the movie. Further, Universal says it has not even concluded whether the film should be produced. NBC had made a motion recently for the case to be dismissed, but U.S. District Judge James Otero denied that motion.

Nevertheless, talk is fast and loose in Hollywood. Rumors of the Bond-like motion picture have been circulating for many months, and it has been readily apparent that MGM and Danjaq plan to protect the reputation of their favorite secret agent.

The bond franchise has not only been highly profitable, but it has also made stars of its dapper leading men. Among those who have portrayed the handsome, well-tailored agent: Sean Connery, George Lazenby, Roger Moore, Timothy Dalton, Pierce Brosnan, and Daniel Craig. There have been other James Bonds in films, but it get complicated (for example, most people do not know that Bond was first portrayed as an American, by actor Barry Nelson; and many more would be surprised to learn that David Niven also played Bond).

Comic knockoffs of Bond have proliferated over the years as well. Mike Myers' classic send-up of British spies—Austin Powers: International Man of Mystery—spawned an entire subculture of London-based agent laughs and gags. Johnny English, portrayed with the sort of deadpan aplomb only possible by the British comedian Rowan Atkinson, wears nifty black tuxedos, drives expensive sports cars, and seems to know which end of the gun is which. But English also causes almost as much mayhem and disruption as one would think possible in the intelligence services. Atkinson's role also spawned numerous sequels.


Related Thursday Review articles:

Our Favorite Villainous Giant; R. Alan Clanton; Thursday Review (Film & TV); Sept. 11, 2014.