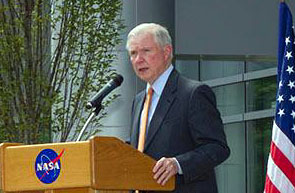 Photo courtesy of Jeff Sessions
Sessions Receptive to
Idea of Trump VP
| published May 30, 2016 |
By R. Alan Clanton, Thursday Review editor
Donald Trump's top campaign manager and vice-Presidential vetting coordinator Corey Lewandowski told reporters on Fox News on Sunday morning that he and the candidate had narrowed the field of potential running mates to "a very short list." On ABC News, campaign chairman Paul Manafort also indicated that Trump is very close to a decision, and hinted that the list may be down to only about a half dozen names.

According to a variety of media sources, U.S. Senator Jeff Sessions, longtime Alabama Republican, is now on the short list for running mates for the presumptive GOP nominee.

The 69-year-old Sessions has told reporters and friends that he is receptive to the idea of joining forces with Trump, and describes a potential Trump administration as an historic opportunity.

Sessions was an early backer of Trump in the months when the GOP establishment was battling fiercely to push back against the front-runner. In fact, Sessions was the first Republican member of the U.S. Senate to endorse Trump, a fact not lost on the billionaire businessman. Sessions—who is widely known to converse directly with Trump by phone on a weekly basis—has rumored to have met with Trump and Trump campaign aides in recent days.

Long considered Trump's most reliable go-to person on Capitol Hill since the start of the year, Sessions, however, downplays any overt ambition for a top role in a Trump White House, telling reporters merely that he has "no objection" to the position of Vice-President. Sessions becomes the third or fourth politician currently under discussion in a vetting process which could take several weeks. Earlier this week Trump met briefly with Senator Bob Corker of Tennessee and former Speaker of the House Newt Gingrich. Both Gingrich and Corker are considered near the top of Trump's short list of possible running mates.

According to most major media sources, including Fox News, the Associate Press, an NPR, front-runner Trump reached the required goal of 1,237 delegates this week, enough, according to Republican National Committee rules to obtain the GOP nomination on the first round of balloting when the party meets in Cleveland this summer.

In advance of what now appears to be his certain nomination, Trump has been seeking to shore up his Washington footprint by talking to numerous Republican Senators and Representatives, and reaching out to those with deep experience on Capitol Hill and inside the Beltway. Trump may also want to burnish his Vice-Presidential decision well ahead of the start of the convention—a move which would surely help unify some elements within a Republican Party still at war with itself. Some Trump insiders say that the businessman's goal is to make a firm decision on a running mate about one week to ten days before the first gavel at the convention.

In his comments to reporters, Sessions says what is most important is that Republicans now unify behind Trump, and begin to find ways to unify behind other Republican candidates running in November.

Sessions is also optimistic about Trump's chances in the general election, citing Trump's remarkably ability to have survived a bitter, rancorous primary and debate season despite a party leadership often sharply at odds with the billionaire.

Sessions, who was first elected to the U.S. Senate in 1996, was previously the U.S. Attorney for the Southern District of Alabama (he had been appointed to that job by then-President Ronald Reagan), and later was elected to the position of Attorney General of Alabama. In 1986, Reagan nominated Sessions for a spot on the federal bench, but Sessions was voted down in the Senate after a contentious hearing.

Manafort, speaking on ABC, said that though he will not disclose the particulars of how potential running mates are being screened and weighed, he said that the vetting process will be very thorough and exhaustive.

Related Thursday Review articles:

Trump: IRS Audit May Not Be Complete by November; R. Alan Clanton; Thursday Review; May 11, 2016.

Trump Morphs on Taxes, Minumum Wage, More; Keith H. Roberts; Thursday Review; May 8, 2016.