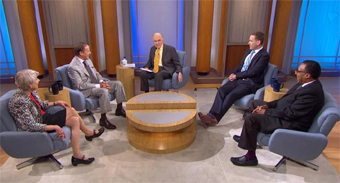 The McLaughlin Group in July 2015/Image courtesy KCET
John McLaughlin, Creator of
Combative Political Talk,
Dies at 89
| published August 17, 2016 |
By R. Alan Clanton, Thursday Review editor
He was what many television critics and cultural historians say was the inventor of confrontational political TV. And he was arguably one of the most influential television commentators of the modern era.

John McLaughlin, the former Catholic priest, speechwriter, editor, and intellectual turned political pundit, died this week at the age of 89 of prostate cancer. He had been in treatment for cancer for several months, according to those who worked with him, but the cancer had apparently spread into other areas of his body. His death came just one week after his first absence from the famous show he created decades ago.

McLaughlin was, by most accounts, the man who invented combative televised political discussion with his long-running weekly program The McLaughlin Group, a show which first aired in the spring of 1982. The program featured a panel of four to five journalists, commentators or analysts, who would—following McLaughlin's bold lead—discuss and debate a variety of issues and controversies of the previous seven days, with a particular focus on the political consequences of the events.

Seeking a way to contrast his new show from the sedate, gentlemanly pace of other panel shows and political round-ups of the era, such as Meet the Press and Face the Nation, McLaughlin proposed a program in which pundits would more aggressively debate the issues at hand with a less detached eye than what was taught in the journalism schools of the day. Indeed, or so it sometimes seemed, McLaughlin wanted to raise the collective blood pressure, not lower it.

McLaughlin invented, and later became the chief purveyor of, an in-your-face style of political discussion now commonplace—some would argue dominant—in the political conversations and roundtable discussions found on TV. He would often lead into a subject with a profoundly provocative statement, thus drawing-in the panelists from the right and the left into what would quickly become a heated, sharply partisan discussion. McLaughlin would often summarize each segment himself, weighing-in with the final word—generally his own conservative view or interpretation of the subject just discussed.

His love of a lively, spirited discussion between the left and the right made the show a huge hit among political junkies and news hounds, and the weekly program—which ran for 34 years—became a highly influential source of analysis and opinion. A barometer of the political weather, the show's immense influence drew elected leaders, policy-makers, Congressional chieftains, and even Presidents to tune in each week to gain a sense of the direction of the weekly news narrative.

After its first decade on the air, The McLaughlin Group was so well-known and so central to the political conversation that it was sometimes featured in fictional and non-fiction films, including several famous sequences in the popular movie Dave, which starred Kevin Kline and Sigourney Weaver, and the alternate-history story The Watchmen, in which lookalike actors played the roles of McLaughlin and his fellow pundits. His show was also the subject of frequent satire and admiration on Saturday Night Live, where comedian Dana Carvey and others would perform hilarious send-ups of The McLaughlin Group's most beloved recurring themes and personalities.

Over the 34 year history of the program, scores of well-known political writers and commentators appeared on the set, including Eleanor Clift, Patrick Buchanan, Morton Kondracke, Fred Barnes, Chris Matthews, Robert Novak, Clarence Page, Cal Thomas and Jack Germond. McLaughlin encouraged gregarious debate, and often fanned the flames of the conversation if the pace of the show slowed to his disliking. He also developed a trademark gimmick of giving his most frequent panelists whimsical nicknames, and gag which also translated neatly into movies and comedy.

His legacy is nothing less than transformative: the news talk shows and political discussions of the major cable television news networks—CNN, Fox News, MSNBC—owe the popularity of their boisterous debates and aggressively partisan styles to the lively, provocative format he may have single-handedly developed as executive producer and moderator of The McLaughlin Group.

McLaughlin was accustomed to controversy and combativeness from an early age, and from his frequent run-ins with the hierarchy of the Catholic Church when the young McLaughlin was a Jesuit priest. McLaughlin was already an unapologetic and unvarnished ultraconservative by his twenties, not long after he graduated from LaSalle Academy and after several years in training and studies to be a priest. His advanced educational credentials were impressive: he studied philosophy, English Lit and history at Boston College, and then earned his doctorate at Columbia. He later taught at the elite Fairfield College Preparatory School in Connecticut, and became a writer and editor of several Catholic and Jesuit publications.

Drawn to politics and the fledgling conservative movement—the rightist intellectual and cultural thinking of William F. Buckley, William Rusher, Irving Kristol and others—Father McLaughlin, over the strong objections of the Jesuit Order and the church, ran unsuccessfully for the U.S. Senate in 1970, attempting to challenge Democrat John Pastore of Rhode Island. Taking a more libertarian foreign policy view, McLaughlin's sole liberal position in that campaign was his call for de-escalation and withdrawal from Vietnam. The church not only disapproved of his entry into politics, but issued a strong rebuke to the young priest. McLaughlin's early political forays stood in contrast to that of another Catholic priest, Father Robert Drinan of Massachusetts, whose own political venture in 1970 was approved by church officials—despite that both priests were equally anti-war on the issue of Vietnam.

Father McLaughlin would eventually be asked by the church hierarchy to strongly reconsider his decision to join the priesthood, as his combative style and sometimes gregarious political and cultural voice brought him into frequent clashes with Catholic officials. By 1970 he would be living more-or-less full time in Washington, where he went to work for President Richard Nixon in 1971 as a speechwriter. It was here that he met Patrick Buchanan and others who would help shift his career path even more toward politics and public policy. McLaughlin often defended Nixon even during the darkest days of Watergate, but also recognized that the Nixon presidency was finished many weeks before Nixon made the decision to resign. McLaughlin, though fired by incoming President Gerald Ford's team within the first weeks of the Ford's administration, praised Ford for his decision to issue a full pardon to Nixon.

McLaughlin in the meantime had officially requested permission from the Vatican to be released from his duties as a priest. During this time he would begin writing and editing for National Review, the influential and respected digest of conservative opinion which Buckley had founded in the 1950s. McLaughlin also began writing for occasional syndication.

McLaughlin later married Ann Dore, his former campaign manager back in Rhode Island and someone who had been a close personal friend for more than a decade. He and Dore would found a media and advertising company, where he would first begin germinating the idea of a robust and lively political talk show. After pitching the concept to several television stations in the D.C. area, he landed an opportunity to see the show become reality in late 1981, only months after Ronald Reagan had been inaugurated President. In 1982 The McLaughlin Group debuted on select PBS and CBS affiliates. The show was an instant hit, and rapidly got picked up by more affiliates nationwide.

Though his new, combative program was undoubtedly transformative—today there are literally hundreds of shows spread across scores of networks which use his basic theme and format, including the very fabric of Fox News—not everyone preferred McLaughlin's vision of an aggressively partisan analysis show. Jack Germond, thr Baltimore Sun columnist and a frequent and longtime contributor to the program, deplored The McLaughlin Group for being "tasteless" and "just bad TV." Germond, who passed away in 2013, told interviewers that he remained committed to the program out of financial necessity (Germond needed the weekly payment) and out of an interest in keeping the narrative balanced, something he thought not possible had the content gone unmitigated by a bona fide liberal commentator like himself.

Novak, too, left the show, deriding its tone and style, but later joined CNN, where he crafted a show called The Capital Gang, modeled almost precisely on the success of the program created by McLaughlin years earlier.

Related Thursday Review articles:

Roger Ailes Ousted as Chief of Fox News; Thursday Review staff writers; Thursday Review; July 21, 2016.

National Review to Endorse Ted Cruz; Thursday Review staff; Thursday Review; March 12, 2016.