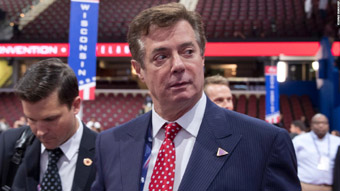 Image courtesy of Reuters
Manafort, Gates, Become First
Indicted by Mueller Probe
| published October 30, 2017 |
By Thursday Review staff writers
The onetime campaign manager and close political associate of then-candidate Donald Trump has been officially detained by the FBI as of early Monday, heralding the first person to be charged in a widening investigation into possible Russian interference in the 2016 U.S. Presidential elections.

Paul Manafort surrendered to the FBI early Monday. Later in the day he pleaded not guilty to a long list of charges, including evasion of income tax and the use of laundered money to buy cars, real estate, and millions of dollars in clothes. Also brought in on Monday: Rick Gates, a former business associate of both Manafort and Trump, a Manafort protege, and a political insider within the Trump campaign.

After a grand jury concluded there were sufficient grounds for an indictment on Friday, both men became the first people to be charged with a crime in the case being investigated by special counsel, Robert Mueller. Mueller's team has been investigating how—and to what extent—top Russian officials interfered in the 2016 elections.

A variety of U.S. intelligence and law enforcement agencies have concluded that there is substantial evidence of Russian involvement, though there has been little evidence that Moscow altered votes. Part of Mueller's expanding probe now includes massive Russian expenditures in social media—some of it in the form of anti-Hillary Clinton material crafted to discredit the former Secretary of State, and some meant to reinforce messages already being sounded by the Trump campaign.

The grand jury found reason to indict both Manafort and Gates as part of the probe looking into possible collusion and collaboration between top Trump campaign operatives and high-ranking Russians with direct links to Russian President Vladimir Putin.

Before and after taking office, Trump has denied that his campaign colluded in any way with Moscow during the election, and the White House has insisted that the story is false. Officials in Russia have also dismissed the allegations.

The indictment, ordered sealed by a presiding judge late Friday, could be unsealed as early as this week, according to a number of media sources citing information gleaned from FBI insiders and those familiar with Mueller's investigation.

Mueller took over the probe in May of this year, one week after Trump fired FBI Director James Comey. Comey's dismissal angered many in Congress, and members of the Senate and House quickly sought to reinforce the power and credentials of the quasi-independent investigation.

Mueller's team has interviewed hundreds of people, among them former White House chief of staff Reince Priebus and former press spokesman Sean Spicer. Mueller has also looked closely at former national security adviser Michael Flynn, who—early in the investigation—apparently mislead vice-President Mike Pence about the extent of Flynn's dealings with Moscow and his private discussions with Russian Ambassador Sergei Kislak.

Manafort, who has past ties to Russia through real estate and business ventures, has been the subject of the probe almost from the start of the investigation. Manafort also did consulting work for a pro-Moscow political party in the Ukraine, a country torn by civil war.

Manafort's alleged involvement may have become clearer to investigators after FBI agents, armed with search warrants and subpoenas, raided his Virginia home in July. At that time investigators seized a desktop computer, laptops, file cabinets, a cell phone, and other materials.

Among the things Manafort was charged with: evading U.S. income tax, and using a variety of shell companies and offshore accounts to launder millions of dollars in cash from the pro-Russian political group then headed by Viktor Yanukovych inside the Ukraine—cash that was later filtered through bank accounts in Cyprus, the Grenadines, then used by Manafort to purchase real estate in at least four prominent locations, along with expensive cars, rugs, jewelry and high-end designer suits. The FBI says that Manafort spent at least $1.3 million on men's clothing from stores in Manhattan and Beverly Hills, and another $2.8 million for a condominium in SoHo.

Hours after news of the surrenders of Gates and Manafort, the special counsel's office announced that former Trump foreign policy advisor George Papadopoulos had agreed to cooperate with the expanding investigation. According to sources within the FBI and some close to Mueller's investigation, Papadopoulos pleaded guilty to lying to law enforcement.

Investigators say that Papadopoulos may have been one of the early point-of-contacts between Russian officials and the Trump campaign, and that several Kremlin-linked operatives contacted Papadopoulos with offers to provide negative information on Hillary Clinton shortly after the original data breach of the Democratic National Committee, and shortly after news of Clinton's use of an unsecured server and email account had become national news in the U.S.

Papadopoulos was at that time already serving as candidate Donald Trump's chief foreign policy advisor. On Monday the White House downplayed the role played by Papadopoulos during the campaign, characterizing him as a consultant with foreign policy credentials.

Related Thursday Review articles:

Mueller's West Wing Q&A Raises Stakes in Trump-Russia Probe; Keith H. Roberts; Thursday Review; August 15,2017.

Comey Testimony Transfixes Capital and Nation; R. Alan Clanton; Thursday Review; June 8, 2017.