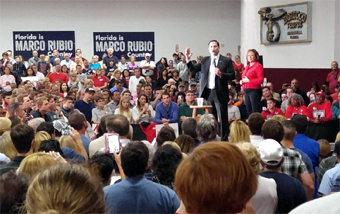 Photos courtesy of Thursday Review
Rubio Wants Floridians to
Vote for a Floridian
| published March 5, 2016 |
By R. Alan Clanton, Thursday Review editor
Marco Rubio wants Republicans and conservatives to rally around his message, and he wants voters in Florida—especially—to help him become the singular force to stop Donald Trump before the billionaire becomes the GOP nominee. Rubio is engaged in a ferocious battle to win his home state, and he has only a little over a week to do it.

Florida Senator Marco Rubio spoke in Jacksonville on Saturday even as Trump made an appearance in Orlando, in dueling rallies which may become common over the next few days. Rubio spoke in Florida even as GOP voters in four other states—Kansas, Maine, Louisiana, Kentucky—gave two wins to Trump and two wins to Texas Senator Ted Cruz, leaving Rubio and fellow candidate John Kasich with little to show at the end of so-called Super Saturday. Though at the time he spoke in Florida the results were not yet trickling in from those four states, Rubio would—by later that evening—land in either third or fourth place in all four contests.

Speaking to a crowd of about 4,500 in a Jacksonville auditorium, Rubio implored Floridians to go to the polls and cast their vote for him instead of Trump in a nomination contest and an election which Rubio said "is one of the most important elections in generations."

Rubio, who had spoken only hours earlier in National Harbor, Maryland at a meeting of C-PAC (Conservative Political Action Conference), just outside of Washington, arrived late to Florida—delayed by scheduling problems at the widely-watched conference, and delayed again by a missed flight. (Trump had earlier decided to skip the conference). By the time he arrived to the Jacksonville venue, Rubio's fans had waited for more than two hours in lines or inside the auditorium.

Unfazed by the long delay, however, the crowd erupted enthusiastically when he was finally introduced by Jacksonville Mayor Lenny Curry and New Mexico Governor Susana Martinez, two of many top Republicans who have thrown their support behind Rubio in an effort to derail what some believe is an unstoppable Donald Trump. Rubio prefaced his speech by apologizing for a hoarse voice, raspy and tired from weeks of non-stop campaigning.

"I don't know if you can overdose from cough drops, but if you can…I'm going to find out," he joked. Rubio also thanked Martinez, who has been travelling with the Rubio entourage for several days. Rubio also apologized for his delay in arriving, explaining that he had just spoken earlier at C-PAC.

"This election is for real," Rubio said, "because what we have to choose now is what kind of country America is going to be in the twenty first century. I know what we've been for the past 200 years…we have been a special place, unlike any nation on Earth. Don't let any person tell you any differently: there has never been a nation as special as the United States of America. But that greatness was a choice…it didn't happen automatically."

Rubio said that each generation of Americans struggled mightily with problems and challenges, but managed—through great sacrifice and despite enormous difficulties—to leave the country a better place for their children and grandchildren. Rubio said that this election will be defined by historians by its legacy and meaningfulness for our own children and grandchildren, and whether the United States will remain a relevant nation in the new century.

"We are headed in the wrong direction," Rubio declared, answering his own rhetorical challenge to the crowd. "We are headed in the wrong direction after eight years of Barack Obama, and we will stay headed in the wrong direction if we as Republicans do not win this election in 2016."

"If we lose," Rubio stressed, "if…we…lose…that means we wake up to the news of a President Bernie Sanders…" The crowd booed, drowning out Rubio's next words. "Bernie Sanders is a socialist. Usually when you accuse someone in American politics of being a socialist, they get mad about it and deny it. But Bernie says it in his commercials…he's a socialist. But we don't want to be a socialist country. If you want to live in a socialist country, you should move to a socialist country. We want to be Americans."

"There's another candidate running too," Rubio said as the crowd grumbled and booed again. "Yeah, you've heard of her. Her name is Hillary Clinton, and she's disqualified from being President because she sent classified information over public servers. And she's unqualified to be commander-in-chief because she lied to the families of the victims of Benghazi."

"Anyone…anyone," Rubio said, "who lies to the families of those who have served our country or had died in our service…anyone who lies to these people or their families can never be the commander-in-chief of the United States of America."

Rubio said that the GOP cannot win in November if the party does not agree to espouse conservative principles first and foremost. In that sense, Rubio said, it is not just about winning for the sake of winning.

"Conservatism is not an attitude," Rubio said, echoing a theme from his speech earlier that same day at C-PAC, "conservatism is not about how loud you can be, how offensive you can be, how many bad words can you use, how many ridiculous things can you say on television…that is not conservatism. Conservatism is adhering to the constitution of the United States."

Rubio cited the things he would regard as key to that constitutional conservatism if he is elected President, including guarding first amendment rights to religious freedom, and second amendment rights to ownership of weapons as a form of self-protection. Rubio also said that he will enforce the meaning of the fourth and fifth amendments, return power to the states, and reduce the scope and intrusion of the Federal government. He also said that on his first day in office as President he would repeal each one of Obama's executive orders, most of which Rubio said were unconstitutional acts by a chief executive.

The Florida Senator also said that conservatism is about the encouragement of free enterprise and hard work, not inheritance or entitlement. Rubio cited his own experience as the son of a bartender and a maid, and said his parents—despite the modest lifestyle—could be defined as successful people because they were able to raise a family and eventually leave their children better off than they had been. Rubio also said that the U.S. form of free enterprise allows poor people the opportunity to become rich without making rich people poor.

Rubio also cited what he called his "real plans" to improve the tax code, roll back Federal regulations, balance the budget, save Social Security, and improve health care. Rubio joked that his health care plan encompasses more than the mere erasing of state lines on health care coverage, a direct reference to Trump's simplified health care plan for which the billionaire found himself under fierce attack in the last debate.

The Florida Senator also said that conservatism is about a strong national defense, and cited Northeast Florida as a prime example of how military strength is important—not only for its goal of deterrence but also as an engine for economic growth. Rubio said that the most important job of a President is as commander-in-chief. Rubio called Obama weak on defense and foreign policy, and recited a long list of examples of how the world had become a far more dangerous place under the current administration: China, North Korea, ISIS and al Qaeda, Iran, Russia.


Rubio said that Obama has gutted the U.S. military, cutting it down to a size smaller than before the start of World War II. Citing Jacksonville as a major Navy town, Rubio also said that by the end of 2017 the U.S. Navy would be its smallest since 1915, and that the Air Force would at its smallest size in its history. Rubio cited statistics that show that the majority of U.S. pilots and aviators fly planes that were built before those same pilots were even born. The Florida Senator promised to empower the U.S. military to grow and rebuilt in the new century with newer weapons, smarter tools, and better training. The military references got the crowd worked up into a chant of "Marco, Marco, Marco." (He joked at that point that his ear-nose-throat doctor had placed him on a "strict word-count limit" for speeches, in an effort to avoid a total loss of vocal ability due to overuse of his voice, and said he would have to cut his address short).

Rubio stressed that the United States is a peace-loving nation, but added that radical-Islamic terror is an enemy of peace. Rubio promised that as President he would charge the intelligence agencies and the military with making it a priority to hunt down and destroy extremist militant groups like ISIS and al Qaeda. Rubio also said that not only would the prison at the Marine base at Guantanamo Bay, Cuba remain open, but that he would use it to house additional terror operatives captured from around the world. Rubio said that no nations have suffered more during the Obama years than U.S. allies, which he indicated have been dismayed and disappointed by Obama's foreign policy leadership.

Rubio also said that he would be an unapologetic supporter of Israel, which he said is the only free-enterprise democracy in the Middle East, and whose leader—Rubio stressed—is often treated with less respect by the President than the respect and deference shown to the leaders of Iran. Rubio drew a direct line from Obama's policies toward Israel and its sometimes hostile neighbors, and Donald Trump's assertion that he would not engage in a Middle East policy which shows preference for Israel over its most bitter rivals among the Palestinians, the militant organizations such as Hamas and Hezbollah. Rubio assured his audience that the U.S. would back Israel.

"The world will know that we are on Israel's side," Rubio declared, adding that "on my first day in office I'm going to cancel Barack Obama's deal with Iran."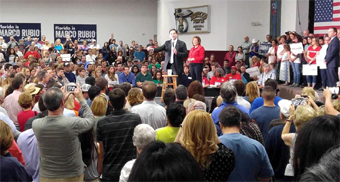 Rubio also said that as President he would revamp the Veterans Administration to make its true priority veterans. Acknowledging the many veterans in the audience, Rubio explained that roughly one out of four calls to his Senate office come by way of military veterans or their families, and he cited the rise in veteran suicides and the recent widely-reported instances of calls to VA suicide hotlines going to voice mail or to recordings which indicate an on-hold wait time of thirty minutes or more. Rubio also cited the recent instance of a veteran—dead by suicide after numerous calls to the VA—who did not receive a call back from a case worker until the day after his death.

Rubio also offered praise for Vermont Senator Bernie Sanders for helping to craft legislation on improvements to veteran care and benefits.

After his speech in Jacksonville, Rubio was heading to Puerto Rico, a territory with tens of thousands of Republican voters and 23 delegates at stake. Rubio hopes to capture both Florida and Puerto Rico in an effort to reclaim his relevance as the "establishment" candidate and the contestant most like the GOP's conservative brand. But the task ahead for Rubio may be challenging in the extreme: he has won only one contest so far, the Minnesota caucuses, and at the moment he still lags far behind Trump and Cruz in the all-important delegate count.

Rubio hopes to make good on his part of the "Romney Strategy." Posited by the former GOP nominee earlier in the week, Romney's suggested goal for the Republican Party is to starve Trump of any more delegates by letting the non-Trump candidates have free rein in the states where they are already best suited to challenge Trump—Rubio in Florida, Kasich in Ohio, Michigan and Pennsylvania, Cruz in the Plains States and what remains of the Deep South, and so forth. The endgame in this approach would deny anyone a clear shot at the nomination on the first ballot in Cleveland, thus opening the doors to a brokered convention—the first for the GOP since 1964, and the first for either party since the Democrats met in Chicago in 1968.

But such a strategy—mathematically complex and politically arduous—has the immediate flaw of being a mere pipedream if, in fact, Rubio does not win Florida and Puerto Rico. Many current polls show him trailing Trump in the Sunshine State by between 14 and 20%, though much could change in the intervening nine days before Floridians vote. Expect Rubio to canvas Florida over the next week, and expect also a heavy bombardment of the airwaves in the big TV markets of Miami, Orlando, Tampa, Jacksonville, Gainesville and Pensacola with anti-Trump advertising mixed evenly with those spots place by Rubio or Super PAC.

And expect to see a lot of Donald Trump in Florida as well with events like the one held in Orlando only an hour before Rubio's speech was set to begin in Jacksonville. And if the negative ads had any impact, it will be that Floridians may come again to regret their outsize importance in another election cycle where the stakes are extremely high.




[Additional reporting for this article by Earl Perkins, Thursday Review features editor]
Related Thursday Review articles:

Mitt Romney Offers Blistering Repudiation of Donald Trump; R. Alan Clanton; Thursday Review; March 3, 2016.

Cruz and Rubio Spar Over Who is the Genuine Anti-Trump; Keith H. Roberts; Thursday Review; March 3, 2016.