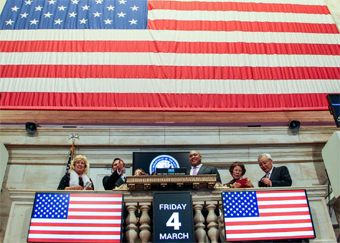 Photo courtesy U.S. Navy
SEAL and Medal of Honor Winner
Rings Closing Bell
| published March 9, 2016 |
By Thursday Review staff writers
Ringing the closing bell of the New York Stock Exchange on Friday, March 4 was Senior Chief Special Warfare Operator (Navy SEAL) Edward Byers, Jr., and his family. Byers can be seen just to the left of the podium pointing, with family members on both sides along with representatives of the NYSE and others. Byers is a Medal of Honor recipient, having earned the honor last month for his actions during a dangerous hostage rescue operation in Afghanistan in 2012.

This official U.S. Navy photo was taken by Lt. Matthew A. Stroup at the time the traditional bell ringing ceremony took place in Lower Manhattan.

President Barack Obama awarded Byers the Medal of Honor on February 29 of this year in a White House East Room ceremony which was photographed and televised by the press. Byers is only the sixth Navy SEAL to have received the honor, which is presented only by a president or top admiral or general. Byers was one of a small contingent of SEALs who participated in an operation to rescue an American civilian, Dr. Dilip Joseph, who was at the time held hostage by Taliban units deep inside areas controlled by the militants. The operation remained classified for several years, but recent unclassified documents have revealed just how harrowing the rescue effort was to the U.S. personnel involved.

The operation, which took place late at night, resulted in the death of Chief Petty Officer Nicholas Checque. Byers is credited with saving the lives of three fellow SEALs as well as the American hostage, whom—during the intense firefight—Byers protected from bullets by throwing himself on top of Dr. Joseph.

Related Thursday Review articles:

Admiral Howard Address BEYA; Thursday Review staff; Thursday Review; February 28, 2016.

Flag, Flying High; Thursday Review staff; Thursday Review; February 19, 2016.