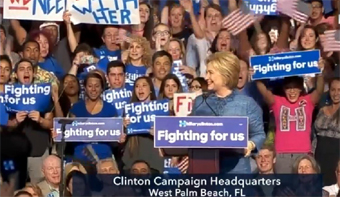 Hillary Clinton addressing supporters in West Palm Beach/
Image courtesy of C-Span
Mega Tuesday Nudges Clinton,
Trump Closer to Nominations
| published March 16, 2016 |
By R. Alan Clanton, Thursday Review editor
Donald Trump and Hillary Clinton each moved closer to securing their places as the nominees of their respective parties, with big wins in several of the high-value Mega Tuesday states, even as Ohio Governor John Kasich grabbed an important victory on his home turf.

Clinton edged out rival Bernie Sanders in at least four states, handing the Vermont Senator stinging losses in Florida, North Carolina and Ohio, and edging him out in a nip-and-tuck battle in Illinois, where the race remained extremely close all night. The Democratic Party outcome in Missouri, as of this writing, remains uncertain, with only about 1,000 votes separating the two candidates out of nearly three quarters of a million votes cast. Late voter returns were still being tabulated from the city of St. Louis—notoriously slow in reporting its totals—as late as early Wednesday morning. Clinton maintained a slight lead in Missouri as of 9:15 a.m. EDT.

Clinton won Ohio, a state where Sanders had hoped to pull off a surprise similar to his stunning Michigan victory ten days earlier, by a hearty 57%. Clinton won in North Carolina by a substantial 55% to Sanders' 41%. And her biggest prize of the night came in Florida, which—like Ohio and Missouri—is a key Electoral College state—where she buried Sanders by a whopping 65%.

Sanders' losses serve as a big setback for his insurrectionist campaign. A win of one or two states on Mega Tuesday would have infused his campaign with renewed strength, and given him the strategic talking points he badly needs to proceed with his high-stakes challenge to front-runner Clinton. Instead, Clinton will walk away with the lion's share of delegates apportioned from the five contests, giving her more than 326 fresh delegates to add to her gathering lead. Sanders will likely take away 220 delegates—a substantial sum in itself, but not enough to blunt Clinton's growing lead.

The task for the Vermont Senator now becomes even more challenging. By some estimates he would have to win smashing victories in several major upcoming contests, including California, in order to deny Clinton the prize she now seems poised to take. According to the Associated Press, Clinton now has about 1,095 delegates—or roughly half of what she needs to secure the Democratic nomination. Counting so-called super delegates, party leaders which are not bound by primaries or caucuses to vote for a particular candidate, Clinton has edged well over halfway to her prize.

Sanders says he will soldier on despite the losses, and points to the dozens of states which have yet to vote, including delegate rich places like New York, Pennsylvania, California and New Jersey. The Clinton campaign stressed that it has become increasingly difficult for Sanders to have a clear path toward the nomination, as some political analysts have studied the math and suggest that the Vermont Senator must now win close to two thirds of the remaining contests in order to overtake Clinton in the delegate math. But Sanders and his spokespersons also point to the super delegates, and suggest that Clinton can achieve victory only by maintaining the allegiance of those party leaders which are free—if they so choose—to switch sides. Several Sanders' surrogates cite the super delegate defections in 2008, when many who had been previously committed to Hillary Clinton defected, switching allegiance to then-candidate Barack Obama.

On the Republican side, billionaire Donald Trump burnished his impressive record of state victories, with wins in North Carolina, Illinois and Florida. In the Sunshine State, Trump thumped home-state Senator Marco Rubio by a whopping margin of 46% to Rubio's 27%, a crushing defeat for Rubio in a state where he had hoped to pull off a victory. Florida was Rubio's last stand, and by late that evening—with no clear path forward—the junior Senator had not only conceded to Trump's victory, but also withdrawn from the race.

Trump and his closest rival Texas Senator Ted Cruz remained locked in a narrow battle for control of Missouri, where fewer than 2,000 votes separate the two candidates out of nearly one million GOP votes cast. Late arriving totals from parts of the city of St. Louis delayed the outcome, but as of mid-morning Wednesday, Trump was maintaining a tiny lead over Cruz, with Ohio Governor John Kasich in a distant third place (Some news agencies like NBC News have declared Trump the victor, though others are holding back on their judgment until some counts can be verified).

Trump's only major stumbling block of the night was in Ohio, where Gov. Kasich pulled off a badly needed win on his home turf. Kasich—extremely popular in the Buckeye State—grabbed a 47% win to Trump's 36%, with Cruz in third place with 13%. Kasich, who gave a victory speech from Cleveland with his family at his side, said that he sees a clear path toward the nomination despite the fact that he has won outright only one state so far. Kasich has outperformed all season, and has managed to outlast many other mainline GOP candidates, including Jeb Bush and Chris Christie. With Rubio bowing out, Kasich now hopes to galvanize the traditional Republican elements around his campaign message, just as he clearly seeks to become the principal anti-Trump.

In the meantime, Kasich must contend with Ted Cruz, who so far is the only candidate to win a series of primary and caucuses against Trump. Cruz, in his speech on Tuesday, did not mention Kasich, telling his supporters instead that as of this week there are only two viable candidates remaining in the Republican contest—himself, and Donald Trump. Cruz and Kasich will now battle no doubt for the title role of the anti-Trump, and it is not clear that the nomination fight can proceed with a clear path for either candidate as long as the party establishment remains divided between Cruz and Kasich.

Still, Kasich's victory may prove either problematic for the GOP's substantial anti-Trump campaign, or it may yet prove to be an opportunity. Some analysts of the math suggest that Kasich's victory in Ohio—while it does deprive Trump of a key trove of delegates—could in fact prolong the divisions among those voters who prefer not to see Trump as the eventual nominee. A newly energized Kasich, perhaps with an injection of cash, could continue campaigning for the foreseeable future, offering opportunities to Republican voters in numerous key states which might otherwise be prime battlegrounds between only Cruz and Trump—places where voters would have a clear choice between the billionaire and a consistent conservative.

But Kasich and his strategists dismiss any discussion that his Ohio win represents arithmetic problems for the establishment's goal of derailing Trump before the convention. Kasich says he alone should now serve as the touchstone for traditional Republican conservatism, and that he is best suited to challenge the rise of Trump. Kasich also makes no particular secret that he can, in theory, become the long term favorite of the many Republicans who see a contested convention as the only genuine alternative to halting the rise of Trump. Kasich supporters, in fact, see an open convention as a godsend—an opportunity for the GOP to "reclaim" its narrative and its core values before Trump wrecks the party and pitches Republicans into a stinging loss to Clinton in November.

John Kasich speaking to supporters in Cleveland/
image courtesy of C-Span
Kasich's home state victory also serves as an important bulwark against what was rapidly becoming an unstoppable march by Trump toward Cleveland; Kasich wins all of Ohio's 66 delegates, which did more than inject his campaign with a renewed energy and relevancy, but also makes Trump's task far more challenging despite his place as front-runner. Trump must now win at least 60.5% of all remaining unpledged delegates to secure a first ballot nomination in Cleveland this summer—not impossible, but certainly a far more difficult task even for the barnstorming Trump. Kasich's people say the GOP should thank him for accomplishing what Rubio was unable to achieve in Florida—denying Trump a rich prize. Indeed, had by some miracle Rubio pulled off a win in Florida, alongside Kasich's big win in Ohio, Trump's challenge would have been even more daunting: he would have need to secure nearly 68% of all remaining delegates, meaning a virtual guarantee of a contested convention.

Kasich's chief strategist says that the plan is simple: with Ohio's delegate now safely in Kasich's pocket. The Ohio Governor now needs merely to pull off at least two—better three—solid wins in the Midwest and far west (Utah, for example, where Kasich polls well and where he is already receiving the support of Mitt Romney). Easily achieved, says John Weaver, especially now that Kasich has been infused with energy and may enjoy a fresh round of cash. Kasich's path may also become brighter and sunnier in a race shorn of Rubio, as the "establishment" elements so rabidly opposed to Trump and so unnerved and suspicious of Ted Cruz, pivot toward Kasich for salvation. In such a scenario, Kasich may be able to pull off a handful of wins, enough to propel him into the convention in time to be available when the next rounds of balloting begin in earnest.

In a floor fight, Kasich strategist believe, the party will reset and reboot—turning to the Ohio Senator as the best choice to unite the party around someone who more closely resembles the party of Ronald Reagan.

Related Thursday Review articles:

Mega Tuesday May Spell End For Rubio and Kasich, or Herald Their Rise; R. Alan Clanton; Thursday Review; March 15, 2016.

Rubio, Kasich, Cruz Question Support for Trump; Keith H. Roberts; Thursday Review; March 14, 2016.