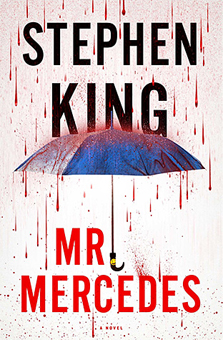 Mr. Mercedes; Stephen King
| published October 17, 2014 |
Book review by Lisa K. Whitten
Thursday Review contributor

An avid fan of Stephen King, I downloaded a copy of Mr. Mercedes to my Kindle. What better way to read King than at night with all of the lights off? King has written over 50 books, and most of those have been worldwide best sellers of the terror/horror genre. Mr. Mercedes, however, is not one of Stephen King's typical macabre horror stories.

The story opens with early birds arriving for the promise of jobs. As the fog rolls in so does a Mercedes (stolen) which proceeds to run them over, killing eight and wounding 15 others. A young mother and her infant daughter are among those killed. Following the theft of her Mercedes—the vehicle used to commit mass murder and mayhem—and after an intense police interrogation, Olivia Trelawney (the car's owner) commits suicide before the case can be fully investigated. Partly as a result of this, the case remains unsolved.

The actual story begins after William Hodges, one of the policemen involved in the original investigation of the Mercedes murder, has retired. No longer on the force and no longer feeling that he has a viable life, he watches endless hours of mindless TV as he plays with his gun and contemplates suicide.

One afternoon a letter arrives giving William Hodges a reason to live. The letter is from "Mr. Mercedes" of course. He boasts of the mass murder with the Mercedes and taunts Mr. Hodges that he wasn't caught and won't be caught. Retired Detective Hodges does not notify the police of the letter. He wants to be the one to "get" Mr. Mercedes.

His search to find Mr. Mercedes leads him to Janey Patterson, the sister of the original owner, mentally troubled, quirky Olivia Trelawney, of the Mercedes. She gives Mr. Hodges (Bill as he insists she call him) the go ahead to fully investigate the Mercedes Killer. She wants to clear her sister's name.

Mr. Hodges enlists the help of his yard boy, Jerome Robinson, who is his 17 year old next door neighbor. The young Robinson is good with computers and seems headed for a promising college education. After Mr. Mercedes strikes again, Holly Gibney becomes part of the small sleuth group. Holly is Olivia and Janey's cousin in her 40's and still lives with her controlling mother. Although intelligent to an extent but like Olivia's suffers from mental issues and quirks. The trio of sleuths are in a time crunch before Mr. Mercedes strikes again. It has become personal to all three of them. Do they find out who Mr. Mercedes is? Where he lives, what he is up to? Do they find out his next target in time?

Although King is a little off with his technology (example: an antiquated chat room used by the killer which can be too easily penetrated the cop) one can overlook these minor problems and enjoy the story. After all it is just fiction...isn't it?


Related Thursday Review articles:

Joyland; Stephen King; book review by Kristy Webster; Thursday Review; August 24, 2013.