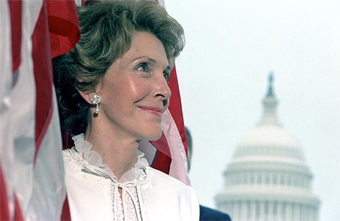 Photograph courtesy of National Archives
Nancy Reagan Passes Away at 94
| published March 6, 2016 |
By Thursday Review staff writers
Nancy Reagan, second wife to Ronald Reagan and the woman who became the central love of The Gipper's life almost from the moment they met in the 1940s, died today at the age 94 at her home near Los Angeles.

According to spokespersons with the Ronald Reagan Presidential Library in Simi Valley, California, Nancy Reagan will be buried next to the grave of husband Ronnie on a scenic lookout just a few hundred feet from the library itself, and on a spot the couple had selected years before as their final resting place. Ronald Reagan died in June 2005.

Though the library and its grounds were closed to the public on Sunday, members of the public will be given opportunity to pay respects at the Simi Valley facility over the next few days while funeral arrangements are firmed up, according to spokespersons at the library.

The news of Nancy Reagan's passing brought a momentary halt to the usual daily spin of political news from the campaign trail as political leaders and candidates of both parties paused to reflect on the death of the elegant First Lady who had been such an integral, visible part of the life of her famous husband.

President Barack Obama and First Lady Michelle Obama each sent their condolences to the Reagan family. Obama also issued a statement earlier on Sunday, commenting especially on Nancy's impact on the White House.

"Nancy Reagan once wrote that nothing could prepare you for living in the White House," Obama said. "She was right, of course. But we had a head start, because we were fortunate to benefit from her proud example, and her warm and generous advice."

"Our former First Lady redefined the role in her time," Obama also said. "Later, in her long goodbye with President Reagan, she became a voice on behalf of millions of families going through the depleting, aching reality of Alzheimer's, and took on a new role, as advocate, on behalf of treatments that hold the potential and the promise to improve and save lives." Obama went on to offer condolences to the Reagans' extended family, and observed—as did many politicians on Sunday—that she is at least again with her beloved husband.

Remarks and condolences also came from both sides of the political aisles, including from Bill and Hillary Clinton, Jimmy and Roslyn Carter, George W. Bush and Laura Bush, former First Lady Barbara Bush, Mitt Romney, Bob Dole, and others. On the campaign trail Sunday, candidates Marco Rubio, Ted Cruz, Donald Trump and John Kasich all requested moments of silence in recognition of the loss of Nancy Reagan.

"With the passing of Nancy Reagan," Mitt Romney said on social media, "we say goodbye to the final days of Ronald Reagan. With charm, grace, and a passion for America, this couple reminded us of the greatness and the endurance of the American experiment. God and Ronnie have finally welcomed a choice soul home."

"Nancy Reagan was totally devoted to President Reagan," Barbara Bush said in a statement, "and we take comfort that they will be reunited once more. George and I send our prayers and condolences to her family."

Ronald Reagan and Nancy Reagan had what almost all historians have called a storybook romance, something straight out of Hollywood, because that was where—in fact—their story began in earnest.

Nancy Davis was born Ann Frances Robbins in New York City in 1921 to a show business family. Her mother Edith, separated from her father when she was an infant, travelled with a theater company for several years before Edith met neurosurgeon Loyal Davis in Chicago. After Edith and Loyal were married, Dr. Davis adopted young Ann Frances Robbins, who soon afterwards changed her name to her permanent stage name Nancy. Newly christened under the name she hoped would lead to greener pastures as a dancer and actress, Nancy moved to Hollywood. She appeared in a dozen films for MGM from 1949 to about 1956 when—because of a case of mistaken identity and confusion over her name—she landed on the so-called Black List of actors, writers, directors, producers alleged to have had communist ties or Marxist sympathies.

It was simple mix-up: her name happened to be the same as another woman working in Hollywood at the time. Nancy started by doing the logical thing: she would set up a brief meeting with dashing B-movie regular Ronald Reagan, then in what he thought was the sunset of his own career as President of the Screen Actors Guild. Reagan was able to sort out the problem, and even expedited her approval for more roles in more films with MGM.

But it would almost prove unnecessary. Nancy Davis would land one more part: a role opposite Reagan in the war movie Hellcats of the Navy. It was almost, but not quite, love at first sight. The Reagans were married in a simple and private ceremony at a tiny chapel near Los Angeles. William Holden was best man, Brenda Marshall was matron of honor. Reagan was reluctant to invite several of his closest Hollywood friends—Jimmy Stewart, Glenn Ford, and others—because the studio had warned him against too much publicity for a fellow getting married a second time, and because Reagan himself had briefly dated some of the women likely to show up on the arms of some of his closest film set friends. Reagan was enamored of Nancy, and wanted no distractions or complications.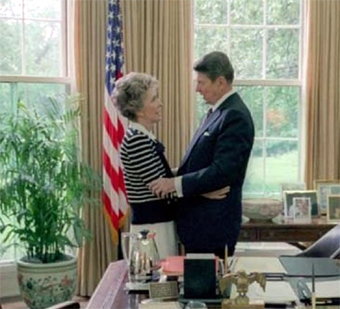 Official White House photograph
The rest, as they say, is history. Their marriage became the stuff of legend as each became the central love and best friend to the other. Nancy became integral to his political life, and became, in essence, his closest advisor and counselor on many issues. She was at her husband's side when he first won election to the job of governor in California in an upset election over Edmund "Pat" Brown in 1966. Reagan's two terms as governor thrust him—along with Nancy—rapidly into the national spotlight, and by the late 1960s he was already being promoted by his inner circle and by some of his wealthiest supporters as being of Presidential material.

Reagan deferred and delayed entering the Presidential race in 1968, but would challenge President Gerald Ford for the nomination in 1976. Ford and Reagan would fight tenaciously for control of the party during the spring of 1976, but in the end Ford prevailed, barely winning nomination that year in Kansas City. Ford would go on to lose to Jimmy Carter in November, but Reagan's stock continued to rise among the increasingly influential conservative movement within the GOP. As American's continued to shift rightward in their beliefs, Reagan's time would come in 1980—a watershed election which would sweep both Carter and dozens of liberal Democrats from power and usher-in what became known as the Reagan Revolution.

Nancy would become symbolic in many ways of Reagan's White House, bringing style and grace and charm, but also drawing criticism for her expensive designer dresses and the lavish-look and tone she instilled in official events. She also drew heavy criticism from liberals at the time for her makeovers of some parts of the White House and for her costly upgrade to the formal china used for state dinners. The criticism was often misdirected, since the majority of the funds used to pay for the china and the room remodeling was, after all, derived from private donations and private fundraising. But the impact during a time of recession sparked editorial outrage, and also angered President Reagan, who always felt that the criticism was unfair toward his wife.

Nancy was even more protective of her husband than he was of her. Those who worked with Reagan knew that if Nancy distrusted or disliked a person, her instincts were to lobby forcefully to nudge that person away from the President, no matter what. In that sense, many historians agree, she acted as a sort of gatekeeper.

But what almost everyone noted and appreciated was the absolute, unconditional love that Ronnie and Nancy showed toward each other, and the adoration that was often apparent in their eyes, even in photographs and in film.

CNN political correspondent and analyst Gloria Borger says that Nancy had a de facto cabinet position in the Reagan White House.

"Her real role was to protect her husband and to make sure everyone around him was on the same page," Borger explains. "Everything she did was in Reagan's interest. And like most politician's spouses, she really had his ear."

Related Thursday Review articles:

The Agent Who Saved a President; R. Alan Clanton; Thursday Review; October 10, 2015.

Washington Loses The Bear; R. Alan Clanton; Thursday Review; August 5, 2014.