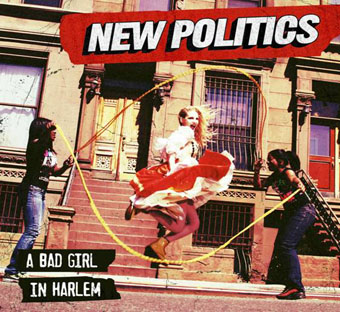 New Politics; Bad Girl in Harlem
By Maggie Nichols | published Sunday, December 1, 2013 |
Thursday Review Contributor
In rock music, despite decades of innovation and experimentation, the simple joy of dance music never dies. Dance songs are the default position of rock and roll. So when I first heard the songs on the new album by New Politics, I knew I was hearing something with party dance-floor links back to the music of my parents in the 1960s and 70s, and the high-impact post-disco sounds of the 80s.

New Politics, which, to my surprise, has its origins in Denmark (though its band roster and production team makes it truly international), have written and produced a dazzling set of dance songs for its 2013 release, Bad Girl in Harlem (Sony/RCA Records). Despite my natural preference for the dense, heavier alt sounds more akin to The Killers, or for the more experimental sounds of bands like Phoenix or Bastille, sometimes catchy dance music hits the sweet spot. So it is with Bad Girl in Harlem.

The New Politics voiceprint could be described fairly as alternative dance music, a fusion of punkish, indie sounds with upbeat infectious disco. Imagine what would happen if you stuck Green Day in a recording studio with Rick James and Prince.

Of the ten songs on the album, Bad Girl in Harlem has few duds or slow spots. In fact it is high-energy almost to a fault, and track number two, the title cut "Harlem," is one of those songs that you cannot help but like. It segues quickly into "Berlin," an equally infectious dance track in the same vein as "Harlem." Other highlights on this great album include the opening cut "Tonight You're Perfect," "Stuck on You" (the only relatively slow song on the collection), and the relentlessly upbeat "Give Me Hope." Track seven, "Goodbye Copenhagen," is the edgiest song on the album, and bears the closest resemblance to the band's punk DNA, but retains its catchy, danceable quality throughout. "Just Like Me," the next-to-the-last cut, also connects this band's sound to the thread of edgy, raw punk rock (there are distant echoes of Pennywise and Green Day here too).

Overall, Bad Girl in Harlem is a great album if you are looking for some audio fun, and a reason to dance—in short, great party music.