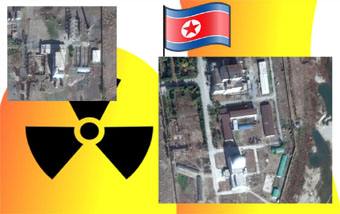 Photo composition by Thursday Review/Google satellite images
North Korea Nuclear Program Running Full Speed
| published September 15, 2015 |
By Thursday Review staff
Though its frequent threats against its closest neighbors in Asia—most especially South Korea and Japan—make daily life unpredictable, North Korea's seasonal threats against the United States can often raise hackles and concerns, but rarely elevate the defensive posture of American troops except those positioned along the tense border between the two Koreas. North Korea has long employed bellicose language and threats of warfare to rally the loyalty of its people.

As part of its constant saber-rattling, North Korea has made no secret of its intention to develop and deploy a long-range missile program, just as it has made clear that one possible use of that rocket program is to be able to deliver potent weapons to the United States and U.S. allies, wherever they might be.

But Pyongyang's intercontinental missiles have so far proved to be more bark than bite; a few tests have resulted in successful launches followed within minutes of rockets falling inexplicably into the waters off the Korean Peninsula. A few tests have succeeded; just as still others have failed completely, suggesting to intelligence experts in the rest of the world that North Korea has not yet reached the capacity to send a missile across the Pacific Ocean. Still, North Korea's unpredictable government could launch direct rocket attacks against Japan, Taiwan, the Philippines, or a dozen other Asian countries—many of them U.S. allies—within the clear range of Pyongyang's missiles.

On Tuesday of this week, North Korea's news agency KCNA announced that it was working around-the-clock to upgrade and fine-tune its nuclear program, and suggested flatly that it wants a fully-fledged nuclear weapons program—coupled with long range delivery capability—to render it able to strike the United States "at any time" and without warning. Pyongyang also said that it had reactivated its primary nuclear complex at Yongbyon, a facility capable of handling and processing fissile material. The plant had been shut down in the previous decade.

North Korea's news agency said that Pyongyang intended to improve both the "quality and quantity" of its nuclear arsenal, and it vowed to use the weapons without warning if the United States continues to "persistently seek their reckless and hostile policy towards the DPRK and behave mischievously…"

Nuclear experts believe that North Korea has already reached the early stages of atomic weapons development, including the enrichment of uranium. North Korea's news agency said that the main facilities at Yongbyon had been "fully reactivated," and that its graphite-moderated reactor was restarted. The news follows a roughly two-year period of speculation following Pyongyang's publicly-stated commitments in 2013 to bring its mostly-shuttered nuclear program back to full speed. North Korea tested nuclear weapons back in 2012 and again in early 2013.

Intelligence agencies in the U.S. and other countries have used satellite imagery to keep track of North Korea's nuclear development and weapons programs, and some high-resolution imagery seems to confirm Pyongyang's assertions that it has restarted its program. The facility at Yongbyon can process enriched uranium, and it also maintains a plutonium production reactor, which some western analysts now say is operating at capacity.

Along with the announcements regarding its rebooted nuclear program, North Korea also said it was ready to launch a new satellite into orbit to bolster its ability to monitor the military movements of the United States, South Korea, Japan and other countries. The launch of the rocket carrying the satellite may be timed to coincide with a national anniversary during October. U.S. and British intelligence analysts say that the satellite could include technology which would link the guidance systems on board nuclear-tipped missiles with specific forms of ground control and detonation, though it is not clear that North Korea is close to actually possessing such advanced technologies.

In fact, some western analysts doubt strongly that North Korea has the capacity to launch a rocket which could strike the United States. What is not in doubt is that Pyongyang seeks to build or obtain such technology.

North Korea's planned missile launches, which are scheduled for October and November—for which Pyongyang is technically barred from conducting according to United Nations resolutions—if successful, would prove to be a step in the direction that the government of Kim Jong-un wants to take the country.

Former U.N. weapons inspector David Albright, now the head of a non-profit group called the Institute for Science and International Security, says that North Korea could have between 10 to 15 working nuclear weapons, but that if the North's program is aggressively accelerated, the rogue country could have as many as 20 to 100 by the end of the decade—especially if the facilities at Yongbyon begin to operate at full speed.

Tensions have run high this year between South Korea and North Korea, and several border incidents have raised fears in the South that North Korea—for decades isolated from the rest of the world—will act precipitously to trigger conflict. The current worries about North Korea's nuclear program come only a few weeks after tensions had subsided in the aftermath of landmine explosions and other border conflicts, including threats by the North to invade the South if Seoul did not turn off loudspeaker broadcasts, and exchanges of artillery fire across the DMZ, the line which has separated the two countries since the 1950s.

Related Thursday Review articles:

Rocket-Fire Traded Between North and south Korea; Keith H. Roberts; Thursday Review; August 20, 2015.

North Korea Changes Time Zones, Threatens War; Thursday Review; August 16, 2015.