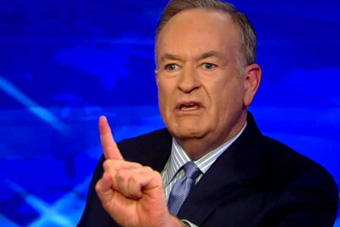 Image courtesy of Fox News
Bill O'Reilly Taking Hiatus From Fox News
| published April 14, 2017 |
By Thursday Review editors
Amidst a growing storm of accusations from women charging him with sexual harassment and misconduct, Fox News commentator and host Bill O'Reilly will take a hiatus from his nightly program beginning immediately.

O'Reilly, whose nightly show The O'Reilly Factor is one of cable TV's most watched programs, ended his Tuesday night segment telling the audience that he was going on vacation—a hiatus he said was planned well in advance, but an absence from his popular show that may give Fox News executives an opportunity to reboot the network's image until O'Reilly returns in late April. O'Reilly stressed that the vacation was on his terms and pre-planned, a tack meant perhaps to quell rumors that Fox News has considered a suspension of O'Reilly. O'Reilly says that his travel destinations include Rome, The Vatican, and parts of Italy.

The controversy surrounding O'Reilly began months ago but has gained traction in recent weeks as more women come forward with accusations that O'Reilly engaged in inappropriate behavior, including sexual misconduct and demands for sex in return for professional assistance. O'Reilly has publicly denied any wrongdoing and has called the charges fabricated.

But the fracas over O'Reilly comes quickly on the heels of a similar scandal which engulfed Fox News CEO and founder Roger Ailes, who was forced out after months of press regarding at least a dozen women who charged him with making uninvited sexual advances or with professional misconduct—up to and including demands for sex in exchange for advancement.

Despite the controversy and the ensuing questions about O'Reilly's sudden hiatus, Fox News has said publicly it fully expects Mr. O'Reilly back at his desk on—or about—April 24. But media experts have suggested that O'Reilly's departure—whether as a vacation or as a professional hiatus—may be the first step in removing him from the network's high profile line-up.

Fox News is now embroiled in some five lawsuits with women plaintiffs charging O'Reilly with harassment, and the total to settle those cases is expected to cost the network more than $13 million (though the exact terms of the possible settlements are secret, the $13 million figure has been widely quoted by Fox insiders as the likely bottom line).

Numerous advertisers have pulled their backing of The O'Reilly Factor, and protesters outside Fox News New York City headquarters have demanded that Fox dump O'Reilly. The scandal—like the ones which swirled around Ailes last year—has also spurred factional fighting within the network, and the charges have forced owners (Rupert Murdoch and sons) to engage the legal services of Paul, Weiss, Rifkind, Wharton & Garrison to conduct a massive and complex internal review and investigation—a probe which insiders suggest could steadily widen over the next days and weeks as the law firm attempts to sort out a corporate culture now widely seen as conducive to sexual misconduct.

Pending the outcome of the investigation, O'Reilly may return on the 24th, or at a later date to be determined based on the speed of the inquiries, or perhaps not at all. There is also the possibility that O'Reilly may be bumped from his premium time slot and given a less visible role in a not-so-optimum place on the schedule.

But ABC News has reported that there is a chance that O'Reilly may not return at all, and says that top brass at Fox are already beginning the process of making plans for the network's prime time schedule in the event that O'Reilly quits or gets dumped. Possible replacements include commentator and analyst Tucker Carlson and reporter-commentator Sean Hannity. In the meantime, Dana Perino will fill in on the O'Reilly Factor.

Meanwhile, Fox News officially says it is business as usual pending the outcome of the investigation and the disposition of the multiple legal imbroglios. The network also backs O'Reilly's explanation of the timing of the vacation, telling media and reporters that the ten-day hiatus was planned more than six months ago and timed to coincide with the spring break schedules of his kids.

Related Thursday Review articles:

Roger Ailes Ousted as CEO of Fox News; Thursday Review staff; Thursday Review; July 21, 2016.

Pauley to Replace Osgood on CBS Sunday Morning; R. Alan Clanton; Thursday Review; September 16, 2016.