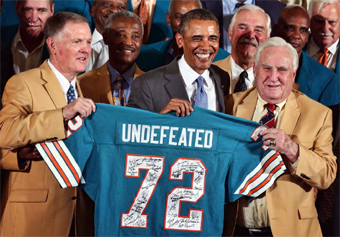 President Obama with members of the 1972 Miami Dolphins/
photo courtesy of White House
Panthers Fail to Topple Dolphins' Landmark Record
| published December 28, 2015 |
By Keith H. Roberts, Thursday Review contributor
The Mount Everest of NFL seasons, it has remained the record-to-beat since 1972 when the Miami Dolphins achieved the only team in history to go unbeaten for an entire season.

Until yesterday, it looked like the Carolina Panthers were poised to do just that—topple (or at least tie) that famous Miami streak of the early 1970s, when the South Florida team was in its heyday. The Dolphins went into the Super Bowl unbeaten, and with a team that may have been arguably the best lineup the NFL has ever known.

Among the names etched in the sports history books: Bob Griese, Mercury Morris, Larry Csonka, Paul Warfield, Nick Buoniconti, Larry Little, Jim Kiick, Garo Yepremian, Larry Seiple, Bill Stanfil, to name but a handful of the team's powerful roster. Helmed by Don Shula as coach, the Dolphins that year rolled over everything and everybody in their path, winning two critical playoff games against Cleveland and Pittsburgh before defeating the Washington Redskins in an epic defensive battle (final score: 14-7) on January 14, 1973.

Every team since that year has sought to replicate the Dolphins' achievement. But as of Sunday, Miami fans and alumni can rest easy—for one more year. Carolina lost to the Atlanta Falcons, ending the Panthers' bid to enter the sports history books with an unbeaten season.

Though Carolina led through much of the game, Atlanta snatched the lead in the third quarter with a dazzling 70-yard touchdown reception by Julio Jones. From that moment on, Atlanta held its win close to its chest, shutting down Carolina's offense, scrupulously avoiding mistakes (Carolina is renowned for its ability to exploit weakness and seize opportunity), and running out the clock. Atlanta also shut down what was left of Carolina's explosive offense and quarterback Cam Newton's skill and agility—giving the offense one of the best records this season in all the NFL, and delivering no less than 24 points against opponents.

The result, sports trivia buffs, is a record which will live on at least one more year.

But Carolina, now 14-1 (as of this weekend, they had won 18 straight regular season games) will live to fight another day. Newton called it "fuel" for the "fire." Carolina will go into the playoffs with the best season record of any team. Atlanta can chalk up its win over Carolina as revenge for a walloping Carolina delivered to Atlanta only two weeks earlier. If able to navigate past NFC rivals Arizona and Green Bay, Carolina may still make it to the Super Bowl—the 50th Anniversary of the championship game—albeit with at least one blemish.

Miami's cherished and singular record remains unchallenged…'til next year.

Related Thursday Review articles:

Manning Denies Doping Charge; Thursday Review staff; Thursday Review; December 27, 2015.

Super Bowl, Super Blowout; R. Alan Clanton; Thursday Review Sports Archives; February 3, 2014.