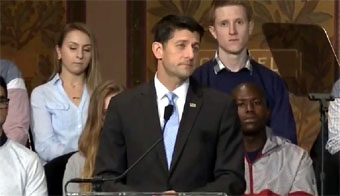 Image courtesy of C-Span
Ryan: Will Step Down As
Convention Chair if Trump Insists
| published May 9, 2016 |
By R. Alan Clanton, Thursday Review editor
According to comments made to the Milwaukee Journal Sentinel, House Speaker Paul Ryan (R-WI) would step down from his role as Republican National Convention chairman this summer if presumed-nominee Donald Trump requests it.

"He's the nominee," Ryan told the Journal Sentinel, "I'll do whatever he wants with respect to the convention."

Ryan attempted to strike a conciliatory note in his comments, telling reporters that he had never said outright he would not support Trump, as was reported in some media circles over the weekend—an interpretation based largely on Ryan's guarded comments telling the press that he was "just not ready" to embrace Trump in the aftermath of the meltdown of Trump's only remaining rivals, Texas Senator Ted Cruz and Ohio Governor John Kasich.

"I never said never," Ryan clarified, "I just said at this point. I just want to get to know the guy. We just don't know each other."

Ryan's initial reluctance to back Trump after he became the presumed-nominee in the wake of the Indiana primary a week ago fed the winds of a much larger storm brewing within the Republican Party. Many GOP establishment figures and conservative icons have refused to back Trump; others have been openly uncomfortable with the idea of Trump as GOP nominee; still others, like Senator John McCain, a former Presidential candidate himself, have offered lukewarm, sometimes conditional endorsements.

Former Presidential candidate Mitt Romney, along with former Presidents George H.W. Bush and George W. Bush, have all refused to back Trump. Longtime GOP strategist Mary Matalin openly left the party last week, saying she would work instead for whomever the Libertarian Party nominates for President (currently, former New Mexico Governor Gary Johnson is the front-runner and likely nominee for the Libertarian Party).

Numerous movement conservatives have also refused to embrace Trump, and some have encouraged the creation of a third party or "temporary" party to enable the GOP faithful to have a reliably conservative candidate to support in November.

Ryan, who has faced intense criticism by some Republicans, including former Alaska Governor Sarah Palin, for his evasions on backing Trump, has said she will openly support any candidate who will run against Ryan in Wisconsin. Palin said that Ryan could be "Cantored," a term referring to the powerful Eric Cantor (R-VA), who lost his reelection bid to an unknown Tea Party outsider in 2014.

But Ryan says is not among the cadres of Republicans agitating for a break from the GOP architecture in order to find a third candidate or a third party. Efforts are already underway to create a vehicle for Mitt Romney, or possibly former Florida Governor Jeb Bush, to run as an independent. Ryan has said he will not offer support to any such breakaway movement, and like GOP chairman Reince Priebus, is now asking that Republicans unite—quickly—before the divisions are too deep to repair before the general election. A third party, Ryan says, would ensure a victory by Hillary Clinton in November.

"[It] would be a disaster for our party," Ryan told reporters. "I have communicated that to plenty of people."

Trump and Ryan are set to meet on Thursday of this week to discuss the convention, the overall strategy for the fall campaign, and policy issues.

In the meantime, Trump has increased the ordnance he now lobs at Clinton, ramping up his attacks on Clinton via the alleged sexual behavior of her husband Bill Clinton. In addition to accusing Bill Clinton of bad treatment of women—abuse, sexual harassment, misconduct—Trump has ratcheted up the attack to include that Clinton was an enabler of her husband's philandering during his political career.

Related Thursday Review articles:

Trump Morphs on Taxes, Minimum Wage, More; Thursday Review staff; Thursday Review; May 8, 2016.

Trump Wins Indiana; Cruz, Kasich Suspend Campaigns; Keith H. Roberts; Thursday Review; May 4, 2016.