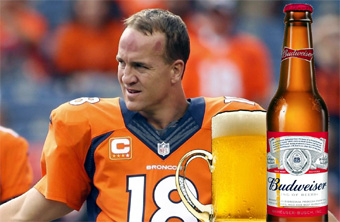 Images courtesy Wikipedia/Anheuser-Busch
Peyton Manning's Big
Budweiser Cypher
| published February 8, 2016 |
By Keith H. Roberts, Thursday Review contributor
At the conclusion of the Super Bowl on Sunday night, Denver Bronco quarterback Peyton Manning at least twice dropped the name of an iconic American beer brand, leading more than a few sports fans to wonder if the rumors of his impending retirement might include a massive endorsement deal with the brew maker.

Manning, seemingly relaxed but exhausted from his team's hard-fought victory over the Carolina Panthers, inserted his desire to go home "and drink a Budweiser" and seconds later, "I'm gonna' drink a lot of Budweiser tonight." He managed to insert the name Bud or Budweiser at least twice during brief post-game comments on CBS, but there are other media reports that he injected more Anheuser-Busch beer commentary into other remarks only moments later to other reporters. Budweiser also got a free boost during the game's big trophy ceremony a few minutes later.

Is there a big endorsement on the near horizon? Or is it just coincidence? Maybe Budweiser just happens to be his favorite beer brand.

According to very clear NFL rules and the guidelines established by the union, players are prohibited from any endorsement of tobacco or alcohol products. However, the key phrase in those rules and guidelines is "active player," meaning someone inactive or retired is free to engage in any form of commercial endorsement they choose to negotiate, including beer, wine, liquor, cigarettes, you name it.

Manning, according to several media accounts, had made mention of Bud or Budweiser earlier in the weekend, including this snippet tossed in at a press conference: I'd like to get my hands on a Bud Light.

All of this talk of beer has fueled the already widespread speculation that Manning is days, perhaps only moments, away from retirement. The beer references are either part of a simple code he is offering to journalists and analysts to have a little fun with the talk, or it is part of an already carefully planned commercial strategy—scripted perhaps by beer giant Anheuser-Busch—to make the transition from being the aging star quarterback of an iconic football franchise, to the iconic spokesperson of an equally iconic American beer brand.

The now intense debate has also sparked the most intensive search for clues since the covers of Sgt. Peppers and Magical Mystery Tour has millions poring over those record sleeves for evidence. Example: Though Manning has previously mentioned Bud Lite in the past, his Sunday references to regular Joe Budweiser is an easily-unscrambled cypher, since retiring football players have no worries about weight changes.

But until all this becomes official, and we see Manning phased out of those Marco's Pizza ads and phased in as the next big Budweiser spokesperson, you can rack this up to idle speculation (we love idle speculation here are Thursday Review), or a quarterback who really, truly just wanted to go home after the big game and have a beer.

If Peyton does retire, he will cap off a long career which now includes four Super Bowl appearances and two wins.

The Broncos defeated the favored Carolina Panthers 24-10 in a hard-fought defensive struggle in the 50th anniversary Super Bowl game. The game took place in Santa Clara, California, near San Francisco.

Related Thursday Review articles:

Manning Denies Doping Charge; Thursday Review; Thursday Review; December 27, 2016.

Coughlin Will Not go to Phillies; Eagles Hire Pederson Instead; Thursday Review; Thursday Review; January 14, 2016.