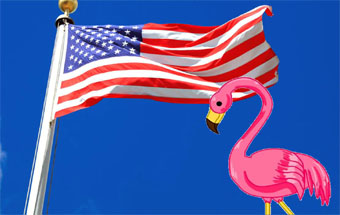 Photo illustration by Thursday Review
Don Featherstone: Rest in Peace
| published July 7, 2015 |
By Earl Perkins Thursday Review features editor
Loosely paraphrasing several writers, the original pink flamingo "slipped the surly bonds of Earth...and flew to the great beach in the sky."

I still remember watching the flamingos as a youngster, majestically taking flight from the infield at Hialeah Racetrack in South Florida. Floridians have always been possessive of flamingos, especially the plastic lawn variety invented by the appropriately-named Don Featherstone in 1957. The 79-year-old gentleman passed away back in June, but not before seeing his masterpiece flood the world market for decades.

Flamingos started off as elegant marble sculptures, decorating lush gardens of wealthy estates. Lawn ornaments have existed for eons, but Featherstone and the teeming masses would shepherd the flamingo into kitsch history through a combination of plastic technology and mass marketing. The flamingo was merely one of more than 40 inventions or designs he crafted over a lifetime, but it was arguably his most famous, or infamous.

Featherstone was apparently born to invent something memorable: his gift for art, design and fabrication date back to when he was a child. His parents and family friends saw the raw talent, and enrolled him in private art lessons, and later art school. Right out of a local college, he went to work for Union because he needed the money. Instead of despising the job (plastics!), he made the best of it by developing an early low-cost plastic and rubber duck. The duck was a big hit, and soon his supervisor suggested—half in jest—that Featherstone tinker with a mass market flamingo. Eventually he crafted that famous male-female pairing, one with the head up, the other looking down.

The rest, as they say, is history. Featherstone could not have imagined that the Smithsonian would one day have a pair of those original models on display today. Collectors pay thousands for good condition originals.

Plastic flamingos were always most closely associated with Floridians, but others hijacked them as they became so darn cute and tacky at the same time. Yankees loved coming south for vacation, planting flamingos in their sun-drenched yard and sending photographs home to their families fighting snowstorms. Southerners had a name for those who stayed—Damn Yankees. Just kidding. Snowbird would be the more politically correct term.

Actually, Florida boasted numerous transplants from around the globe—not just those who moved to the Sunshine State from places like Ohio, New York and New Jersey—and tourism would remain vital to the state's financial health and growth for decades. The fame of the plastic pink flamingo would eventually spread its wide wings to the Midwest, with Madison, Wisconsin, designating the pink flamingo as its official city bird. Who knew?

Featherstone was widely known as a superstar in the mass-market lawn ornaments industry—a fact which crushed sales in the top-end flamingo market.

"I got myself a National Geographic magazine and found a photograph to use as a model. And I made myself a plastic one," he told the Tampa Bay Times in 2002, while working for plastics company Union Products. "I know some people think plastic flamingos are tasteless and tacky—but I love them." The pink flamingo would become as ubiquitous as the hula hoop and the bobble-head dog.

And then John Waters' cult classic Pink Flamingos, exploded on the world scene in 1972 in all its own bizarre glory. Many audiences didn't know what to make of the transgressive black comedy exploitation film, but it eventually permeated pop culture in an Andy Warhol soup-can sort of way.

Featherstone never considered plastic flamingos as high artwork, preferring instead to have fun with it by co-opting the kitsch pop art reality. However, almost everyone knows many families were being artsy in a fun kind of way while clustering pink flamingos in their yard. Modern-day professional artists have taken notice, including Jill Higman, whose Hut is prominently displayed at the John and Mable Ringling Museum of Art in Sarasota.

Who knows? Maybe there are young people out there with visions toward where modern art is headed.

Related Thursday Review articles:

The Joy of an Old Media Guide; Earl Perkins; Thursday Review; May 20, 2015.

That's So Nineties; Thursday Review staff; Thursday Review; Sept. 22, 2014.