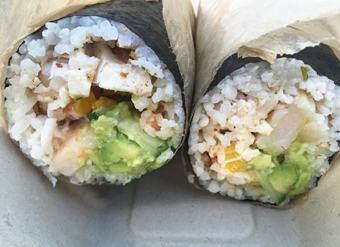 images courtesy of Caressa Losier
Like it Raw:
Chipotle Meets the New Sushi
| published September 22, 2016 |
By Caressa Losier, Thursday Review guest writer
Pokeworks
Have you tried the poké burrito, yet? Since everyone's been talking about it, it may be helpful to point out that it has absolutely nothing to do with Pokémon.

Pokirrittos, or sushi burritos, are a trendy food craze some are calling "the new sushi." It begins with a base of white rice in a seaweed wrap and is topped off with a raw fish protein, fruits and vegetables, toppings, sauces and other flavorful accompaniments of your choosing. Inspired by the Hawaiian cuisine, poke (POH-keh), meaning to section or to slice, this delicacy is typically made with raw ahi yellowfin tuna. Pokéworks, a popular eatery in New York City, where I tried my first pokirrito, just so happens to specialize in making these traditional signatures to perfection.
Click image to watch Video "Sushi Burrito"
Healthier than Regular Burritos
The average burrito at Chipotle has over 1,000 calories. They boast of being a Non-GMO project and promise the best ingredients, but even eating the healthiest of burritos never fails to make me feel guilty and several pounds heavier, right after. Pokirritos, on the other hand, can range from 125-562 calories—or over 500 calories less than your average burrito. Serving as a staple in both, Latin American and Asian/Polynesian cuisine, rice is still a sure thing. But, beans are replaced with sprinkles of toasted sesame seeds, fresh seaweed takes the place of chopped lettuce and we all love adding guacamole, even though we already know it's going to cost us. With pokirritos, there's no exception to this rule, but instead, Pokéworks uses sliced avocados - a much healthier alternative.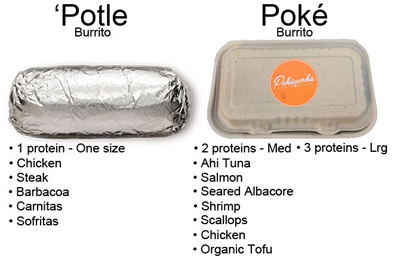 Still Flavorful, Still Filling
Cold, raw fish. No warm tortilla wrap. Fruits and vegetables... all of the food lovers are probably eager to know how it tasted. Simply put, it was delicious! My two proteins of choice were shrimp and chicken (fully cooked). I added mangoes, crab salad, and of course, I topped it off with avocados and a tasty chipotle mayo sauce. The flavor combinations were light, subtle, and flirted with the natural taste of fresh seafood in my mouth. Plus, it was just as filling as a beefy traditional burrito loaded with beans, meat, cheese and sour cream. But it was a different kind of full. It felt much lighter. I felt less guilty.
Changing the Fast Food Market
Pokirritos prove that fast food doesn't always have to be oozing with grease, or packed with loads of processed red meat, in order to be tasty. Food spots are popping up all over the country offering traditional Hawaiian-style poke, creative signature renditions and build-your-own options that are producing long lines out of the door during lunch hours. Is it worth the wait? Some are already crowning pokirritos/sushi burritos as the biggest food trend of the year. In fact, the introduction of pokirritos alone could help make 2016 the year we officially began offering healthier fast-food options to balance out the greasy McDonald's takeout and carb-heavy pizza, that's always been available to us while on-the-go. What do you think?

Related Thursday Review articles:

How to Build a Healthier Burger; Maggie Nichols; Thursday Review; December 2, 2016.

The Health Magic of Berries; Maggie Nichols; Thursday Review; November 1, 2015.