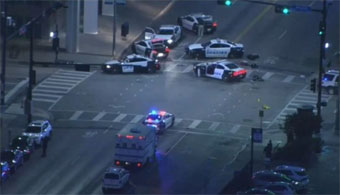 Image courtesy of KMBC
Protests Across U.S.; Police:
Dallas Shooter Acted Alone
| published July 10, 2016 |
By R. Alan Clanton, Thursday Review editor
Protests were held in scores of U.S. cities and towns in the wake of recent incidents involving white police officers and black citizens, and in the aftermath of deadly shootings in Minneapolis and Louisiana. Over the weekend, massive protests shut down major roads and boulevards in some cities where—despite some outbursts of scuffles and violence—there were few injuries to police or civilians.

Still, in other cities dozens of police and civilians were injured in violent scuffles involving thrown rocks, bottles, fireworks and pepper spray. In Baton Rouge, at least 100 people were arrested on Saturday night. Most of those arrested in Baton Rouge were from Louisiana, but at least 20 of the arrests were of people from other areas. In Minneapolis, another 102 people were arrested after crowds shut down roads, and some protesters threw bottles, rocks, construction rebar, and fireworks at police. At least 20 officers sustained injuries in the protests in Minneapolis and St. Paul.

Many of the protest marches and demonstrations were held in spite of widespread fears that deadly violence could break out. Indeed, in the wake of the killing of five police officers in Dallas, Texas on Thursday night, protest organizers were working closely with local law enforcement agencies to call for calm at rallies and marches.

Meanwhile, police, FBI and components of the Department of Homeland Security continue to look more closely at the horrific events in Dallas. Despite early police reports and a series of persistent rumors to the contrary, law enforcement officials in Dallas and in Washington believe that a single gunman—with no prior criminal record—fired the shots which ultimately killed five police officers in Dallas this week.

Micah Xavier Johnson, the sniper who engaged in a shooting rampage from atop a high-rise parking building in downtown Dallas, would kill five and injure at least 12 others, including police and civilians. FBI and police say that Johnson—a decorated Afghan war veteran with sharpshooting skills—told neighbors, families and associates that he "wanted to kill white people" in the months, weeks and days before he launched his deadly ambush. On Sunday, Dallas police chief David Brown told reporters that investigations have now concluded that Johnson had something even bigger in the works, but improvised an immediate plan to terrorize Dallas and kill white officers

After an extended standoff with police, Johnson's deadly siege ended when police deployed a robot armed with C-4 explosives. The blast killed Johnson instantly. Prior to the explosion which took his life, police say that Johnson laughed at cops and taunted them, and on several occasions sang songs or hummed.

A deeper probe of his military record shows conflicting information about his discharge from the Army: accused on several occasions of the sexual harassment of female soldiers and severe outbursts of anger at fellow soldiers, Johnson was slated for disciplinary action by the military, according to his Army-appointed attorney. On the other hand, Johnson was ultimately given an honorable discharge, and no follow-up investigations were pursued. In addition to poring over his digital footprint, investigators are now attempting to drill down into his military record to see if warning signs of his deadly rampage were overlooked.

A detailed search of Johnson's suburban home, coupled with extensive interviews, produced no evidence that Johnson had worked in tandem with any other individuals or groups, and there were no signs that he had any connections to—or interest in—terrorist organizations such as ISIS or al Qaeda. Johnson's apparent motive sprang from his growing hatred of white police officers, an animosity which blossomed in the last week after high profile shootings involving white officers and black victims in Minnesota and Louisiana grabbed national attention and again brought the issue of police violence against black people to the forefront less than two years after riots in Ferguson, Missouri.

The death toll from Johnson's rampage is officially the highest death toll from a single attack on law enforcement since September 11, 2001. Excepting 9/11, the Dallas attack is the most deadly for a single police department in 25 years or more.

Johnson's ambush came amidst a peaceful protest along the streets of downtown Dallas—a march in which police and civilians had been cooperating to ensure calm and in which members of police happily posed for photos alongside protest leaders and participants. The Dallas shooting rampage also came, ironically, in a city marked by a high level of trust between police and civilians, and in a community deemed by some experts as a model for interaction and communication between law enforcement and citizen groups.

The planned protest, which was to cover a roughly 12 block stretch of streets and parks, turned to bedlam when rifle shots rang out about 45 minutes into the march. As several police officers fell to the ground, and as the reality of the sound sank-in for march participants, chaos erupted, with civilians running for their lives and with police frantically attempting to identify the source of the shots among the echoes and reverberations between the high rise buildings and concrete structures.

With sounds of the shots echoing, a multiplier effect took place, leading to early reports that the sniper was working in collusion with other shooters. But in fact, police and FBI now believe, Johnson was acting out his rage and anger alone. Police released a handful of other suspects after investigations showed no link between them and Johnson, and produced no evidence that Johnson had any co-conspirators.

U.S. Department of Homeland Security chief Jeh Johnson concurred with the conclusions of the Dallas police and the FBI, telling journalists that there is no evidence that the shooter was involved in a conspiracy and that the gunman had no known discernible links to terrorist organizations—either domestic or foreign. Jeh Johnson's announcement comes amidst persistent rumors on some news websites and on social media that Micah Johnson was part of a larger militarized group, and that either others were firing weapons at police or that others may have been involved in the planning of the attack.

Upon searching the suspects home in suburban Dallas, police and FBI found a cache of weapons, numerous bomb-making tools and materials, a large supply of ammunition, bullet proof vests and Kevlar helmets, and a variety of weapons-making equipment. Police also discovered Johnson's apparent personal journal of tactical skills, a diary-like notebook in which Johnson outlined and framed a hybrid compendium of U.S. military knowledge and training with his own improvised and self-taught tactical doctrines. At least one neighbor said that the suspect routinely trained in his backyard, and that Johnson had constructed an obstacle course for tactical exercises.

In Dallas, thousands of mourning citizens streamed into the area where the police officers were killed. At least six square blocks of downtown Dallas are still shut down for vehicular traffic as investigators from Texas law enforcement and FBI combed every inch of ground in search of additional clues. In the area near where several police cars are still parked in the same positions where they were when the sniper's rampage began, hundreds of people gathered—many of them placing flowers, cards, candles, and hand drawn signs in homage to the officers killed.

Meanwhile, protests continue to grow larger. On Saturday night, a massive rally forced the complete closure of I-94 between Minneapolis and St. Paul, spawning traffic gridlock and forcing police to reroute vehicles onto secondary roads. In St. Paul, protests and police exchanged rounds of pepper spray and tear gas, as protesters hurled rocks and metal objects and police responded with additional force, including rubber bullets and bean bag projectiles. Video captured at the scene shows many protesters using gas masks and face masks, and some protesters can be seen using small incendiary devices to deliberately set fire to vehicles and trash cans. One police officer sustained serious injuries to his neck and back when a protester dropped a concrete block from an overpass, deliberately aiming it to strike the officer on the head.

Large protests in San Francisco, Nashville, Baltimore, Indianapolis and New York City also shut down major roads and intersections, and forced the closure of many streets. At least 30 people were arrested in the Baltimore protests. Among those detained by police in Louisiana was former Baltimore mayoral candidate Deray McKesson, an activist and organizer of the Black Lives Matter movement. Largely peaceful protests were held in Atlanta, Jacksonville, Chicago, Denver, St. Louis and Cleveland, where Republicans plan to converge beginning in less than 10 days. Smaller, self-organized protests shut down some small stretches of highway in New York, Atlanta and Philadelphia.

More protests have been scheduled for Sunday and Monday in at least two dozen cities.

Related Thursday Review articles:

Orlando Shooter Considered Attack on Disney World; R. Alan Clanton; Thursday Review; June 14, 2016.

FBI Director: Orlando Shooter Radicalized by ISIS; R. Alan Clanton; Thursday Review; June 13, 2016.