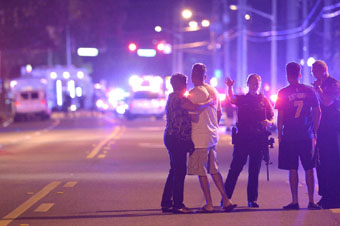 Photo courtesy of NPR.org
Gunman Kills 50 in
Orlando Nightclub
| published June 12, 2016 |
By Keith H. Roberts, Thursday Review contributor
A gunman who pledged allegiance to ISIS entered an Orlando nightclub in the early hours of Sunday morning and opened fire into the packed facility, killing at least 50 people and injuring some 53 others, many of whom are now in intensive care units in hospitals in Central Florida.

The alleged shooter, identified as Omar S. Mateen, used a high powered automatic rifle, opening fire near the dance floor of the nightclub Pulse, a club popular with gays. Mateen, who was born in New York in 1986 but moved to Florida in the early aught years, may have contacted officials only hours prior to his shooting rampage to pledge his allegiance to Abu Bakr al Baghdadi, considered the senior-most official with the Islamic State in Syria and Iraq.

Mateen first came onto the radar with the FBI and other law enforcement officials in 2013 and again in 2014 after he was reported to have made inflammatory and extremist statements to co-workers and friends, including some expression of appreciation to known violent terrorists who may have travelled from Florida to Syria. Those investigations, according to the FBI, provided little evidence that Mateen would act violently on his hostile talk or his brief connections to terrorists who had travelled to and from the Middle East.

According to FBI and ATF officials on the scene in Orlando, where the feds have taken command of the investigation, Mateen made purchases of weapons as recently as one week ago—including the purchase of a long gun at a gun shop in Central Florida.

Witnesses and police say that Mateen entered the nightclub—where some 250 people were packed—a few minutes after 2 a.m., apparently opening fire only seconds after reaching the most crowded area of the facility. Seconds later, an off-duty police officer hired to handle security at Pulse, engaged in gunfire with Mateen.

Police and SWAT teams entered the nightclub shortly after 5 a.m., when a more intense gun battle broke out. By the time it was over, at least 50 people were killed. Officials are saying that it is the worst mass shooting in U.S. history.

Mateen, who had a permit to carry a gun and had worked as a security guard, may have received firearms training as part of his requirement to work as a security guard and to handle weapons. The FBI and other law enforcement agencies confirm that he was able to obtain a gun permit and buy the weapons legally, despite being twice on the watch list for people with possible contacts to Islamic terror organizations, and despite the two cases in which authorities looked into his comments and opened investigations.

Mateen's ex-wife, who was briefly interviewed by the Washington Post early on Sunday, said that Mateen was prone to anger and even violence, claiming that on several occasions he beat her, leading to her departure and divorce after only four months of marriage. Former co-workers have previously told the FBI and police that Mateen made comments praising the Islamic State, and praising the brothers Tsarnaev—the two young men responsible for the Boston Marathon bombings of April 15, 2013. There are also questions as to how he was empowered to carry a concealed weapon and work as a security guard at a county courthouse despite being twice investigated by the FBI for his actions and comments.

Florida Senators Bill Nelson (D-FL) and Marco Rubio (R-FL), appearing in Orlando during the day Sunday made it clear that they each had concluded that the attacks in the popular Orlando nightclub were linked to ISIS. The Islamic State began posting messages on social media taking responsibility for the shootings and praising Mateen for his actions, despite earlier FBI and White House statements that there was no immediate evidence that Mateen was being directed by ISIS officials.

Many of the shooting victims died on the floor of the nightclub, even as hundreds more attempted to escape by way of exit doors, windows, and even air conditioning vents. Orlando first responders say that the number of injured exceeded the city and county's ability to transport victims by ambulance, forcing police to improvise by using SUVs and pick-up trucks for rapid evacuation and triage. Cell phone video and camera video shows scores of volunteers carrying shooting victims by hand along the streets and sidewalks near the nightclub even as police attempt to direct the volunteers where to place the injured.

Officials with Orlando hospitals report that dozens already in hospitals have sustained life-threatening wounds, and many will face long roads to recovery from their injuries. Speaking from the scene of the shooting during a press conference in Orlando, Florida Governor Rick Scott asked for prayers for those injured, and requested that a moment of silence be offered by all Americans at 6 p.m. EDT on Sunday

The Sunday morning attack eclipses even the 2007 massacre at Virginia Tech, which had previously been described by the FBI as the worst mass shooting in U.S. history.

Mateen may have called 911 in the hour prior to the attack—a conversation in which he swore allegiance to ISIS over the phone with an emergency operator. FBI and other law enforcement officials are now combing through Mateen's social media accounts, posts and online footprint for clues as to whether he chose to self-radicalize in the hours prior to the attack, or if he had sustained correspondence with known ISIS or terror operatives.

During a mid-afternoon address to the nation, President Barack Obama reminded journalists that because it remains an ongoing investigation, and because there is not enough information to declare that the Pulse nightclub shooting is an act of international terror or domestic terror, Americans should not rush to a hasty conclusion about the shooting. The President described the attack as both "an act of terror" and "an act of hate," expressing the official uncertainty about the mass killing.

What is known about Mateen has arrived in small bits and pieces throughout the day: he was born in New York City, but moved to Florida about ten years ago. Despite his occasional pro-radical outbursts in conversations to co-workers, law enforcement officials have uncovered little solid evidence that Mateen maintained any form of official communication with ISIS or al Qaeda. Mateen worked as a security guard off and on for at least the past three years, and may have passed federal clearances to carry weapons on government properties. He also worked at a guard at the entrance of a gated community in Fort Pierce.

Interviewed by NBC News early on Sunday, Mateen's father told reporters that he did not understand how his son's mindset could have moved toward such an extreme moment of violence, though his father did relay one seemingly minor incident from the previous months, when Mateen became enraged at the sight of two men kissing in Miami Beach. It is not clear, however, that the incident in Miami triggered the shooting that took place on Sunday. Mateen's friends and family tell reporters that he was not a particularly religious person, and had spent very little time studying Islam.

Outside Mateen's home in Fort Pierce, the FBI, Florida Department of Law Enforcement, ATF, and a variety other law enforcement agencies have set up camp while investigators pore over the contents of the house looking for clues to Mateen's motivations.

Related Thursday Review articles:

ISIS Praises Couple in San Bernardino Shootings; Keith H,. Roberts; Thursday Review; December 5, 2015.

San Bernardino Suspects Had Links to ISIS; Keith H. Roberts; Thursday Review; December 4, 2016.