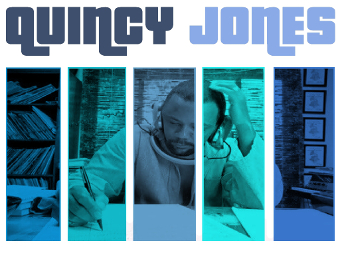 Digital Artwork by Rob Shields
The Delight of Music: A Look Back at Quincy Jones
By R. Alan Clanton | published Tuesday, October 8, 2013 |
Thursday Review Editor
Back in late September 2013, in Dubai, at an elaborate eight-day festival event called the Dubai Music Week, Quincy Jones, now 80 years old, sat alongside Rod Templeton and Bruce Swedien at a conference called "The Michael Jackson Dream Team." The festival drew over 24,000 visitors from all over the globe, most of them attending musical events and expositions located in the skyscraper-rich downtown area and in the Dubai World Trade Center. The "Dream Team" conference drew hundreds to a standing room only Q&A. The topic for two hours: the creative forces which brought together music engineer Swedien, songwriter and producer Templeton, and the legendary production and arranging talents of Quincy Jones, a man whose wide path through the world of contemporary music stretches from the glory days of Lionel Hampton, Tony Bennett and Frank Sinatra, all the way into this century.

His collaboration with Michael Jackson—alongside Swedien, Templeton and many others—catapulted Thriller to the top of the charts and made it one of the biggest selling albums of all time (second only, in the 20th Century, to The Eagles Greatest Hits). When his record sales spiked again in the aftermath of his sudden death in 2009, Jackson's Thriller nudged its way past The Eagles, making it the biggest selling recording…of all time…and the first to serious challenge and topple the previous record-holders of Glenn Frey, Don Henley, Bernie Leaden, Joe Walsh and company.

There are a lot of firsts in Quincy Jones' life.

In 1968, at the age of 35, he and songwriting partner Bob Russell became the first African-Americans to be nominated for an Academy Award for Best Original Song for their songwriting work on the film Banning. Jones was also the first black man to be nominated for an Oscar twice in the same year, and the first African-American to have won over 50 Grammy Award nominations. He currently holds the world record for most Grammy nominations won be any person, regardless of color, with a total of 79 awards and nominations.

Taken alongside his hundreds of other top awards and achievements, that makes Jones one of the most recognized and awarded musicians of the 20th Century…and, this century, in which he still wins honors. Jones has been inducted into the Big Band Hall of Fame and the Jazz Hall of Fame, and, earlier this year, at the tender age of 80, he was inducted into the Rock & Roll Hall of Fame.

Some of his distinctive firsts are obscure though significant. In 1985 Jones was commissioned to compose the soundtrack to the Color Purple, making Jones the only other person other than John Williams to have scored a film for Spielberg in that director's long moviemaking career.* And Jones is also the producer of what has been the single biggest selling record album of all time, Michael Jackson's aforementioned Thriller, which, alongside a few of the Beatles' biggest records and The Eagles Greatest Hits, holds nearly every major sales record for the 20th Century.

But perhaps most telling is this first: Jones, who at an early age discovered that the most painful truth about the music "industry" is that there is a critical distinction between music and the music business, scrabbled his way into an understanding of the business side of a creative world known for its wide disparity between artists and management. After a difficult stint in the early 1960s performing nightclubs and small venues in Europe, during which time he and he fellow jazz musicians hovered only barely above poverty, Jones returned to New York and set his sights on learning every aspect of the music industry. His relentlessly thorough, nearly obsessive interest in the details of managing and promoting music eventually paid off for him when Mercury Records' Irving Green gave him a top job, and within a year promoted Jones to Vice-President A&R (VP for Artists & Repertoire), making Jones in 1964 the highest-ranking African-American in a major corporation not owned by African-Americans, and the first to reach executive VP status in a major company.

And Jones was hardly a hands-off corporate officer. His total immersion in the business of music as well as his passion for the creative process made him one of the most integral movers-and-shakers in the recording industry for decades, insuring that his musical voiceprint would be found in thousands of places in our collective memories of jazz, R&B, rock and roll, television scores and motion picture soundtracks.


Quincy Delight Jones was born in 1933 in Chicago, Illinois. By the time he was in elementary school he had already developed a love of music that was deep and comprehensive. Jones himself fondly recalls sitting in darkened movie theaters, listening in rapt attention to the musical scores to divine the identity and thumbprint of each composer, and carefully considering the effect of each musical theme on each scene in the film.

His father, a highly skilled carpenter and mechanic who doubled as a minor league baseball player, landed a job—when jobs were scarce—at the Puget Sound Naval Shipyard, and, like thousands of other underemployed Midwesterners and Easterners, moved to Seattle. As a student in middle school and at Garfield High School, Jones' musical talents quickly elevated him to the informal status of class musical composer and arranger, and by some accounts, he put together his first formally organized band when he was only 12, writing songs, and playing alongside a young Charles Taylor, already a legend with the saxophone.

It was in Seattle, when Quincy Jones was perhaps 13 or 14, that he met Ray Charles, a couple of years older than Jones, and himself transplanted to Seattle by way of Florida. Charles—who had overcome the limitations of his blindness by making music and sound his tool for success—immediately detected something remarkable in Jones and became his mentor, and they developed a friendship which kept them connected for decades.

Jones' musical abilities—some self-taught, some natural—were so profound that he was able to win a scholarship to the prestigious Berklee College of Music in Boston. Jones took a full load of classes, sometimes as many as ten per semester, immersing himself in all things music and working nights and weekends—as time permitted—in small nightclubs and strip cubs. Though he was by then a prodigy of nearly unparalleled ability, he would eventually drop out of college to pursue performing and arranging full time, working with jazz and R&B greats like Duke Ellington, Ray Charles, Dinah Washington, Billy Taylor and Count Basie. At first he played horns alongside other soon-to-be-great names like Art Farmer and Clifford Brown. His musical skills were so comprehensive that Jones eventually became the conductor, horn player and manager of Lionel Hampton's band in the 1950s, and travelled with the ensemble on a variety of tours of Europe and the United States.

While in France, the young Quincy also studied more music under the tutelage of some of the greats of the European jazz scene, which, in those days, attracted many of the best jazz and early R&B stars from the United States. But among his European mentors was Nadia Boulanger, a legendary French music instructor with teaching credentials at Juilliard, Longy, the Royal Academy of Music and the Yehudi Menuhim School, and the first woman to have conducted the BBC Symphony and the New York Philharmonic Orchestra. By the time Jones crossed her path, Boulanger had already taught Aaron Copland, Phillip Glass and John Eliot Gardiner. Under Boulanger's guidance, the naturally gifted Jones gained a comprehensive formal knowledge of the craft of musical composition and arrangement.

Jones continued to perform and tour with Hampton and his orchestra, playing alongside trumpeters Eddie Jones and Reunald Jones, and continued to ramp up his knowledge and understanding of the larger world of music. And it was during this period of his life, often during severe economic hardship, that he began his transition into the business side of music. He took a brief stint as the director of Barclay Disques, the French component of Mercury Records, the first in a series of jobs in which he began to fine-tune his management skills with musicians.

Jones composed and arranged music for an increasingly diverse roster of entertainers and performers, working alongside Peggy Lee, Little Richard, Frank Sinatra, Dizzy Gillespie, Leslie Gore, Ella Fitzgerald, his old friend Ray Charles, Count Basie and dozens of others. Jones composed the Grammy-winning song "I Can't Stop Loving You," which became a Count Basie smash hit, and also wrote "Fly Me to the Moon," which would become one of Sinatra's biggest hits. Sinatra was impressed enough to ask Jones to become the conductor and arranger of his orchestra, which elevated Jones to—what was then, more-or-less—the top of the pyramid in terms of entertainment prestige and clout, and putting him on the fastest of the fast tracks to what would be his business success. In the mid-1960s Jones worked frequently with Sinatra, Dean Martin, Sammy Davis, Jr and others among what was often called the Rat Pack. The culmination of this association came in 1966 when he was commissioned to arrange and conduct the Count Basie Orchestra for Sinatra's album, Sinatra at the Sands, one of the most memorable of Sinatra's various live recordings.

Not long after he was promoted to his new role as vice-president at Mercury Records in 1964, Quincy Jones began to expand his interest in entertainment even further, parlaying that childhood love of film soundtracks into an even grander and more complex form of musical expression. During the early stages of principal shooting of the movie The Pawnbroker (which starred Rod Steiger) director Sidney Lumet sought out Jones' formidable talents to compose and arrange the score for the film. Jones accepted, and began work on the compositions. The success of that evocative soundtrack—alongside the success of the movie itself—projected Jones directly into the world of filmmaking.

Even while maintaining his busy schedule of writing songs, guiding the musical progress of other performers, and producing music at Mercury Records, Jones worked continuously on motion picture scoring. He would go on to compose and arrange soundtracks for innumerable movies and television shows, including the films Banning, Cactus Flower, McKenna's Gold, In Cold Blood, The Slender Thread, The Getaway, and of course The Color Purple, based on the book by Alice Walker. Lumet also commissioned Jones to compose and arrange the soundtrack for In the Heat of the Night, which starred Steiger and Sidney Poitier, and later, The Anderson Tapes, based on the novel by Lawrence Sanders and starring Sean Connery. Lumet's Anderson Tapes—like his later Network—is considered by many film critics to be prescient, especially for its view of a world in which electronic surveillance is routine, and Jones' score is evocative for its musical interpretation of such an era.

Jones' deep association with motion picture scoring led him, perhaps naturally, toward television as well, and he left his thumbprint across decades of TV, including the famously infectious theme song to Sanford & Son. He also composed the theme songs to scores of other television programs, including Ironside and The Bill Cosby Show.

There was hardly any musical genre which did not ultimately draw his interest or his talent, and Jones managed to collaborate on a larger, wider, more diverse scale than perhaps any composer, conductor or arranger of the 20th Century, save for perhaps Alfred Newman and George Gershwin (and one can easily question whether those legendary composers truly exceeded Jones in diversity).

For the Baby Boom generation of any skin color, Quincy Jones' headiest days began in the late 1960s, and early and middle 1970s, when his output of jazz, rock and R&B fusions hit their full stride. By that time his skill as a producer was unparalleled, which made collaborations with him solid gold—in some cases literally. Jones had one standing work ethic, which he posted, in writing, in the studio for all to see: check your ego at the door. This dictum was meant for performers, engineers, mixers and producers alike. His long training—formally or informally—as a member of various bands and orchestras, sometimes in adverse conditions, had taught him the extended value of musical collaboration. His compositions from that era attest to his skill, and include "Walking in Space," "Summer in the City," "Killer Joe," "Body Heat," and "Midnight Soul Patrol." One of his greatest recordings was the collection Quincy Jones, I Heard That!!, a double album of 16 songs which exemplified his skill as both songwriter and master collaborator.

On his compositions ranging from roughly 1973 to 1976, Jones worked alongside some of rock and R&Bs greatest names, including percussionists Billy Cobham and Harvey Mason, keyboardists Dave Grusin, George Duke, Billy Preston, Herbie Hancock and Bobby Scott, guitarists George Johnson, Louis Johnson and Eric Gale, bassists Ray Brown, Stanley Clarke, Chuck Rainey and Richard Davis, and vocalists ranging from Al Jarreau to Minnie Riperton, from Aretha Franklin to Marilyn Jackson. Jones also worked with nearly every A-list horn player, trumpeter and sax player on the music scene in those days, including Freddie Hubbard, Snookie Young, Buddy Childers, J.J. Johnson, Frank Rosolino, Dick Hixon, Wayne Andre, Phil Woods and Hubert Laws. The sprawling album Quincy Jones, I Heard That!!, the credits of which read like a Who's Who of the jazz and R&B community, represented the high-water mark of his large group collaborative efforts, and opened up the path to the end of the 1970s and his next big phase.

Jones was commissioned to compose and arrange the soundtrack for the movie The Wiz, Sydney Lumet's stylized retelling of The Wizard of Oz, complete with an all-African American cast and set against a New Yorkish urban backdrop. At the top of the star billing were Dianna Ross and Michael Jackson. During principal shooting, Jackson asked Jones for advice on who he should secure to produce his next album, and after much discussion—during which Jones gave Jackson the names of several producers he deemed compatible with Michael—they decided that Quincy Jones himself would make the right producer to handle what Jackson hoped would be the next major musical phase of his career. The result of that collaboration was Off the Wall, which was then, and remains now, one of the biggest sellers of all time. Off The Wall famously projected Jackson into the next phase of his dazzling musical career (Thursday Review lists it among the 12 must-have recordings from the 1980s) and some of its best songs, "Don't Stop 'Til You Get Enough" and "Rock With You" put Jackson on top of the world.

A few years later, Jones would again enter the studio with Michael Jackson to produce Thriller. Though the production at Westlake Studios in Los Angeles was expensive (the original budget was set at $750,000) and the recording painstaking, the dazzling collaboration between Jackson and Jones, each at the top of their game, would make music history. Released in November of 1982, Thriller included the instant hits "Billie Jean," "Beat It," and the title cut, along with several other potent singles, and its sales soared quickly skyward. At the music awards in 1984, Thriller made history by winning an unprecedented eight Grammy's (another first for Jones, as producer), and by the end of the 1990s it had managed to break nearly every recording industry sales record. By this point, Quincy Delight Jones had become arguably one of the most powerful and influential music producers of all time, and by the beginning of the 1990s his thumbprint could be found in virtually every venue of musical entertainment—rock and roll, R&B, jazz, music video, theme songs for television and major motion picture scoring.

But for Jones it is never about power, nor is it only about the money and the influence, or even the legacy per se. As far back as the 1960s Jones sought mechanisms to harness his success and channel his energies to social causes which caught his attention, including raising money to develop cultural centers and libraries to reflect African-American artistic influence. His interest in philanthropic ventures and global projects persists to this day, and perhaps nothing exemplifies that interest than what may have been his most elaborate and complex collaboration of all. In the middle 1980s, as drought and famine swept some parts of Africa, hitting most especially wide swaths of Ethiopia in 1985, Jones used his substantial clout to bring together scores of musical heavyweights for the creation of a single music video and song titled "We Are the World," the profits from which were used to provide huge food relief projects for the stricken areas.

There were complaints—in the press, among many in the music communities, among political groups both left and right and in the U.S. and other countries: the song's lyrics were largely self-aggrandizing, self-conscious and an elaborate celebration of Me Generation pathologies. Some media and political voices complained that the song itself—while well-intentioned—had little to do with anything other than its own glorification, and made little attempt to address hunger or the complex forces behind Africa's famine. And in the end, there were all the predictable questions about whether the song's financial success—or that of the eventual album—had any significant impact on the victims of famine in Africa.

Still, Jones, the master collaborator and producer, felt great satisfaction from the finished product, which may have been the most complex multi-talent endeavor ever attempted in the recording studio.

The song and the video, which had started as the brainchild of Harry Belafonte (and morphed quickly into an organization called USA for Africa), included appearances and vocals from Lionel Ritchie, Michael Jackson, Diana Ross, Billy Joel, Bruce Springsteen, Bob Dylan, Ray Charles, Daryl Hall, Al Jarreau, Tina Turner, Stevie Wonder, Kenny Rogers, Willie Nelson, Kenny Loggins, Bette Midler, Smokey Robinson, Dionne Warwick, Huey Lewis, Bob Geldof and dozens of others. Within only three days of its release, the single had sold nearly 800,000 copies. It would eventually go on to become the biggest selling single of all time, giving Quincy Jones another first.

The mere fact that it was recorded at all, considering the substantial combined talent and the fragile, mercurial egos packed into the same room at the same time, is regarded by some to be miraculous.

But, again, as each of those many famous musical faces entered the studio that day, they saw that familiar sign taped to the entrance: check your ego at the door.





*Regarding the issue of Jones' compositional work for Spielberg on The Color Purple, some point out that technically Jones shares this distinction with Jerry Goldsmith, who scored one of the sequences in Twilight Zone: The Movie. Meaning there are two exceptions to the rule of Spielberg collaborating only with John Williams.