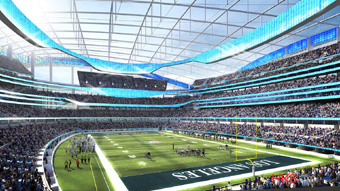 Artist conception of new Inglewood, California stadium for LA Rams/image courtesy of HKS/City of Inglewood
Rams Returning to LA; Inglewood to Build $1.86 Billion Stadium
| published January 15, 2016 |
By Earl Perkins, Thursday Review features editor
Three score and 15 years ago the Cleveland Rams set forth on a journey that would lead to the City of Angels. Los Angeles—America's Entertainment Capital—was their home until 1994, when the Rams bolted for St. Louis, Missouri.

Conceived in greed and dedicated to the proposition that chasing the almighty dollar is king, National Football League owners voted 30-2 on Tuesday to let another Ram deal proceed, this one returning the old team to its former home near the great motion picture studios and the center of West Coast television. Though technically it will be closer to the home of Randy's Donuts and the old Academy Theater, which means Inglewood.

The move may return the team to some of its former glory. While it was hosted by the Gateway to the West, the Rams garnered one Super Bowl victory and one loss, but hadn't fielded a winning season since 2003—an apparently unacceptably long stretch for the owners, already watching ticket sales drop in a city with a shrinking economy and severe fiscal limitations. Citing unemployment and St. Louis' sinking population, owner Stan Kroenke is pursuing instead a state-of-the-art $1.86 billion retractable roof stadium in Inglewood on the old Hollywood Park racetrack site, according to the New York Daily News.

The team will be either a partner or tenant (or some combination of both), possibly followed in the near future by the San Diego or Oakland franchises. The Chargers will have one year to join the Rams, but if San Diego passes, the Raiders receive the same one-year option.

Unsatisfied with St. Louis' $400 million riverfront stadium proposal, the Rams will probably play the 2016 season in the old Los Angeles Coliseum, a former home, until the new stadium opens in 2019. Builders and construction crews have already broken ground on the 305-acre site of the new Inglewood stadium, where Inglewood city planners envision a massive multi-use facility designed to house restaurants, hotels and lodging, music and stage venues, meeting facilities, parking garages, and a variety of parks and outdoor recreation venues.

The entire development will include a lake at the center of the footprint, and a mixed use zone for retail shops, eateries and even a casino (a new casino to replace the aging, existing one). Old growth trees already on the property will be painstakingly uprooted and moved to locations already plotted by architects and planners. Space has been allocated for more than 9,000 public parking spots and 1,000 slots for VIPs, though planners say that big events—like a typical NFL game—could require as many as 21,000 parking places. Developers are working with Inglewood to calculate ways to create even more parking in surrounding areas.

The Los Angeles Times estimates the entire mega-development will be five times the size of The Vatican, or large enough to hold nine stadiums the size of Jacksonville's massive EverBank Field. The new LA facility will be only a short distance from Los Angeles International Airport—a benefit under normal circumstances, but in this case Federal Aviation Officials and experts at LAX are worried about some of the futuristic design elements and the elaborate robotic roof interfering with air traffic and radar. Developers, Inglewood and the FAA, however, seem certain those technical glitches can be resolved.

Barring any major obstacles, the stadium and the other facilities would be ready for major sports and music events as early as 2019.

Meanwhile, the Chargers could play their 2016 season in Inglewood if owner Dean Spanos exercises his option. However, Spanos might wait for a June vote which could approve $350 million toward a stadium, giving him an option to remain in San Diego.

Recognizing that the Raiders and Chargers play in the two worst venues, the League has approved $100 million for each team toward construction costs if they complete deals to build in their present market. The cash would probably come from the Rams' relocation fee, which amounts to approximately $550 million, give or take a few million.

"We have the relocation of the Los Angeles Rams to their home," said Commissioner Roger Goodell, following the conclusion of Tuesday's all-day meeting. "The facility will be absolutely extraordinary in the Los Angeles market. The fans will love it. It will set a new bar for all of sports."

The Raiders and Chargers were partners in a $1.7 billion stadium proposal in Carson, located south of Los Angeles. However, Kroenke's Inglewood proposal fielded 20 of 24 necessary votes needed to pass. The former plan trailed by a sizable margin, although endorsed 5-1 by the six-owner Los Angeles committee which included Giants co-owner John Mara.

Many owners objected to the Raiders' relocation, thus submarining the Carson plan. The resulting compromise included Spanos agreeing to the option and agreement, while Oakland owner Mark Davis chose to step aside.

"This is not a win for the Raiders," he said. "We will see where Raider Nation ends up here. Don't feel bad. We will get it right."

Davis would prefer that the Raiders remain in Oakland, but the city has not yet made a stadium proposal. Meanwhile, Kroenke called his decision to leave St. Louis bittersweet.

"We understand the emotions involved of our fans," he said. "It's not easy to do these things."

In the meantime, work proceeds in Inglewood on the massive construction site, now mostly dirt and sand and crushed concrete, as scores of contractor crews begin the heavy work of placing infrastructure—drainage and plumbing, electrical and internet conduits, water, gas and underground utilities—in the soil of Southern California.

The stadium itself, with its semi-open design, is crafted to be easily refitted for nearly any large-scale entertainment or sports event—from massive outdoor concerts to college or professional football games, from hockey to soccer to basketball. Developers and Inglewood city planners hope the enormous venue can be a tool to attract mega events and festivals.

Related Thursday Review articles:

Coughlin Will Not Go To Philly: Eagles Hire Pederson Instead; Keith H. Roberts; Thursday Review; January 14, 2016.

Buccaneers Fire Coach Lovie Smith; Keith H. Roberts; Thursday Review; January 7, 2016.